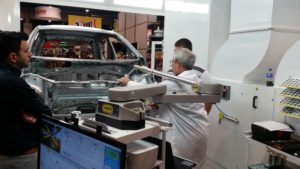 Spanesi will celebrate its 50th anniversary and the Society of Collision Repair Specialists will mark 10 years of Repairer Driven Education with what the latter called the "largest SEMA Show booth drawing the association has ever offered from the SCRS booth."
The company and trade group last year gave away a more than $28,000 Spanesi 14500A inverter spot welder to New Carlisle, Ind.-based AMP Custom's Stephanie Podell. But SCRS and Spanesi will go even bigger at SEMA 2019 by raffling off a more than $30,000 Spanesi Touch Electronic Measuring System and a year of vehicle data.
"Over the last 50 years, the success Spanesi has enjoyed has been a result of designing innovative and solutions to address the collision industry's challenges, and prioritizing training and education as a complement to those products," Spanesi Americas Chief Operating Officer Timothy Morgan said in a statement Friday. "We have been a longtime supporter of SCRS and the education program because we believe this industry needs entities and programs like these that place a similar priority on developing resources for the collision repairer. This is a very special year for us, and the Spanesi family, and it only felt appropriate to celebrate this milestone year with SCRS by providing SEMA Show attendees one of the most spectacular opportunities ever. We are proud to support this program, to support the industry, and look forward to the next 50 years of innovation and collaboration to move collision repairers forward."
The Touch lets a shop perform damage analysis and measurements and generate documentation, according to SCRS' news release Friday.
SEMA attendees will receive a free raffle ticket following what could be a fun little scavenger hunt. First, stop by the SCRS booth (North Hall No. 11173) and collect a "report card" with the locations of Repairer Driven Education sponsors.
Visit each sponsor's SEMA booth and collect a stamp. Once you've got stamps for all of them, return the card to the SCRS booth before the deadline, and you'll be entered into the drawing.
SCRS will hold the drawing at 1 p.m. Friday, Nov. 8. It recommends hopefuls visit their booth "early in the week to allow adequate time to visit the sponsor locations." See full contest rules and register for Repairer Driven Education classes and events at www.scrs.com/rde.
2019 Repairer Driven Education sponsors include AirPro, AkzoNobel, the Alliance of Automotive Service Providers, Axalta, BASF, CCC, Celette, Enterprise, General Motors, Honda, Hedson Technologies, PBES, Podium, PPG, Pro Spot, Reliable Automotive Equipment, SEMA, Spanesi and Toyota Wholesale Parts.
For more information about SCRS at SEMA, visit www.semashow.com/scrs. For more information about SCRS, call 877-841-0660, email info@scrs.com, or visit www.scrs.com.
More information:
"SCRS Announces Collaboration with Spanesi for SEMA Show booth drawing"
Society of Collision Repair Specialists, Oct. 4, 2019
SCRS Repairer Driven Education courses and giveaway rules
Featured image: A Spanesi Touch is demonstrated on the body-in-white of a Chevrolet Bolt at SEMA 2016. (John Huetter/Repairer Driven News)
Share This: