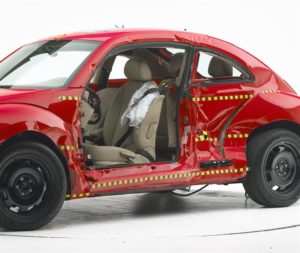 Volkswagen will in January 2020 require proof a collision repairer is qualified to perform certain side-impact repairs before it'll sell the associated parts to that auto body shop.
It described the new policy in an Oct. 1 letter to Volkswagen Certified Collision Repair Facilities obtained by Repairer Driven News.
Volkswagen didn't spell out precisely which parts would be restricted, but the section describing the change speaks of "B-Pillar Parts Restrictions" and repairs to vehicles involved in a "side-impact collision."
"Repairs of vehicles involved in a side-impact collision require unique equipment and a highly technical repair to safely restore the vehicle to its prior condition," the letter from VW wholesale parts senior manager Dan DuCharme and wholesale operations manager Bill Garrett states. "As a result, in January 2020, we will begin restricting some of the parts associated with this repair to ensure the correct repair process is followed."
Shops won't be able to buy the restricted parts without providing "repair plans, test welds, documentation of training, and evidence of properly-calibrated VAS welders to a third party auditor for approval."
Parts restrictions typically occur at luxury repairers. The Volkswagen move is noteworthy in that it shows a mass-market OEM willing to sacrifice potential parts sales to give consumers better repair quality and strengthen certified shops.
"These program changes are a clear demonstration of our commitment to our customers and the trust in our network of VW CCRFs," DuCharme and Garrett wrote. "And as always, we greatly appreciate your continued commitment to standards of safety, quality, and customer satisfaction."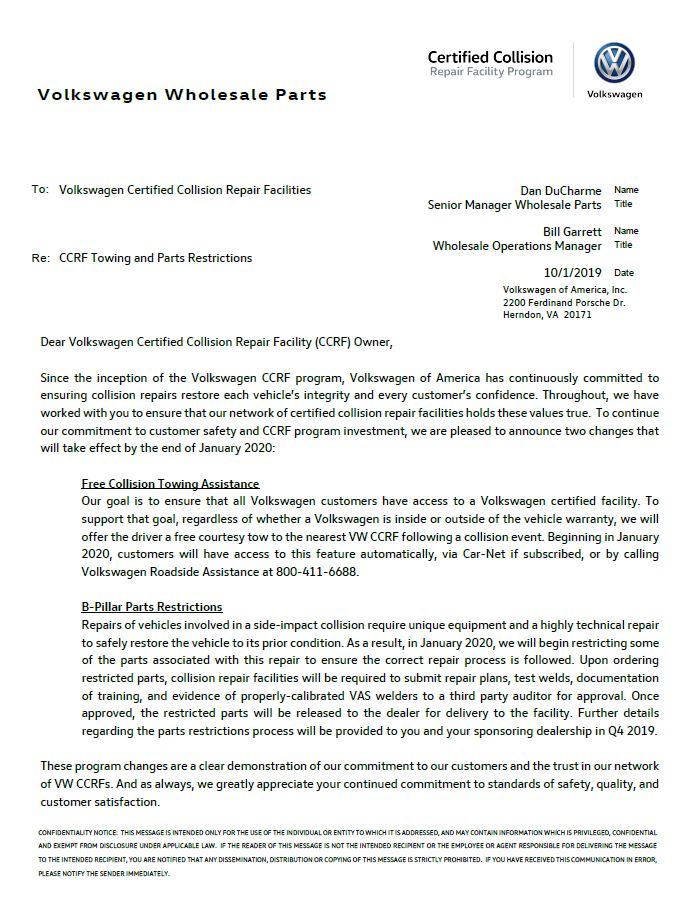 A couple of videos earlier this decade demonstrate how repairers who haven't kept current or followed repair procedures could make a hash of a Volkswagen repair, even while using OEM parts.
Volkswagen Ireland in 2014 showed how using incorrect procedures led to a worse outcome for a crash-test dummy riding in a Passat B6. United Kingdom crash researcher Thatcham in 2015 compared "traditional but wrong" repair procedures to best practices aimed at delivering a Golf Mk7's Euro NCAP crash-test rating. (Repair procedures aren't as readily available abroad as they are here, so Thatcham attempts to develop them.)
"The driver dummy results from the 'good repair' were equivalent to the results from the official Euro NCAP test performed in 2012," Thatcham wrote on YouTube in 2015.
" In the 'bad repair' test the driver results were significantly worse, mainly for chest injury."
Volkswagen will also throw its consumers and certified collision repairers a bone by providing VW owners a free tow to the nearest certified shop "regardless of whether a Volkswagen is inside or outside of the vehicle warranty." The new perk kicks in January 2020, and customers can order it through the Car-Net connectivity system or by calling VW Roadside Assistance at 800-411-6688.
"Our goal is to ensure that all Volkswagen customers have access to a Volkswagen certified facility," DuCharme and Garrett wrote.
Continue to check Repairer Driven News for updates.
More information:
Volkswagen OEM repair procedures (works best on Internet Explorer)
Volkswagen certified collision repair website
Images:
The Insurance Institute for Highway Safety said 2013 Volkswagen Beetles built after March 2013 received a "Good" rating on the side-impact crash-test. (Provided by IIHS)
Volkswagen will in January 2020 require proof a collision repairer is qualified to perform certain side-impact repairs before it'll sell parts to that auto body shop. It described the new policy in an Oct. 1 letter to Volkswagen Certified Collision Repair Facilities obtained by Repairer Driven News. (Provided by Volkswagen)
Share This: