The macro-level automotive trends of connected, autonomous, shared and electric ("CASE") and increased complexity could significantly change what auto body shops do during a repair — perhaps in ways owners and technicians never considered.
Jennifer Boros, PPG refinish USCA marketing director, outlined such a future in an interview Tuesday ahead of her class "Mobility: The Future of Automotive Protection and Beautification" next week at SEMA. The 3:30-5 p.m. Tuesday, Nov. 5, class, part of SCRS' Repairer Driven Education series, will also feature PPG refinish Americas technical director Gareth Hughes and PPG automotive coatings mobility strategy manager Greg Bausch.
Boros said the labor for a traditional dent repair would become a smaller percentage of a repair mix because of the sensors being put on cars today. (Something likely to increase as vehicles shift from advanced driver assistance systems to higher level of autonomy.)
The larger proportion of the repair expense will be attributable to more expensive parts like sensors or lighweighted substrates, along with the testing and validation of systems using those sensors, Boros said.
Technicians will need additional training, and the work might even have to go to a specialized facility, Boros said. The OEM might also play a greater role in the repair, she said.
Boros illustrated the growth of vehicle complexity by noting that her daughter had recently bought a "completely base model" 2019 Honda Civic — and the car had significant sensory  technology. "That's all standard," Boros said.
Shared vehicles — a term which can encompass services like Lyft and Uber as well as autonomous versions of such services — raise some interesting questions for auto body shops, according to PPG.

For one thing, fleet ownership could be a larger factor — autonomous vehicles might be too expensive at first for private ownership. The exterior might be less important to a fleet owner, but Boros said the vehicle interior becomes more significant.
This can demand better coatings like antimicrobials which wouldn't be as necessary on the interior of traditional, privately-owned vehicle, Boros said. A body shop might find an upsell opportunity in applying such coatings, she said.
(Self-cleaning coatings could also be necessary to keep exterior sensors and cameras from being obscured by grime, according to Boros. But these parts might already have received the coating, based on our conversation.)
However, fleet work could be more difficult to obtain for smaller body shops, with fleet operators relying on MSOs or handling the work in-house, according to Boros. Vehicle complexity might also demand shops specialize more than today, she said.
Boros said fleets also might segment vehicle populations to accommodate different consumer demands. For example, desiring to hail a van rather than a car.
Vehicle exterior surfaces also need to be easily detectable by vehicle sensors, and Boros noted that PPG's industrial arm might also wish to supply coatings for signs and roadways which are more reflective.
Asked if such coatings would be duplicatable in the aftermarket or deliverable only at the factory, Boros said OEMs have to take refinishing into account. "You gotta be able to repair that car," she said.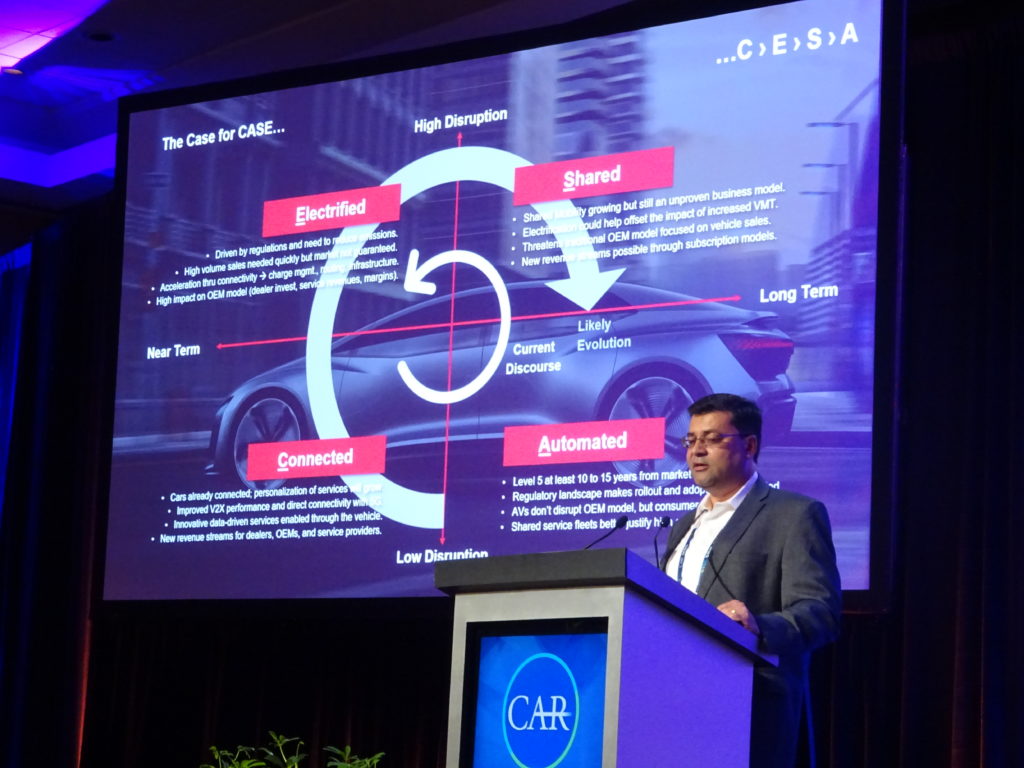 Refinishers will also have to adjust to paint thickness demands necessary to preserve the function of nearby sensors. "That's gonna be huge," she said.
Applying shallow enough layers of coatings could take a lot of trial and error, said Boros, who noted that PPG couldn't even get shops training today. "They're gonna be forced to," she said.
However, PPG had already designed its products to work with lower mil thicknesses anyway. "You never want to overapply," she said.
Some sort of auto body refinishing sign-off or validation might also be necessary, according to Boros.
Boros said the biggest issue for shops going forward was training technicians, and PPG could provide it for shops who wanted to make the effort.
"We'll take care of you," she said.
Sign up for Boros, Hughes and Bausch's Nov. 5 class individually for $85, or get access to it everything else that week by purchasing the $400 full series pass. The latter lets you into any every class Nov. 4-6, the OEM Summit and Sky Villa afterparty Nov. 7 and the IDEAS Collide Showcase on Nov. 8. Learn more at www.scrs.com/rde.
More information:
NASTF OEM repair procedure portal
SCRS Repairer Driven Education
Images:
GM in June 2017 finished a mass-production run of 130 test autonomous Chevrolet Bolts, a project that started in January and and was an industry first, according to GM. (Jeffrey Sauger for General Motors; copyright General Motors)
Audi connected vehicles and data director Anupam "Pom" Malhotra told the Center for Automotive Research Management Briefing Seminars on July 30, 2018, that Audi felt the four generally accepted upcoming automotive megatrends would roll out in a different order than the current discussion forecast. (John Huetter/Repairer Driven News)
Share This: