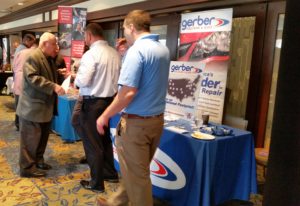 Boyd Group CEO Brock Bulbuck said last month insurers tend to accommodate the technician-seeking company's need to raise rates for wage inflation.
The Gerber Collision parent company told analysts Nov. 13 that the technician shortage posed a challenge yet again in the third quarter. Bulbuck said the company had "healthy demand" for its services in most markets going into the fourth quarter, but it was hard to produce "strong organic growth" over what was a good 4Q 2018 because of the lack of technician capacity.
Asked about the company's ability to handle increased technician costs (e.g. higher pay) should they be necessary, Bulbuck said the Boyd Group expected to be able to absorb it.
Historically, gross margins "haven't fluctuated significantly" because of wages, Bulbuck said. Insurers were allowing the company to raise prices to compensate for this, he indicated.
"Insurance companies generally recognize the fact that we are experiencing wage inflation and that has to be reflected in the prices that they pay us," Bulbuck said. "It may not be, in terms of lockstep pricing increases, but it generally does track over a longer term. So, we would continue to see the same thing going forward."
(So if an adjuster declares "we don't pay for that" when you raise rates to pay the techs you need, you can tell them that the nation's second-largest collision chain says insurers do — at least eventually. You can also point this out to a customer the carrier threatens to have go out-of-pocket.)
Workforce efforts
Bulbuck said the Boyd Group has a "high level" of focus on initiatives related to its workforce. He said the company was excited by the systems and processes already established by Chief Human Resource Officer Kim Morin, who started work in February. Nevertheless, the company couldn't boost same-store technician capacity enough to show the strong organic sales growth seen in the first half of the year.
"We are working hard to address this," Bulbuck said. The company had "further heightened" its focus on growing same-store tech capacity this quarter, he said.
An analyst if the company had begun to enact new strategies given that the tech shortage had been a concern for what he recalled to be a year and a half.
Bulbuck said those 18 months had seen the company roll out better human resources training for managers, an apprenticeship program and more recruitment resources.
"We continue with all of those today," he said.
The Boyd Group in the future would keep working on those three strategies but also would be "stepping up our game" on the foundational systems and processes Morin had focused on establishing since February.
"We don't think that we've gone backwards," Bulbuck said. The company's progress on the tech shortage yielded strong growth in the second half of 2018 and the first half of 2019, he pointed out.
He called the technician capacity impact on third-quarter organic growth results a "short-term setback" exacerbated by Q3 2018 setting a high benchmark to beat.
Chief Operating Officer Tim O'Day (who succeeds Bulbuck as CEO on Jan. 1) said no new HR initiatives were planned that would increase costs enough to compress margins.
Asked if technician capacity pressure would continue into the first and second quarters of 2019, O'Day said the company was working to grow technician count.
"I expect us to have some success," he said.
Same-store sales were up 3.3 percent for the third quarter quarter and up 1.7 percent when adjusted for 2019's extra business day, according to Bulbuck. The company, whose subsidiaries also include Boyd Autobody and Assured Automotive, also added another 34 locations in the U.S. and Canada and another three between Oct. 1 and the Nov. 13 earnings call.
Despite the company's challenges, it had "continued, strong growth," Bulbuck said. Customer demand remained "healthy" in most markets, he said.
Besides the tech shortage and tough 2018 "comps," third-quarter sales challenges included staff vacations, some soft markets, and a "modest" impact from Hurricane Dorian and the General Motors strike, according to Bulbuck.
Margins
The Boyd Group saw a 45.3 percent gross margin in the third quarter compared to 45.4 percent in 2018. Bulbuck attributed this 0.2-point drop to more parts sales relative to labor "as well as lower DRP pricing."
Asked about pricing trends, Bulbuck said the company had seen the average repair cost grow because of more complex vehicles. He said CCC predicted "inflationary tailwinds" on the average cost of repair. However, technician capacity limited the company's ability to capture market share and enjoy those higher repair costs.
An analyst asked about the balance between EBITDA dollars and margins, wondering if replacing more parts would produce better KPIs, which in turn meant more money.
"I would say repair price will go up, more because of parts than labor, in the near term," said Chief Operating Officer and soon-to-be-CEO Tim O'Day. He said he doesn't look at improving overall EBITDA with a higher ratio tied to parts.
"We'd love to keep the balance really where it is," he said.
But he predicted parts would grow as a proportion of the repair bill. That was favorable to Boyd as long as labor hours didn't fall, something "we wouldn't expect," he said.
Longer-term, the company would focus on margins, Chief Financial Officer Pat Pathipati said.
Asked if consolidation among other MSOs had caused any market moves or DRP competitive pricing, O'Day said, "I would say we've seen nothing to suggest that."
O'Day said DRP performance-based pricing created some variability for the company quarter-to-quarter, "but it's not a structural change." (This appeared to be a reference to margins.) The insurers' targets don't vary quarter to quarter, but some are based on market performance, he said.
"We continue to look for ways to keep repair cost down, to fix cars more quickly, reduce length of rental, and improve customer satisfaction," he said. "But those aren't really significant drivers in the variability of pricing."
More information:
Boyd Group third-quarter 2019 earnings call
Boyd Group, Nov. 13, 2019
Boyd Group third-quarter earnings report
Boyd Group, Nov. 13, 2019
Images:
A Gerber Collision & Glass booth courts job hunters at a Collision Repair Education Foundation job fair April 19, 2017, in Pittsburgh. (John Huetter/Repairer Driven News)
Share This: