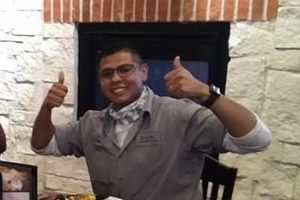 The Collision Industry Foundation announced Monday the industry's generosity helped the organization reach a fundraising target of $10,000 for a Texas auto body repair family impacted by tragedy.
ColorMaster Auto Body Shop owner Gilbert Anchondo lost his son, Andre Anchondo, 23, and daughter-in-law, Jordan, 24, in the El Paso, Texas, Walmart mass shooting Aug. 3, 2019. The couple was protecting a child, CIF President Michael Quinn (AirPro) told the Nov. 5, 2019, Collision Industry Conference.
The couple is survived by three young, orphaned children, according to CIF. The organization in September 2019 announced a "Campaign of Caring" which sought $10,000 for the children; it pledged $5,000 to meet the target.
"The money will go directly to Gilberto Anchondo to assist him and his immediate family as they continue to deal with the grief, stress, and shock of the loss of their loved ones," CIF wrote in a news release Monday.
"The show of support for my father, Gilberto Anchondo and our immediate family has been remarkable and will not be forgotten," Gilbert's daughter Deborah Anchondo said in a statement. "A heartfelt thank you to everyone who donated."
Gilbert Anchondo opened ColorMaster in 1980. Andre's brother Tito Anchondo in 2019 told us the body shop had been in the siblings' lives since they were "little kids." He said he and Andre had been sanding cars since the age of 5.
"I'm still doing it to this day," said Tito, now a manager at the facility.
Andre also had served as a painter and repaired damage to vehicles. He left the shop about two years ago to start his own business, Andre House of Granite & Stone, Tito said.
The Collision Industry Foundation is a 501(c)3 charity which provides replacement tools and necessities to collision professionals and shops impacted by catastrophes, as well as other parties related to the industry. If you, a colleague or company you work with has experienced such a blow and needs assistance, contact the organization here.
CIF's goal for 2020 is to raise $100,000, Secretary Petra Schroeder wrote in an email Nov. 17, 2019. Donate to the organization here.
More information:
Donate to Collision Industry Foundation
Request Collision Industry Foundation assistance
Featured image: El Paso, Tex., mass shooting victim Andre Anchondo is shown. (Provided by Colormaster Auto Body Shop)
Share This: