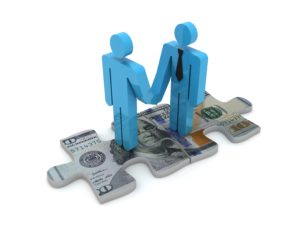 Think Millennials feel too entitled to accept the collision repair jobs and pay you offer? Think again.
A Collision Industry Conference survey of more than 200 Collision Repair Education Foundation career fair participants found about 66 percent expecting to make between $0 and $50,000 when they enter the workforce.
Students ranged from 15-45 years old and overwhelmingly had either a high school or a community/technical college education. Overall, 275 students participated, though not all answered every question.
221 job-seekers answered the CIC Talent Pool Committee's salary query. 44 of them expected to make below $30,000 (20 percent), while 101 (46 percent) expected to pull in between $30,000 and $50,000. Another 46 respondents (21 percent) thought they'd make $51,000-$70,000.
Only 30 felt they would make $71,000 or more, with 21 of them (10 percent) expecting $71,000-$100,000.
"In contrast to the current industry narrative that a student would expect to earn at least six-figures annually in an entry-level position, 65 percent of respondents said they would expect to earn $50k or less upon entering the workforce," CIC wrote in a news release Monday.
The average auto body repairer made $22.34 an hour and $46,460 in May 2018, according to the Bureau of Labor Statistics' most recent data. Median industry pay was $20.55/hour and $42,730; this means half of the industry makes less and the other half makes more.
So the kids are all right, at least in terms of their pay expectations. Pay was ranked No. 1 in terms of considering future employers, which means a repairer must still remain competitive — but they can likely do so at an an acceptably affordable level.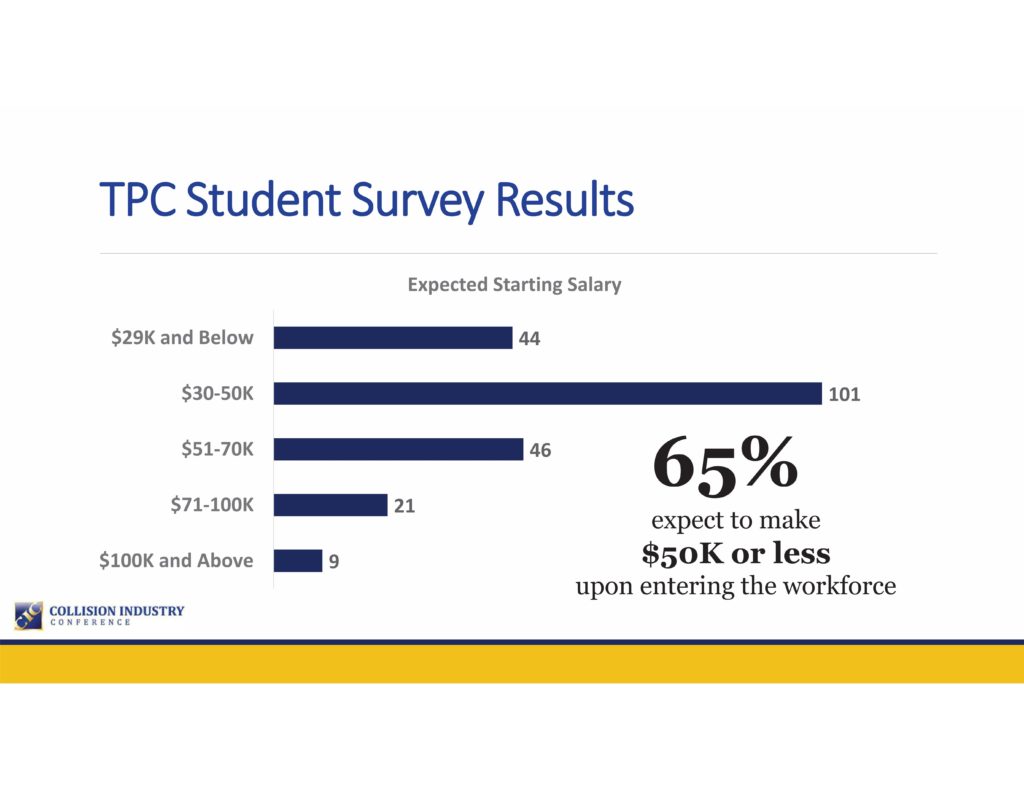 Passion, not pay
The research also reinforces a strategy by the Alliance of Automotive Service Providers of Minnesota, which has for more than four years been attacking the tech shortage with its Minnesota Careers in Automotive Repair and Service (MNCARS) initiative.
AASP-MN Executive Director Judell Anderson told us in 2019 that MNCARS organizers learned over time that the notion that an auto repairer could make a good living wasn't what drove students into the industry. First and foremost was an "interest and passion for cars," Anderson said. The money was a "bonus," she said.
Someone not interested in cars wasn't going to join the aftermarket just because you could make $100,000 in the field, she said last year.
The CIC study of CREF participants asked the students why they had chosen their educational program. CREF invites multiple transportation fields to its job fairs, and a separate question found 193 out of 221 repondents were in collision, with 18 in mechanical repair, and the rest spread across diesel, heavy-duty and other.
The study found that overwhelmingly — 102 out of 221 (46 percent) students — job-hunters chose their program because they "Love working on cars." "Looked like fun" ranked third, with 23 out of 221 (10 percent).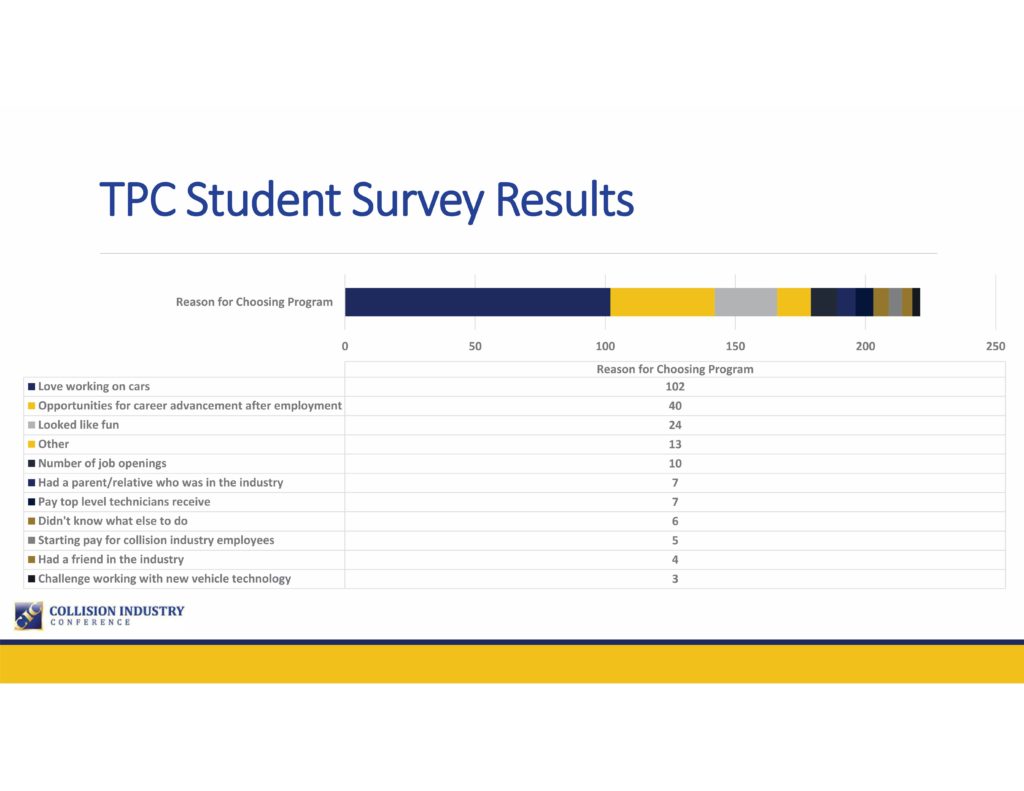 "Want to have a good job with something I love," one replied. "Want to rebuild a childhood car in memory of my grandparents."
Starting pay for collision employees ranked near the bottom of candidates' reasons, with 5 out of 221 (2 percent) selecting it. "Pay top level technicians receive" drew another 7 (3 percent).
"Our committee believes that in order to attract a new generation of workers into the collision repair industry, we must first gain a deeper understanding of what the new generation values in a potential career," Talent Pool Committee Chairman Dave Luehr (Elite Body Shop Solutions) said in a statement. "Kyle Medeiros, CREF, and other TPC volunteers have done a terrific job with this survey and I believe the information obtained is a substantial starting point for our committee's mission."
Don't forget benefits, though
The study also suggested shops might need or want to compete on pay in other ways, however.
Out of 138 students who replied to a question on student loan debt, 59 percent expected to have at least $11,000 in debt. The remainder expected to accumulate $0-10,000 in debt. Covering some or all of that debt in exchange for the student committing to not jump ship for a certain amount of time could be a valuable perk on top of base salary. In fact, tuition reimbursement ranked No. 6 on students' factors in evaluating employers. (Check with a qualified employment law attorney in your state before drafting any such contract, obviously.)
Insurance benefits and a retirement plan ranked No. 4 and 5, respectively. So your shop might have to be competitive here as well. (Speaking of retirement, don't miss SCRS webinars Wednesday and March 17 educating repairers about the association's 401(k) option for the industry.)
CIC conducted polling between fall 2018 and spring 2019. While only 131 responded with their graduation dates, the majority of those who did are graduating between spring and fall 2020.  So get your job ads ready.
"Of the high school students who responded, we saw a trend that goes against the industry narrative that students are going to four-year colleges instead of a technical or community college. Collectively, more students were going to attend a technical or community college or enter the workforce upon graduation," Talent Pool Committee member Kyle Medeiros (Entegral) said in a statement.
More information:
Talent Pool Committee CREF job fair student survey results
Collision Industry Conference, Feb. 24, 2020
Images:
A Collision Industry Conference survey of more than 200 Collision Repair Education Foundation career fair participants found about 66 percent expecting to make between $0 and $50,000 when they enter the workforce. (alexsl/iStock)
A Collision Industry Conference survey of more than 200 Collision Repair Education Foundation career fair participants found about 66 percent expecting to make between $0 and $50,000 when they enter the workforce. (Provided by Collision Industry Conference)
A Collision Industry Conference survey of more than 200 Collision Repair Education Foundation career fair participants found pay wasn't the primary driver of CREF job fair participants having picked an automotive field of study (Provided by Collision Industry Conference)
Share This: