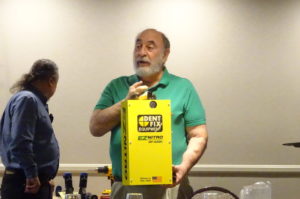 Are you trying to outfit your toolbox or body shop but find yourself overwhelmed by trade show brochures and vendor sales pitches? You might want to consider the advice from 2020's annual Society of Collision Repair Specialists "Kool Tools" presentation.
For six years, SCRS Education Committee members Kye Yeung (European Motor Car Works) and Toby Chess (Kent Automotive) have scoured the aisles of SEMA and purchased gear that looked promising. After testing the equipment out in an actual shop environment and weeding out duds, the duo presents their picks to the annual January SCRS open board meeting and Collision Industry Conference.
This year, Chess and Yeung had help on the show floor from other members of the SCRS committee, for SEMA has become "so big," Yeung said. After committee members selected candidates, the committee took a vote to narrow them down to the 2020 "Kool Tools" picks.
All items were purchased out-of-pocket or on loan, Chess said.
Finalists included equipment for the body, paint and detailing departments. Here's a look at some of the selections and color from the CIC and SCRS presentations.
Time Shaver sanding blocks: Chess said the stainless steel blocks wouldn't rust and had "phenomenal" ergonomics. Traditional sanding blocks waste a lot of sandpaper, but "these do not waste any paper," he said.
Evercoat Optex Super Build 4:1 primer: Typically guidecoat is "another process" a repairer must add following primer, according to Yeung. But Evercoat's primer contained the guidecoat, which he called "pretty neat."
"This 4:1 primer sprays on pink and turns gray as it is sanded, revealing high spots while low spots and scratches remain pink," Evercoat's website states.
Chess said it takes longer to dry, but you don't have to spend time applying guidecoat. "It's right there for you," he said.
Wieländer+Schill Metal Edge Cutter 600: Yeung said the ability to adjust the cutting depth "makes it so nice" — you could ensure it didn't cut through an inner as well as an outer panel. Chess said the cutoff tool can eliminate the "drudgery" of cutting through a laser weld. He said it also doesn't throw off sparks and meant less damage to an adjacent panel.
Glassbot QuarterMaster: Yeung said his shop tries to keep glass work in-house, but noted this can result in the technician making a mistake during the process. The QuarterMaster had a suction cup to attach to the widow and a line to feed through the chrome — but it also offered a means to setting the tension with a torque wrench, he said. This can prevent it from cutting beyond the urethane, and the shop has even been able to save some clips, Yeung said.
Dent Fix DF-EZG1 nitrogen generator: Chess travels to many shops, and he said he notices many nitrogen welders missing bottles of the gas and therefore useless. Dent Fix's nitrogen generator addresses that problem by producing a nitrogen feed in-house from a shop's compressed air. Chess said the tool was designed to sit on the back of a cart, could fill a tire, and offered up to 120 pounds of pressure.
Accuvision-3D: Chess said he's a fan of doing things up front, and the Accuvision-3D measuring system offered a way to check out a vehicle before writing an estimate. He said it can measure spaces like door and trunk openings.
IREGA adjustable reversible wrenches: A video displayed 10- and 12-inch versions. "They really grip," Chess said.
CSI Ceram-X Polish: "Single Product Polish (SPP) system can remove sanding marks and finish to swirl-free shine without the need for multiple compounds and polishes," the company's website states, and Yeung and Chess said it works as promised.
Yeung said his shop has employed the same color sand and polishing technician for nearly 20 years, and the shop has been "bartending" multiple products to produce a desired finish.
One day, that tech was absent from work, and "we were desperate," Yeung recalled. European Motor Car Works turned to an apprentice who had previously been confined to bumpers and small areas. CSI showed him how to use the product, and the technician "knocked it out of the park," completing multiple cars successfully, Yeung said.
Yeung said users must read and follow the product directions, but if you do so without trying to incorporate old habits, Ceram-X works extremely well. He likened the apprentice's ability to perform with the substance as "like riding a unicycle" — if you'd never ridden a bike before, it was easy.
Chess said the product gets the job done with a single product versus two or three and consumes less cleanup time. It takes longer to achieve the shine, Chess said, but you save significant cleanup time. One shop that adopted the product experienced a 40 percent reduction in time and materials, Chess said.
BETAG Alu-T-Hotbox aluminum dent pulling system: Keith Egan of Collision Equipment Company appeared at the CIC to demonstrate the tool, which searches for the right wavelength to pop small dents out of aluminum.
"The Alu T-Hotbox is using the material characteristics to its advantage and makes the reparability very simple," a BETAG description states. "The extreme thermal expansion characteristics of the material and activating it locally makes the repairs fast and easy.  In the first stage the tool measures the resonance frequency of the tool in resonance with the material.  Every aluminum panel has its own and different frequency.  Than it adjusts itself to the optimal frequency and activates the material. This activation allows the material to realign itself."
SolderWeld Hot Block Heat Absorption Putty: Yeung called it a good heat sink, and Chess encouraged the audience to think about the potential for reducing heat and warping while working on a quarter panel. The substance is reusable, according to Chess.
SolderWeld magnetic welding blanket.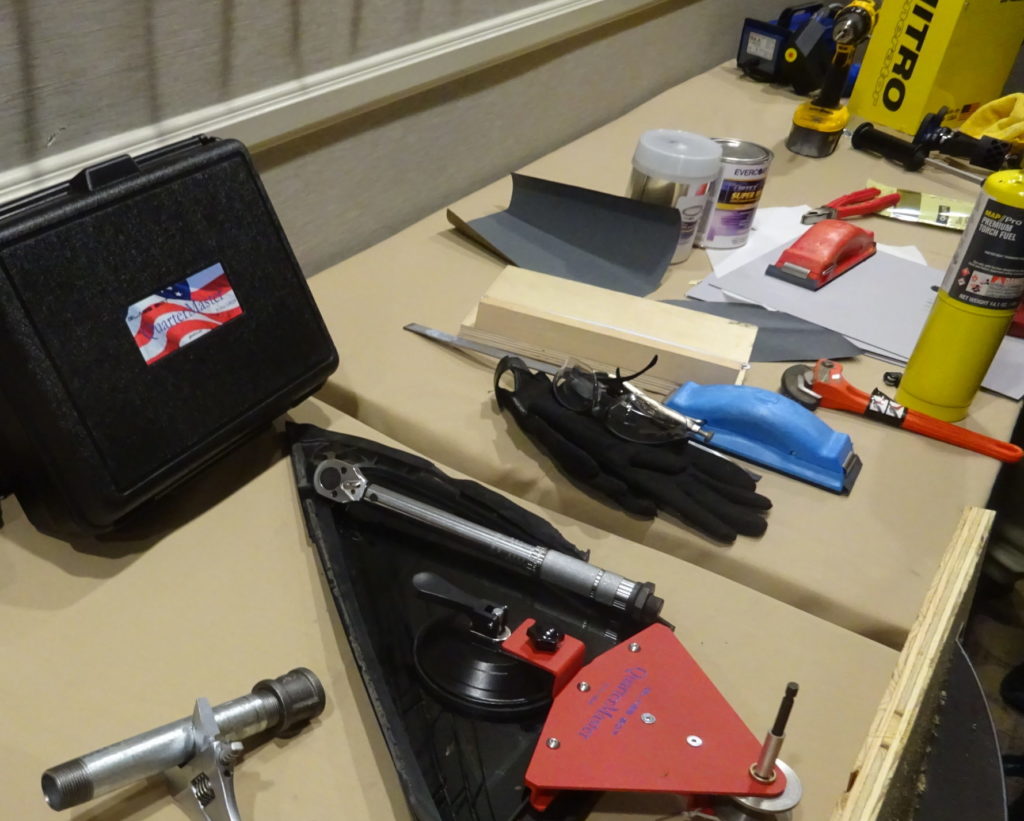 Vampire Tools Phillips screw extraction tools. The "Kool Tools" SCRS slides depicted what appeared to be the 6.25-inch Brute and the 8-inch lineman/screw extractor sets of pliers as well as a recessed extractor set with two bits.
DJS Fabrications steady bar: Sometimes, a shop encounters a disabled vehicle, perhaps one with a broken tie rod, Yeung said. The steady bar offers a means of tying two dollies together laterally or lengthwise for greater stability.
Invisible Glass reach and clean tool: Yeung said the device was helpful for cleaning the windshield near the dash, where normally "you can't get the dust out of there." The tool lets you reach in that space.
SATA female paint suit: Yeung said he's noticed more women entering the industry, and Chess said SATA was slated this quarter to release a paint suit designed specifically for women this quarter. "About time," Chess said.
Connie Manjavinos of suit developer Girls Behind the Gun said in a 2019 video the suit requires less material to tape up and avoids the suit "dragging you" when the painter attempts to reach. SATA and Girls Behind the Gun partner Choko in 2018 reported its suits were able to protect against isocyanates, but users will still want to double-check this holds true on the new PPE today.
KECO Robo Crease Killer kit: Yeung called the glue pulling technology a "miracle tool" because it keeps the shop from having having to replace a double-walled panel. The tool can address the damage without penetrating or damaging paint.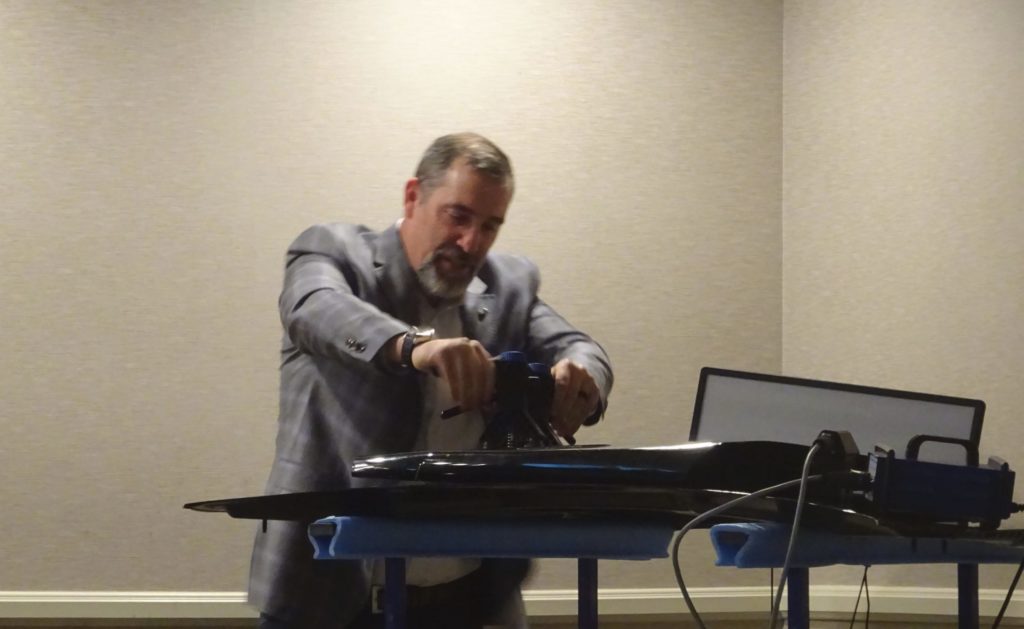 SCRS Blueprint Optimization Tool: The software leverages SCRS' nearly decade-old "Guide to Complete Repair Planning" document reminding estimators about more than 1,000 not-included operations they might wish to incorporate into their sheets. "If you write sheets, you need to have this information," Chess said.
More information:
SCRS "Kool Tools" presentation slides
Society of Collision Repair Specialists, Jan. 15, 2020
Images:
Society of Collision Repair Specialists Education Committee member Toby Chess (Kent Automotive) holds up a Dent Fix nitrogen generator during a 2020 "Kool Tools" presentation. (John Huetter/Repairer Driven News)
2020 "Kool Tools" picks are shown. (John Huetter/Repairer Driven News)
KECO President Chris White demonstrates the KECO Robo Crease Killer kit during a 2020 "Kool Tools" presentation on Jan. 15, 2020. (John Huetter/Repairer Driven News)
Share This: