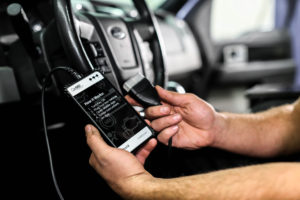 Vehicle diagnostics provider CarMD on Wednesday reported that its third-party PRO SCAN tool had found issues on 80 percent of 5,642 vehicles checked by repairers.
CarMD wrote that "a majority" of those 80 percent had "hidden problems not likely identified by a visual vehicle inspection alone."
"On average, these vehicles had six issues that needed to be checked, repaired or replaced, resulting in improved peace of mind for vehicle owners and increased average repair order (ARO) for shops," the company continued in a news release.
Collision repairers might opt for the certainty of OEM scan tools and software or be required to use such technology in a certification program. (Typically, automakers only will vouch for the results generated by first-party tech.) Nevertheless, the study by the third-party tool provider still offers a helpful look at what issues might be lurking within a vehicle — and perhaps without any dash light as a tipoff.
Only 32 percent of the vehicles scanned through Dec. 31, 2019, actually displayed a check engine light, according to CarMD. These lights had been triggered by 300 different diagnostic trouble codes, most commonly P0113. (According to CarMD, that code typically arises from "an issue with a mass air flow sensor or manifold absolute pressure sensor.") The average repair on the check-engine-light vehicles was $722. (For a little context, that's more than 20 percent of the $3,225 average collision repair order in 2019.)
But on the 68 percent without a check engine light, "nearly three quarters (74%) of these vehicles … reported a problem with one or more system. On average, each vehicle had six different modules that required attention, resulting in additional work and increased revenue for the shop."
"The most common Network System codes were related to the Body Control Module (BCM), Transmission Control Module (TCM), Instrument Panel Cluster (IPC), Powertrain Control Module (PCM), Engine Control Module (ECM) and radio," CarMD wrote in what appeared to be a reference to the vehicles with DTCs but without a check engine light. "Some less commonly diagnosed issues, but equally important due to their potential impact on passenger safety, were faulty backup camera, adaptive cruise control, adaptive headlights, lane departure alert and seat belt retractor motor module."
CarMD spokeswoman Kristin Brocoff confirmed these 74 percent didn't throw any of the other dash lights either.
"In most of those cases it was  an issue that doesn't report a dashboard warning light at all," she wrote in an email. "Other scenarios included situations where a CEL bulb was removed or disconnected from the combination meter.  In others it was an intermittent issue that hadn't triggered a warning light."
Brocoff provided examples of a 2006 Toyota Prius and 2008 Hummer H3 which had thrown diagnostic trouble codes without a dash light. (Those of you who still think only late-model vehicles need scans should note the model years. Both vehicles are older than the average total loss.)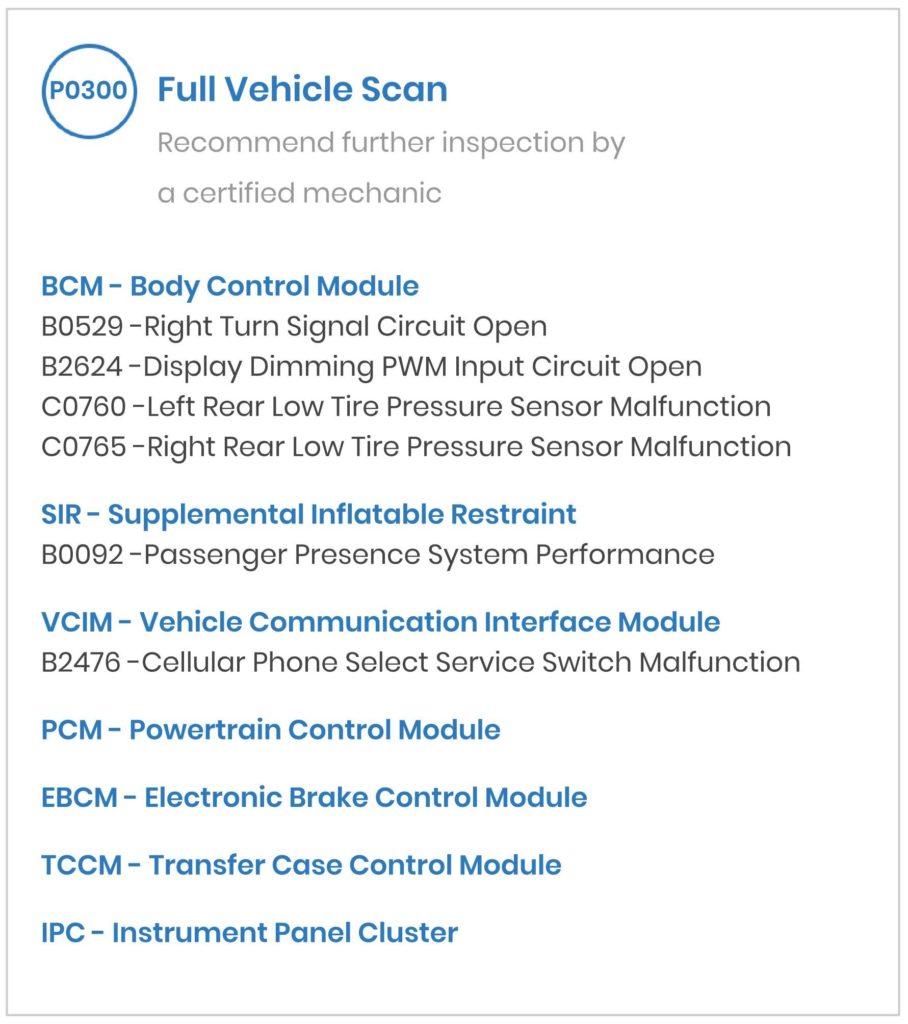 Brocoff said the H3 included 5 body control module codes which "will not turn a dashboard warning light on."
"So in this scenario if the vehicle came in for routine maintenance and if the shop did a PRO SCAN report on it the shop could then show the customer that their vehicle has issues with the RF turn signal and a display issue in the dashboard lighting circuit," she continued. "This is a great way for a shop to open up communication with the customer to see if they'd like the technician to delve further into the issue."
The Prius included HVAC codes which wouldn't activate a dash light, according to Brocoff.
Without the shop reporting the codes, "the only way a customer is going to know there is an issue is if they remember that there was 'something not quite right' with their climate control which is highly unlikely,'" she wrote.
More information:
"CarMD Announces Early Test Results from Repair Shops Using PRO SCAN Vehicle Inspection Solution Find 80% of Cars and Trucks Need Repairs"
CarMD via PR Newswire, March 25, 2020
Images:
CarMD's PRO SCAN device is shown. (Provided by CarMD)
An excerpt from a customer-facing version of a CarMD PRO SCAN report. The body module codes on this 2008 Hummer H3 would not trigger dash lights, according to CarMD. (Provided by CarMD)
Share This: