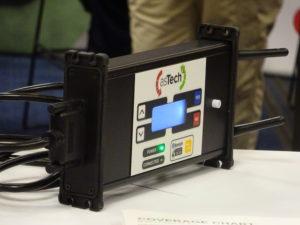 Recently, we reported on difficulties repairers in three states had encountered while invoicing for using third parties — asTech, AirPro and even the dealer level — in diagnostic scanning.
One shop said State Farm had been refusing such sublet work, while two others saw resistance from GEICO. The insurers argued that repairers should own scan tools and/or interpret results in-house, defaulting to what adds up to 1.0 hours mechanical to cover both pre- and post-repair scans. (Ironically, the repairer having difficulty with State Farm said GEICO was fine to work with, and one of the shops who'd been denied by GEICO said State Farm wasn't a problem.)
With all that in mind, collision repairers might be interested to hear the recent success a Waterloo, Wisc.-based shop had on the issue.
Don Selje, owner of Don's Auto Body & Paint, had complained to the Wisconsin Office of the Commissioner of Insurance about State Farm's objection to reimbursing an asTech invoice on a 2017 Jeep Renegade.
The agency on March 9 said it asked State Farm to "respond to your concerns," and the insurer had changed its mind.
"It appears a dispute exists between you and State Farm regarding payment for a recent auto claim for pre and post repair scans," the OCI wrote. "My review of State Farm's response indicates your complaint may be resolved.  State Farm indicates that it has now reconsidered and paid for the pre and post repair scans in the amount of $169.95."
AsTech charges $119.95 for a pre-scan and $50 for a post-scan. The asTech device remotely connects a vehicle to an OEM scan tool housed at an asTech facility. The company also offers remote professional support as well. This can be an alternative to buying OEM scan equipment or software and/or having staff with sufficient expertise for the task.
According to a letter State Farm sent Selje, State Farm had paid the shop 0.5 hours for a pre-repair scan and 0.5 hours for a post-repair scan. Don's Auto Body had also sublet the $169.95.
"State Farm will consider reimbursement based on reasonable charges in the market for pre and post-scan activities, when they are necessary," State Farm section manager Jim Maynard wrote. "It is expected that collision repairers have the tools and equipment necessary to repair today's modern vehicles, including scanning equipment. In the event a particular vehicle, due to its design or special advanced technology features, cannot be scanned using the collision repairer's up-to-date and commercially capable scanning equipment, State Farm will consider charges associated with completing scanning operations remotely, using third party vendors.
"After reviewing the charges submitted for this 2017 Jeep Renegade, we have revisited our position and will pay the additional charges submitted by the repair facility due to the fact that aftermarket scanning equipment was not capable of completing the necessary scans on this particular vehicle. This aligns with our commitment to handle each claim on its individual merits."
FCA calls specifically for shops to use its Mopar wiTECH scan tools to check vehciles before and after a collision. It also warns that aftermarket scan tools might be inadequate.
"Use of the Mopar® *wiTECH vehicle diagnostic tester ("Mopar Scan Tool") is an important part of FCA vehicle service
and maintenance," FCA wrote in a Sept. 25, 2019, position statement. "This tool contains software that aftermarket tools may not contain and can assess whether any of an FCA's vehicle's safety and security systems contain active or stored Diagnostic Trouble Codes (DTCs)."
However, both the asTech (which connects remotely to a wiTECH) and third-party equipment using the "Right to Repair" SAE standard J-2534 to run FCA's official scanning software are also acceptable for FCA's certified shops, head of international communications Arial Galivan confirmed in October 2019.
FCA's recommendation is still for shops to use its official wiTECH scan tool. It's the only thing the OEM can truly be sure is working right.
"They are acceptable substitutes, as long as they can connect to all modules to ensure that the system is fully connected and functional," Galivan wrote in an email last year. "However, as do with our parts portfolio, we recommend technicians to utilize our wiTECH tool to ensure all modules and Diagnostic Trouble Codes are captured in the scanning process and are up to date and operating at optimal performance."
More information:
"SCAN TOOL POSITION STATEMENT"
FCA, Sept. 25, 2019
FCA OEM repair procedures site
Featured image: An asTech is seen at SEMA 2018. (John Huetter/Repairer Driven News)
Share This: