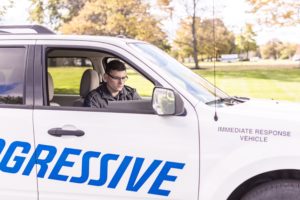 Progressive on Thursday announced it would divide more than $2 million among its network of affiliated collision repairers.
Spokesman Jeff Sibel in an email Thursday said the company had more than 2,000 Guaranteed Repair Network facilities.
"We value the relationships we have with all our Network shops and will be providing the same amount to each totaling over $2 million," he wrote. The repairers could spend it on whatever they wanted, she wrote.
Progressive cited reduced claims as an impetus for this move and its recent credit of $1 billion in premiums to customers. Solera regional managing director Ramon Suarez on Wednesday estimated U.S. auto claims volumes overall had fallen 50 percent in the wake of the COVID-19 pandemic and response. Auto glass claims had fallen 30 percent, Suarez said.
"Progressive values the relationships they have with their Network shops, and the various ways they assist in servicing the inspection and repair needs of mutual customers," Sibel wrote Thursday. "Due to fewer claims that come from less frequent driving, Network shops face uncertainty as business conditions have changed. In light of the current environment, Progressive will be issuing checks to each active Network shop to be used for any purpose at the shop's discretion. This monetary relief for shops is part of Progressive's Apron Relief Program, created to help customers, employees, agents and communities as they navigate the current situation."
Sibel also noted direct repair program facilities' role in another Apron Relief initiative: Easy repairs for first responders.
"Additionally, in an effort to provide some relief to those workers on the frontlines of this pandemic, Progressive is working with its Network shops to provide a full-service claims experience for first responders and health care workers who experience a car accident," Sibel wrote. "This includes providing enhanced roadside service, expedited tow service and vehicle repairs as well as pick-up and delivery of the repaired vehicle. Progressive will also defer deductibles and provide rental vehicles, as needed." (The company also is deferring deductibles for other customers who "need a personal vehicle repaired and can't pay out of pocket.")
Progressive confirmed that the first responders had to use a DRP shop to gain all of these perks.
"A customer is always free to use any shop they desire, but to experience the full benefits of the expedited concierge program, including a lifetime guarantee, the first responder / healthcare provider would need to choose a participating Network shop," Sibel wrote. "If the customer chooses an out-of-network shop, he or she may still qualify for certain services."
It's interesting to note that the $2 million is being divided among what appears to be a much smaller network than just two years ago. Progressive described "nearly 3,000 Progressive approved shops" in early 2018.
Meanwhile, the company's market share has risen from 9.88 percent in 2017 to 12.25 percent in 2019, according to NAIC data released in Spring 2018 and Spring 2020.
More information:
Progressive "Apron Relief Program" webpage
Shop-facing Progressive Guaranteed Repair Network webpage
Featured image: A Progressive vehicle is shown. (Provided by Progressive)
Share This: