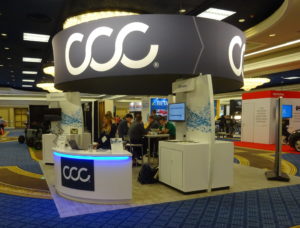 CCC last month doubled the Collision Industry Foundation's COVID-19 coronavirus fund with a $100,000 match of CIF's initial seed money.
CIF, a 501(c)(3) nonprofit, helps people with ties to the collision industry after disasters. It bought tools for repairers after Hurricane Katrina, funded a Christmas for families affected by the Camp Fire, and donated $10,000 to a shop owner whose son (a former shop employee) and daughter-in-law were slain in a mass shooting, leaving behind young children.
"During our most challenging times, the Collision Industry Foundation has been a constant source of leadership for our industry," CCC automotive services group Senior Vice President Joseph Allen said in a statement March 31. "CCC is proud to support CIF as it continues its work mobilizing the broader community and delivering relief to our industry."
CIF announced it had started the COVID-19 fund with $100,000 on March 26. CIF board President Michael Quinn (AirPro) said the organization will distribute money raised to industry professionals who lost their jobs, became sick from COVID-19 or lost a family member to the disease.
"CCC is a compassionate industry leader, and we are grateful for their financial assistance at this crucial time. Applications for support are already coming in from those in need, so this generous donation is vital," Quinn said in a statement. "We look forward to others like CCC stepping up to help those impacted in our industry. The CIF Board of Trustees calls on all industry stakeholders to dig deep to help our own. Together we can and will make it through this."
As of Wednesday, CIF had received 199 applications for help and is proceeding with its standard vetting process. 44 applicants have already been approved. CIF trustees and CCC quality repair and market development Vice President Dan Risley are handling the vetting.
The estimating service has been the largest but by no means the only donor to the CIF COVID-19 relief effort since the organization announced the fund. As of Wednesday, CIF had raised more than $107,000 specifically for the fund on top of its own $100,000.
Other donations as of Wednesday included $5,000 from AirPro; $1,000 from Spanesi; $500 from Timothy Morgan; $250 from Jeff Hendler; recurring $100 monthly payments each from Meredith Bradshaw and Bill Enross; $100 donations from Benjamin Cupelli, Dave's Collision Center, Petra Schroeder and Tanya Sweetland.
The Centers for Disease Control estimated at least 632,548 confirmed or probable cases of COVID-19 coronavirus and 31,070 confirmed or probable deaths from the disease as of 4 p.m. Wednesday.
Seasonally adjusted U.S. unemployment rose to nearly 12 million for the week ending April 11, the Department of Labor said Thurday. This and the 8.2 percent seasonally adjusted unemployment rates set records for the time the government has kept seasonally adjusted tallies.
"Today's report reflects the continuing impact of the important public health measures being taken to defeat the coronavirus," Labor Secretary Eugene Scalia said in a statement. "Americans are making sacrifices for the wellbeing of the country, and the Trump Administration is moving quickly to support workers and small businesses during this difficult time. The Department of Labor has issued all the essential guidance the States need to implement the historic unemployment benefits expansion under the CARES Act, and 29 States are now paying the $600 weekly boost in unemployment benefits under the Act. The remaining States will begin providing the benefit as they update their systems. The Department has disbursed more than half a billion dollars in administrative funding to States to help them contend with the surge in claims and burden on their staff and computer systems, and additional funding will be released as States apply and meet the requirements set by Congress. The Administration also continues to prioritize keeping American workers connected to their employers through programs that aid business owners in keeping workers on payroll. As America maintains its disciplined efforts to 'slow the spread,' the Department will continue to prioritize getting prompt relief to workers and the States and businesses that support them."
Donate to the COVID-19 industry fund here. Those in the collision ecosystem who need assistance should visit the CIF's website here.
More information:
"CCC Donates $100,000 to Collision Industry Foundation COVID-19 Fund"
Collision Industry Foundation, March 30, 2020
CDC COVID-19 updated guidance for businesses
Department of Labor COVID-19 coronavirus webpage
Small Business Association COVID-19 coronavirus webpage
The CCC booth at SEMA 2019 is shown. (John Huetter/Repairer Driven News)
Share This: