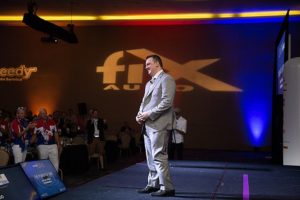 Fix Network World on Wednesday called itself "disappointed and alarmed" by news that Driven Brands has purchased Fix Auto USA and will continue to use that brand.
Fix Network World, which said it had no advance warning of such a deal, did not specify the source of its information that the purchase had occurred.
However, FenderBender on Tuesday reported that Driven Brands had purchased Fix Auto USA's network of 150 American franchisees and Auto Center Auto Body's 10 company-owned auto body shops.
"We were not aware of this transaction nor did we consent to any transaction between Driven Brands and FUSA, as is required under the license agreement with FUSA's parent company," Fix Network CEO Steve Leal said in a statement Wednesday. "As such, we will pursue all legal avenues open to us to protect our lawful position as the owner of the Fix Auto trademark and design in the United States."
Fix Auto USA has not responded to Tuesday requests for comment on the FenderBender report. Driven Brands would not confirm news of such a sale Tuesday.
"Thank you for reaching out, however, we are unable to comment at this time," DrivenConnect communications manager Lauren Hommas said in a statement Tuesday. "We kindly ask that you await the official details, which will be released later this week.
"Driven Brands continuously explores new opportunities to provide industry-leading solutions to meet the needs of our customers and franchisees, while positioning our portfolio of brands for further growth and success."
We've reached out to Driven Brands and Fix Auto USA again Wednesday comment on the new Fix Network World release.
Continue to check Repairer Driven News for updates.
Driven Brands owns CARSTAR and Maaco. Last year, it purchased the 55 ABRA franchisees and franchising subsidiary ABRA Automotive Systems, which had been retained on the books following Caliber-ABRA merger earlier that year.
2017 also saw Fix Auto World and Fix Auto USA embroiled in a dispute over the Fix Auto brand. Fix Auto World announced it would regain its Fix Auto trademark from Fix Auto USA and formally enter the United States that year.
However, Fix Auto USA, which received a license to use the trademark in 1997, vowed to "assertively and legally fight" to keep using the name. President and CEO Paul Gange said in a 2017 statement Fix Auto USA expected "to continue operating and growing the Fix Auto brand in the U.S. for the next decade, and longer."
In 2014, Fix Auto Canada bought Mondofix, the holding company for the Fix Auto brand used by what was then 333 locations, according to Collision Repair Magazine. Fix Auto World said Mondofix owns the "the Fix Auto trademark and design in the United States and globally."
U.S. Patent and Trademark Office records for the word and design mark support this assertion. According to the PTO, Mondofix renewed a 31-year-old Fix Auto design trademark in 2018 and saw a trademark for the words "Fix Auto" registered in 2017.
More information:
"BREAKING: Driven Brands Acquires Fix Auto USA, Auto Center Auto Body Inc."
FenderBender, April 22, 2020
Fix Network World CEO Steve Leal appears at the 2019 Fix Network World global conference. (Provided by Fix Network World)
Share This: