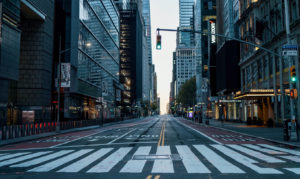 LKQ CEO Nick Zarcone predicted last month that crash volumes "will move back, we believe, to where they were," doing so at a gradual pace.
LKQ has discarded the full-year guidance it issued prior to the COVID-19 coronavirus response demolishing the economy. However, Chief Financial Officer Varun Laroyia told an April 30 earnings call it has attempted a good-faith estimate which predicts "severe short-term impact" and a gradual return to prior revenue levels by 2021.
The S&P 500 company's earnings reports can be a helpful barometer for the collision and mechanical aftermarket given its customer base in both industries.
LKQ foresees the largest negative impact from the COVID-19 economic slump to occur in the second quarter.
Asked if LKQ would be profitable, just by a razor-thin degree, in the second quarter, Laroyia said "it all depends." The first half of April was like a March 2020 down 40-45 percent. But the last 10-12 days had a "nice little uptick," even if they were still down compared to 2019, according to Laroyia. It depends on May and June, he said.
Zarcone said April 30 that LKQ had seen a slight increase over the past week in most of its business compared to earlier that month. However, he pointed out that this metric draws a comparison to a low point in the business, and "it's too early to determine whether they are sustainable," he said.
Zarcone called it "impossible to predict" how long COVID-19 economic conditions will persist.
"We are working under the assumption that these depressed levels will persist through a good part of Q2, with demand beginning to see a modest rebound in Q3, and heading towards more normalized levels in Q4, but likely not back to 100 percent until sometime in 2021," Zarcone said.
Zarcone likened LKQ's experience between January and March to operating in "two completely separate economies" in one quarter. He said revenue declined faster than LKQ's ability to reduce cost.
LKQ's organic revenue fell 1.1 percent in January and February, somewhat because of a warmer winter but mostly related to the company ending its FCA battery contract, according to Zarcone. However, CCC found repairable collision and liability claims fell 4 percent during those two months, according to Zarcone.
"We continued to outperform the market as a whole," Zarcone said.
In March, organic North American parts and services revenue fell 13.9 percent per-day, with most of this occuring in the second part of the month. CCC, meanwhile, said repairable claims fell 20 percent.
As far as the entire quarter, LKQ saw a 4.2 percent North American parts and services organic revenue decline (5.6 percent per-day) — much less than would be anticipated by the 9.9 percent fewer claims CCC estimated.
Zarcone called the first three weeks of April "even weaker."
Other predictions
Other major ecosystem players recently offered insight on the current and future collision industry.
After witnessing the COVID-19 coronavirus response cut demand 40-50 percent at the end of last quarter, Gerber's parent company Boyd Group Services on Wednesday reported year-over-year sales had stabilized to be "down slightly less" than 40 percent in April and this month.
Service King CEO David Cush told employees May 8 that key Service King states were loosening COVID-19 restrictions — including Texas.
While "it probably will be a long process" to reach pre-coronavirus levels there, "we continue to see improvements in business," Cush said. Many Service Kings were the busiest they'd been since before the virus attacked the economy, according to Cush. Some were even closing in on "near-normal levels" of work in progress, he said.
During a webinar May 6, 3M automotive aftermarket division Vice President Dave Gunderson shared a prediction from Aranca that the automotive aftermarket would ultimately be down 12 percent for the year. The second quarter would see claims down 50-70 percent, but crashes would rise in the second half of the year and reach 85 percent of normal by Q1 2021, according to the slide.
"We anticipate a gradual improvement in revenue and profitability as governments around the globe begin the process of lifting the restrictions on mobility and opening their economies," Zarcone said in a statement April 30. "… As market conditions improve, we look forward to bringing our people back, so we can both fulfill the anticipated increase in demand and continue to provide industry leading levels of customer service."
More information:
LKQ first-quarter 2020 earnings call
LKQ, April 30, 2020
LKQ first-quarter 2020 earnings presentation slides
LKQ, April 30, 2020
"LKQ Corporation Announces Results for First Quarter 2020"
LKQ, April 30, 2020
Seeking Alpha transcript of LKQ first-quarter 2020 earnings call
Seeking Alpha, April 30, 2020
Featured image: A New York City street is empty May 2, 2020, during the COVID-19 pandemic. (MRBIG_PHOTOGRAPHY/iStock)
Share This: