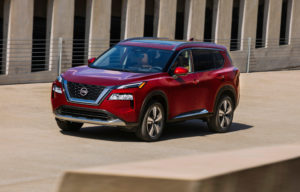 The next-generation 2021 Nissan Rogue unveiled Monday includes 35 percent ultra-high-strength steel, up from 19 percent in the 2020 model.
However, Nissan also looked to other lightweight materials for its No. 1 seller. The OEM will build the hood, fenders and doors out of aluminum and employ resin for the tailgate and fuel lid.
Nissan electric vehicle and crossover spokesman Jeff Wandell wrote that some aluminum existed on the current-generation 2020 Rogue. "The new model just has an increase," he said.
According to Nissan, the 2021 Rogue sits on a more integrated chassis. "The new suspension design features a rigid mount (six mounting points) and a new multi-link rear," the OEM wrote.
Its body also includes "extended crumple zones to help protect occupants." Ten airbags deliver further protection.
Knowledge of OEM procedures — particularly restrictions on joining, repairing and sectioning higher-strength steels — will likely be paramount for anyone hoping to work on the mixed-material crossover after it hits dealership in the fall. Nissan sold 350,447 Rogues last year. 
Such higher-strength steel restrictions might have informed Nissan's 2016 position statement discussing unibody repairs and banning "clipping."
"Nissan North America recommends that if structural repairs are needed on a vehicle, they only be performed by an experienced professional with proper tools, while using a current Nissan body repair manual for reference. Component replacement should be accomplished only along factory seams where sectioning is appropriate and approved within the body repair manual. Failure to adhere to this recommendation can result in a number of problems, including improperly fitting parts, noises, excessive tire wear, and most importantly, changes in the way the vehicle reacts in subsequent crashes.
"The repair of reinforcements (such as side members) by heating is not recommended since it may weaken the component. When heating is unavoidable, do not heat high-strength steel parts above 550°C (1022°F). Additionally, application of heat can alter or destroy material coatings utilized for corrosion protection and may not be restorable in some cases. Using adhesives in place of welding for component replacement is not an authorized Nissan North America repair method."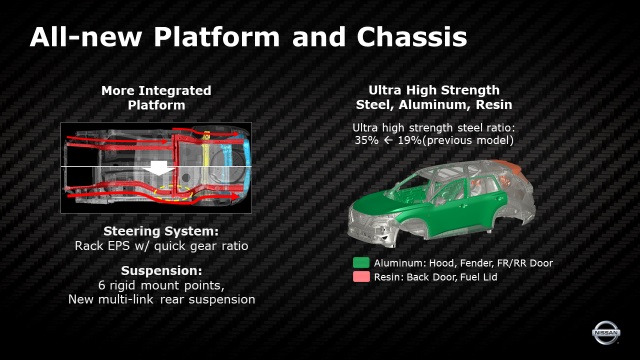 A facility would likely need the space and equipment to separate steel and aluminum work as well. Nissan in a 2018 position statement also warned repairers not to corrode its vehicles by reusing one-time-use items on aluminum parts.
"Body panels are either labeled as aluminum or marked with an asterisk* in the Electronic Service Manual (ESM) and have specific corrosion protection barriers in place," Nissan wrote then. "Replacement of these required barriers will help prevent galvanic metal corrosion leading to greater durability and overall customer satisfaction. Galvanic metal corrosion is when two dissimilar metals come in contact and an electrochemical corrosion starts to takes place. This will result in premature part and paint failure. Coated bolts, washers, or nuts are typically single-use parts and should be replaced with new Genuine Nissan Original Replacement Parts during vehicle reassembly. See ESM for the single-use parts designation. These items will be labeled with a black circle with a white 'X' or specified in a precautionary statement. For items using any coatings or other barriers, please refer to the ESM for recommended product specifications."
The Rogue's body also deserves attention for aerodynamic features that could increase repair complexity and severity.
"Key aerodynamic features include '3D' tire deflectors in the lower front fascia, an active grille shutter to control air flow into the engine compartment, special A-pillar shaping, underbody covers to manage air flow under the vehicle and a unique 'air curtain' that precisely directs air flow from the front to the sides of the Rogue," Nissan wrote.
Other external items of note include standard multilevel LED headlights, five two-tone paint options, and rear doors able to open nearly 90 degrees.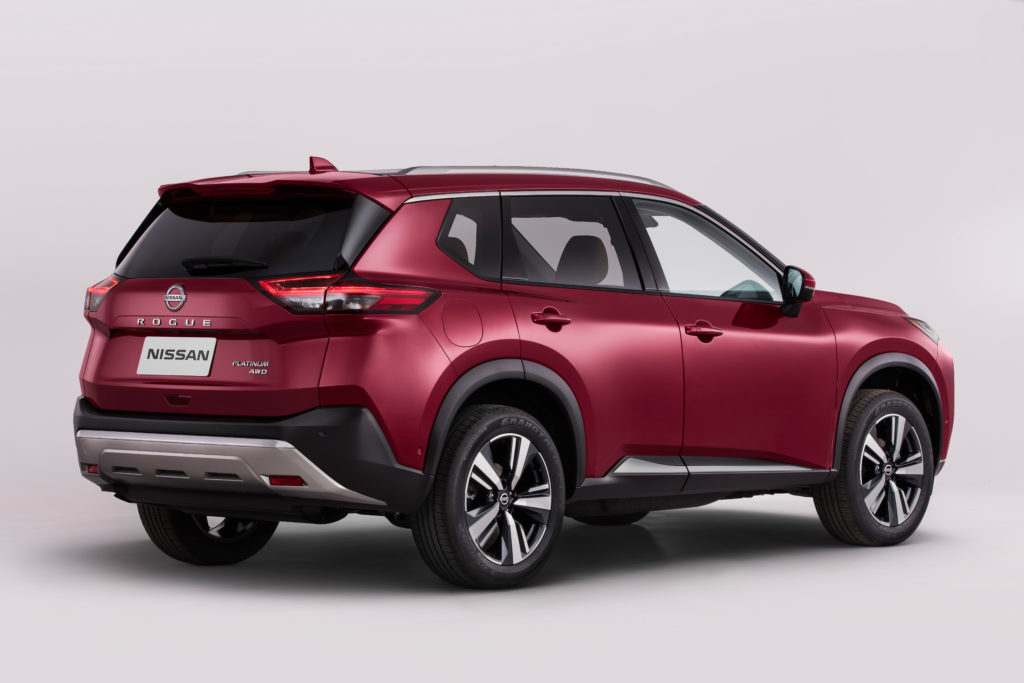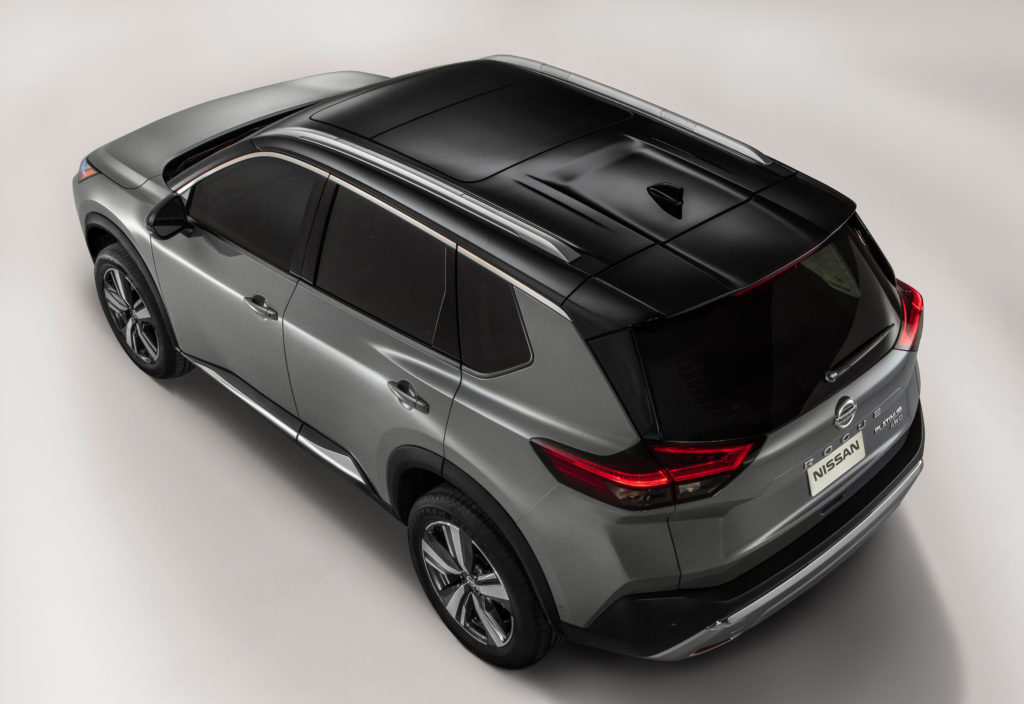 Over on the advanced driver assistance system front, the 2021 Rogue includes the Nissan Safety Shield 360 suite standard. The system includes autobraking with pedestrian detection, rear autobraking, blind-spot warnings, lane departure warnings and automatic high beams. Driver monitoring and rear door alerts also come standard.
Options include blind-spot autosteering and traffic sign recognition.
Nissan also offers the option of ProPILOT Assist, which works much like Tesla's Autopilot. The human is still responsible for monitoring the road and taking action if necessary, but the vehicle will handle the acceleration, braking and steering within a lane. Nissan said the system can bring a vehicle to a stop if the human isn't pulling their weight.
"For 2020, ProPILOT Assist has been enhanced using next-generation radar and camera technology to provide smoother braking, better steering assist feel and improved detection performance when other vehicles cut into the lane," Nissan wrote.
The Rogue Platinum will feature "ProPILOT Assist with Navi-link" standard, and the SL will permit it as an option. The upgraded version of ProPILOT lets the artificial intelligence leverage map data "to proactively reduce speed for upcoming freeway curves or junctions and also help the driver slow for freeway exits." The system also automatically adjusts the vehicle's speed based on the speed limit signs it sees.
The ProPILOT with Navi-link also can handle stop-and-go traffic on a freeway involving stops of up to 30 seconds, instead of just 3 seconds.

Both Safety Shield and ProPILOT will likely produce calibration demands upon repairers. For example, Nissan in 2016 reported that any vehicle with a Safety Shield radar sensor needed that radar "properly recalibrated after any repair situation to the front of the vehicle that would cause the radar sensor to be shifted, removed, reinstalled, or jolted in the collision."
"Nissan North America has taken the position that the recalibration of radar devices in the described repair situations is mandatory, without exception," Nissan continued. "Failure to follow this recommendation could result in radar malfunction, or vehicle systems, including safety features not working as originally intended, thus posing a significant risk to vehicle occupants. We ask that the general repair industry adhere to these strict guidelines for the ultimate benefit and safety of our customers."
Rogues also can project a full-color head-up display on the windshield. It's unclear if this comes standard on all trims.
"The head-up display, another first for Rogue, is designed to help reduce the driver's workload and stress – keeping surroundings and the road ahead in sight while accessing a range of vehicle information," Nissan wrote. "At 10.8 inches, it is one of the largest head-up displays in the segment."
More information:
"All-new Nissan Rogue engineered to make family life easier"
Nissan, June 15, 2020
Nissan Safety Shield 360 webpage
"WHAT IS NISSAN'S PROPILOT ASSIST?"
Nissan, July 17, 2019
"THE CONFIDENCE OF NISSAN SAFETY TECHNOLOGY"
Nissan, Dec. 16, 2019
Images:
The 2021 Nissan Rogue Platinum is shown. The 2021 Rogue has an aluminum hood and aluminum fenders and doors. (Provided by Nissan)
The 2021 Nissan Rogue increased ultra-high-strength steel content compared to the prior generation. (Provided by Nissan)
The 2021 Nissan Rogue has a resin tailgate. (Provided by Nissan)
Nissan said five two-tone paint options will be available on the 2021 Nissan Rogue. (Provided by Nissan)
Nissan said the version of its ProPILOT technology contained in the 2021 Rogue improved some features, such as detection when another vehicle crosses into one's lane. An upgraded version ProPILOT with Navi-link is standard on the Platinum trim and optional on the SL version. (Provided by Nissan)
Share This: