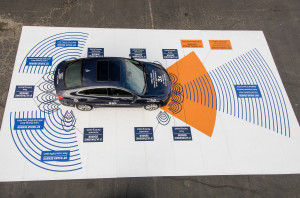 Collision repairers, insurers and consumers seeking a crash course in General Motors advanced driver assistance systems should consult an extensive guide the OEM recently posted.
While not a substitute for the actual OEM procedures, the "Driver Assistance Systems" document should be an invaluable means for shops and insurers to educate themselves and their customers on the broad strokes.
"During the course of vehicle diagnosis and repair, part replacement, or collision repair, components related to advanced driver assistance systems may need to be accessed or removed. In some cases, a calibration may need to be performed after service to ensure proper operation of the system. Below is a list of available systems, components involved in the system, and when these components require a calibration procedure be performed. Refer to the appropriate Service Information document for specific calibration instructions, as well as any additional programming operations needed if the component was replaced."
The guide lists the official name, abbreviation and "regular production option" (RPO) code of each ADAS feature and explains what it does and what parts it relies upon. It also explains when calibration would be required and the cause of calibration issues for certain parts.
GM tells you what to look for, provides the RPO code on top of the information available through the VIN, and offers the actual brand name of the ADAS to search for in the repair procedures. With this kind of hand-holding, it might be hard for any repairer or insurer to credibly plead ignorance on calibration or omit obvious instances of the operation on initial estimates.
For example, does the estimate say R&R or R&I windshield? Was a "collision repair" conducted? Did an airbag blow? You must recalibrate the "Frontview Camera – Windshield," according to GM. These types of no-brainer "if-thens" seem easily teachable to a rookie writer or programmed into an AI photo estimating system.
However, the camera can't yet be presumed good to go, according to GM. You might have to verify its status with a scan too, based on the OEM's document. (Which body shops have already been instructed to do anyway.)
The OEM's document lists three diagnostic trouble codes indicating a frontview windshield camera needs a recalibration: B1008, "Calibration Data," and B395D, "Camera Misaligned,"; and B101E, "Electronic Control Unit Software." It's unclear if any of those trigger a dash light.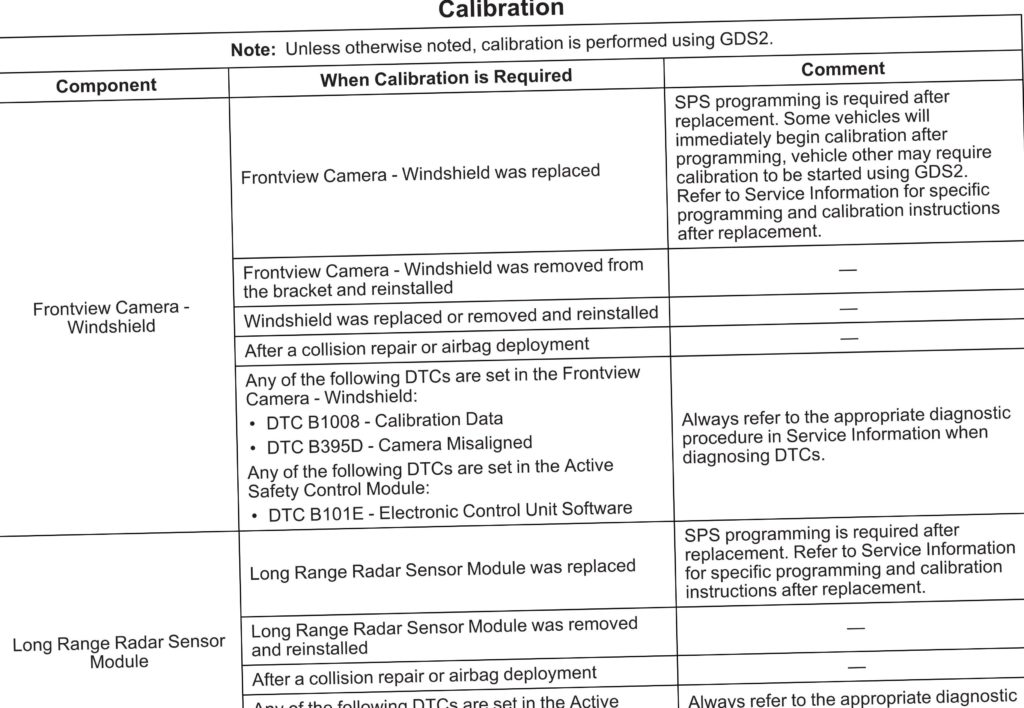 In terms of the actual windshield camera calibration, the GM document states you should program the camera if necessary and research the full OEM procedures.
"SPS programming is required after replacement. Some vehicles will immediately begin calibration after programming, vehicle other may require calibration to be started using GDS2 (the GM scan tool)," GM wrote of the camera. "Refer to Service Information for specific programming and calibration instructions after replacement."
Did you fail to check the repair procedures and correctly prepare the camera?
Then you've potentially left compromised some combination of Super Cruise, Camera or Advanced Adaptive Cruise Control, Forward Collision Alert, regular and Enhanced Automatic Emergency Braking, Front Pedestrian Braking, Lane Keep Assist With Lane Departure Warning and regular Lane Departure Warning and IntelliBeam Auto High Beam Assist. According to the GM document, all of these use the front windshield camera.
It's also interesting to note that multiple components don't require formal calibration, according to GM. (Though you'd probably still have to verify this in the actual live OEM procedures in case the GM PDF document lags technology or procedure changes.)
Others parts are more nuanced.
Park assist sensors need calibration on some vehicles but not others. A short-range radar sensor module doesn't need calibration but must receive SPS programming as described in the OEM procedures if it is replaced.
The left and right side object sensor module offer a particularly interesting discussion of a part that doesn't need calibration per se:
"The B218L Side Object Sensor Module – Left and B218R Side Object Sensor Module – Right are always performing coarse and fine calibration during operation," GM wrote. "No specific calibration is required as a part of service, simply drive the vehicle to begin calibration. SPS programming is required after replacement. Refer to Service Information for specific programming instructions."
More information:
General Motors "Driver Assistance Systems" guide
General Motors OEM repair procedures
General Motors technical documents portal
Images:
Possible sensor/camera capabilities of the 2016 Chevrolet Malibu are shown. (Provided by Chevrolet/© General Motors)
A General Motors advanced driver assistance guide posted in summer 2020 lists the official name, abbreviation and "regular production option" (RPO) code of each ADAS feature and explains what it does and what parts it relies upon. It also explains when calibration would be required and the cause of calibration issues for certain parts. (Provided by General Motors)
Share This: