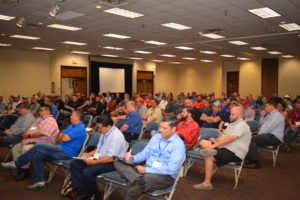 The Auto Body Association of Texas on Tuesday announced it would cancel its Texas Auto Body Trade Show over COVID-19, noting that it had "waited it out until the bitter end" to make the call.
The 2020 show, scheduled for Sept. 18-19 in Irving, Tex., would have followed a record 2019 attendance of hundreds of people.
"This was a difficult decision to make. We have waited it out until the bitter end holding onto hope that we could make it work," ABAT President Burl Richards (Burl's Collision Center) said in a statement. "With all factors considered, this is what is best for everyone."
ABAT in a news release said it "felt that this was the best thing for ABAT, its members, speakers and exhibitors."
As of 3:50 p.m. CT Thursday, Texas had 230,346 reported cases of COVID-19 and 2,918 fatalities. On July 2, Republican Gov. Greg Abbott restricted indoor gatherings to 10 people (with some exceptions). He also mandated face coverings after "recent substantial increases in COVID-19 positive cases," with exceptions for counties posting few cases.
Executive Director Jill Tuggle said ABAT discussed the idea of a physical show with attendees and vendors, and "the response was split down the middle."
She explained that a "good majority" of prospective attendees felt "they felt comfortable going if proper precautions were taken" on the COVID-19 coronavirus.
But the vendors were split, she said. "About 50 percent of the vendors either were not able to go or didn't feel comfortable going," she wrote in an email. "Most of the ones who did not want to go were out of state vendors."
"Many Texans are ready to venture out with proper precautions taken but with vendors under tight budgets and corporate travel restrictions, a successful show is not possible," Tuggle said in a statement. We are looking forward to making 2021 our best year yet."
The 2021 Texas Auto Body Trade Show is scheduled for Sept. 17-18, 2021.
However, Texas collision repairers, business partners and other vendors aren't completely out of luck.
"We are excited to host some smaller regional events in the fall as well as a few educational meetings," ABAT wrote.
"… The first event to take place is a training meeting on July 22, 2020 at 1:00 pm. The meeting will discuss critical financial planningin times like this as well as a forecast for ABAT for 2021. The meeting will be held virtually through a platform like Zoom. Other outdoor events like a skeet shoot and a golf tournament are in the works."
Learn more on www.abat.us or email Jill Tuggle at jill@abat.us.
Repairers in Texas and the rest of the country still have other near-term options for getting their trade show fix, albeit virtually.
The Society of Collision Repair Specialists announced Monday that it would hold a free, virtual open board meeting July 20. Both SCRS members and nonmembers are welcome to attend the Zoom event from noon to 2 p.m. CT on July 20; SCRS only asks that you preregister here.
Guest stars will include representatives from ClaimsCorp, General Motors, Matrix Trade Institute, Ranken Technical College and SEMA as well as collision industry attorney Patrick McGuire.
The Collision Industry Conference will hold a virtual summit 11 a.m. to 3 p.m. July 22-23 in lieu of its traditional quarterly gathering. The event is a chance for auto body shops, insurers, OEMs, vendors, information and everyone else connected to the industry to learn from and debate each other. Key topics include ADAS, alternative parts category definitions, data privacy and steering column inspections. There's also open mics. Get the promo code for free attendance here, and register here.
The Alliance of Automotive Service Providers of New Jersey had originally planned to hold a physical NORTHEAST in August instead of March. However, it decided in June to make the Aug. 21-23 event virtual instead.
The virtual show will include educational opportunities tied to the "Collision P.R.E.P." sessions hosted by the Washington Metropolitan Auto Body Association, AASP-NJ said then. It'll also let people walk a NORTHEAST floor of sorts, according to the trade group.
"The virtual experience will allow attendees to enter an online NORTHEAST floor plan and access exhibitors' products, videos and information, and even schedule a private meeting," AASP-NJ wrote.
Those interested in learning more about the virtual NORTHEAST can join a mailing list here.
And there's still an opportunity for collision repairers to see peers, check out equipment, and gain valuable education in person — at the industry's biggest event.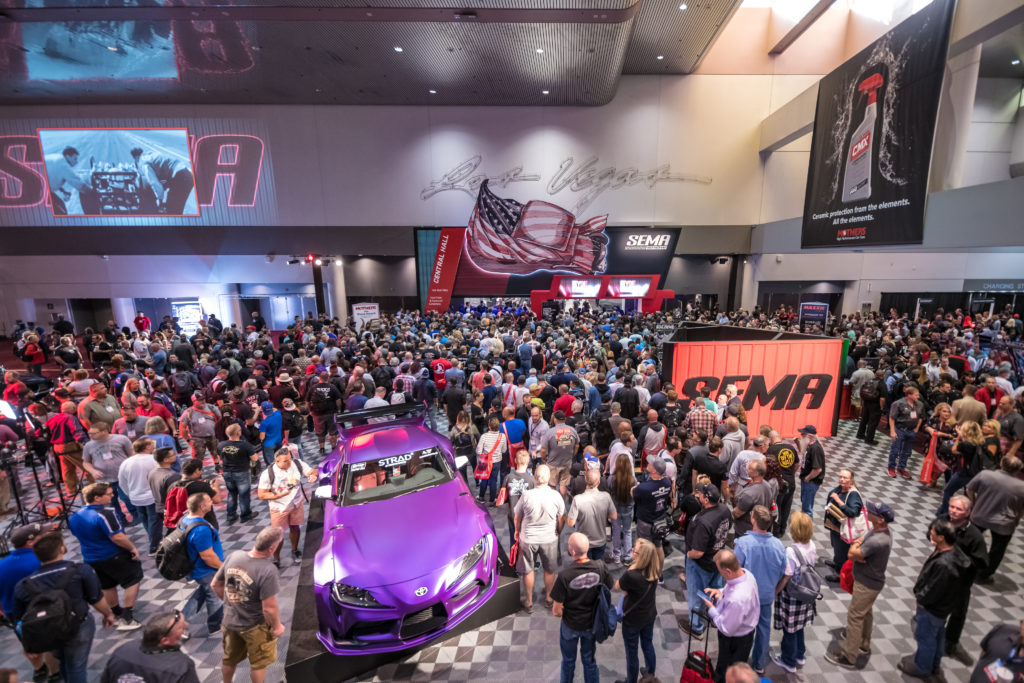 SEMA still plans to hold an in-person show. In fact, repairers can learn more about that during the SCRS open board meeting later this month; SEMA trade shows director Tom Gattuso will provide an update on the Nov. 3-6 show.
While there's no doubt that the 2020 Show will be different, the SEMA team is making plans to preserve the Show's core business value in a safety-first environment. Expect the opportunity to showcase new products, make connections, share ideas and strategize for the future.
What will the Show look like? Plans are taking shape around best practices such as:
• Crowd-density concepts, including directional traffic flow and social-distancing measures.
• Use of CDC-recommended personal protective equipment, such as facemasks, face shields and safety partitions.
• Reducing touch points in high traffic areas like Registration and the New Products Showcase.
• Efficient health-query protocols as you arrive on-site.
• Increasing frequencies of facility cleaning and adding a process for nightly sanitization.
• Streamlining food-service locations to create touchless and cashless transactions.
• Encouraging early registration so credentials can be mailed in advance of the Show. (Minor formatting edits.)
More information:
Auto Body Association of Texas
NORTHEAST 2020 updates mailing list
Register for July 20 SCRS open meeting
CIC July meeting details/registration
CIC promo code for free July CIC attendance
Images:
An education session at the 2019 Texas Auto Body Trade Show. (Thomas Greco Publishing)
The 2019 SEMA Show is seen. (Provided by SEMA)
Share This: