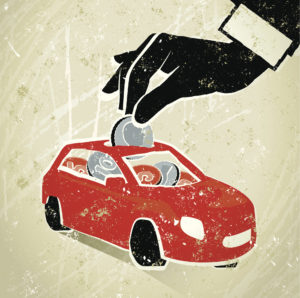 Acuity, Amica, Chubb, Erie and PURE altogether were more likely than the "Big Eight" auto insurers to reimburse customers for four common repair operations on claims, according to the latest "Who Pays for What?" study.
For three of the operations, the smaller insurers combined were significantly more likely to cover the bill than the collective State Farm, GEICO, Progressive, Allstate, USAA, Liberty Mutual, Farmers and Nationwide.
Collision Advice and CRASH Network's "Who Pays for What?" survey uses a 0-3 scale to score insurer willingness to pay line items invoiced by a body shop. 0 is "never," 1 is "some of the time," 2 is "most of the time," and 3 is "always."
The five smaller carriers scored between 1.78 and 2.74 for the operations. The nation's Top 8 insurers collectively never cracked the "most of the time" score of 2, ranging between 1.34 and 1.47.
In fact, Acuity, Amica, Chubb, Erie and Pure were closer to "always" than "most of the time" for three of the four operations: "Denib"; "Feather, prime, block"; and "Mask during prime." On "Match OEM texture," they scored a 1.78 compared to 1.37 for the "Big Eight."
So while the nation's eight largest insurers might entertain consumers with ads on the front end, those policyholders or their repairers could be left holding the bag on the back end with out-of-pocket or eaten costs. Quieter players like No. 13 Erie, No. 23 Amica, Chubb, Acuity and Pure might be more helpful when you need more than a laugh out of them.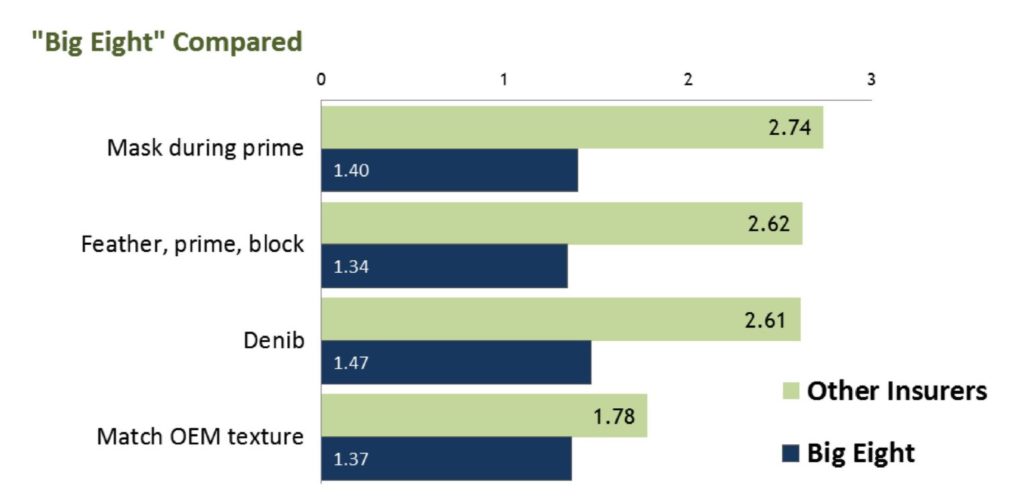 The results seem to jive with another study announced in January by co-author CRASH Network.
The media outlet's "Report Card" polling in November and December 2019 found none of the Top 10 carriers in market share scored in the Top 10 for claims behavior and repair quality. (The study asked shops to grade insurers on "How well does this company's claims handling policies, attitude and payment practices ensure quality repairs and customer service for motorists?")
But Chubb, Erie, Acuity and Amica all made the Report Card's Top 10 — and Pure ranked 11th.
"Many consumers won't have seen or heard advertisement after advertisement for North Carolina Farm Bureau, Oregon Mutual or Acuity Insurance, but shops graded these companies as among the Top 5 when it comes to taking care of customers after a claim," CRASH Network editor John Yoswick said in a January statement. "You have to look fairly far down the rankings before you find one of the best-known and largest auto insurers, but most consumers will find an insurer or two among the 15 highest-graded who offer auto insurance policies in their state."
Amica also took first place in J.D. Power's "2019 U.S. Auto Claims Satisfaction Study" with 898 out of 1,000. Erie placed third in a tie with GEICO at 879. State Farm ranked fourth at 878. None of the other "Big Eight" beat the industry average of 868. (Though Nationwide scored an 867.)
Direct repair program facilities might be slightly less enchanted about the five smaller carriers than non-DRP shops. The "Who Pays?" research found the five smaller insurers seem to "pay their DRP facilities slightly less often than non-DRP shops for the same 'not included' repair operations."
Amica posted the widest spread here, with DRP shops giving the company a 1.82 out of 3 in likeliness of paying a bill and non-DRP facilities scoring it 2.28. The report didn't compare the five smaller carriers' DRP/non-DRP payment responses to those of "Big Eight."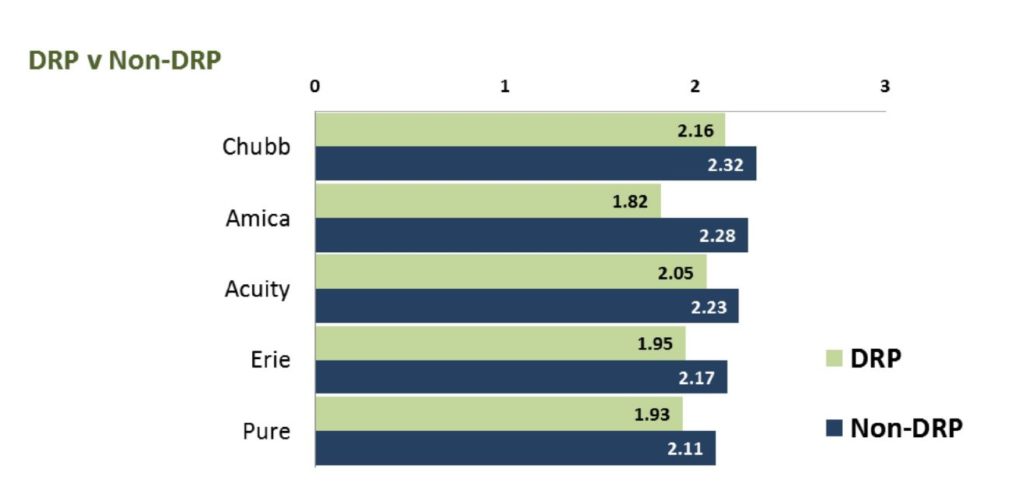 The "Who Pays for What?" poll ran Jan. 1-31 and drew responses from 763 auto body shops, though the number who replied to the "'Big Eight' versus five others" questioning was not disclosed.
Help the collision industry by taking the current "Who Pays for What?" survey focusing on frame and mechanical operations before Aug. 1. All answers are kept confidential; data is published only in the aggregate.
More information:
Take the anonymous "Who Pays?" frame and mechanical operations survey
CRASH Network Insurer Report Card webpage
Images:
Acuity, Amica, Chubb, Erie and PURE altogether were more likely than the "Big Eight" auto insurers to reimburse customers for four common repair operations on claims, according to January 2020 "Who Pays for What?" polling. (MHJ/iStock)
Acuity, Amica, Chubb, Erie and PURE altogether were more likely than the "Big Eight" auto insurers to reimburse customers for four common repair operations on claims, according to January 2020 "Who Pays for What?" polling. (Provided by Collision Advice and CRASH Network)
January 2020 "Who Pays for What?" polling found Acuity, Amica, Chubb, Erie and PURE seem to "pay their DRP facilities slightly less often than non-DRP shops for the same 'not included' repair operations." The study asked about "Denib"; "Feather, prime, block"; "Mask during prime"; and "Match OEM texture." (Provided by Collision Advice and CRASH Network)
Share This: