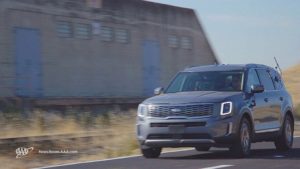 AAA's recent study of Level 2 active driving assistance systems contains a description of how researchers prepped the test vehicles which might be illuminating for repairers and AAA's fellow insurers.
The study methodology provides a striking discussion of OEM specifications, documentation from a sublet partner, and the need to minimize variables which could lead to improper ADAS performance.
"All test vehicles were verified to be equipped with an ADA system that was enabled, properly functioning, free of modifications and calibrated," AAA wrote.
AAA said it also had dealerships provide "a four-wheel alignment and recalibration of the ADA system prior to commencing closed-course testing."
Note the four-wheel alignment as a potential best practice — if not already demanded by repair procedures — associated with ADAS.
AAA also obtained proof of compliance with OEM specs: "Documentation was provided by each dealership to ensure ADA systems were recalibrated according to manufacturer specification."
So if your insurer calls around trying to find a dealer to contradict the repair procedures, you can send both parties AAA's way to get set straight. There's also a good reminder here for shops to request that sublet partners provide documentation of properly completed work.
AAA also scanned, checked, and topped off vehicles before driving them to ensure no dash lights existed, all parts were "free of damage and unaffected by any technical service bulletins and/or recalls," any diagnostic trouble codes were "resolved and cleared" — note that AAA actually verified codes were resolved, rather than merely cleared — and any fluids were "at least the minimum indicated levels."
Finally, the organization cleaned "the areas surrounding the image and radar sensors on all test vehicles … to ensure proper system operation." This reinforces the idea of at least one form of detailing being part of the repair rather than some expense a shop should absorb.
More information:
"EVALUATION OF ACTIVE DRIVING ASSISTANCE SYSTEMS"
AAA, August 6, 2020
NASTF OEM repair procedure portal
Featured image: AAA tested this 2020 Kia Telluride's SAE Level 2 "active driving assistance" system on real-world roads and a track. (Provided by AAA)
Share This: