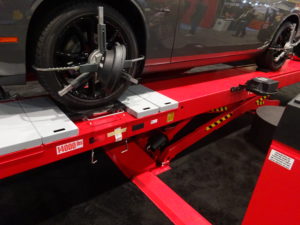 Collision repairers buying the equipment to bring alignment in-house don't seem to be doing it for the revenue stream, according to a Chief manager.
Instead, "it's a control thing, and a quality thing," Chief global repair and training product manager Mike Croker said earlier this month.
Croker said the return on investment for handling one's own alignment rather than subletting it still is present.
But he said the "bigger thing now" for repairers was "'Are you doing the job correctly?'"
"ADAS changed everything," he said.
Kicking the repair out to a third party might earn the shop a 25 percent markup. But "the liability's still there," Croker said. As a general contractor, the shop might indeed still bear liability for the behavior of its sublet vendors.
What if the sublet vendor forgot to reset the steering angle sensor, Croker argued.
He said ADAS eliminated the room for error.
"You can't not do this," he said. Even small hits like a bumper job still need an alignment, he said. A shop "can't touch ADAS without having an alignment," he said.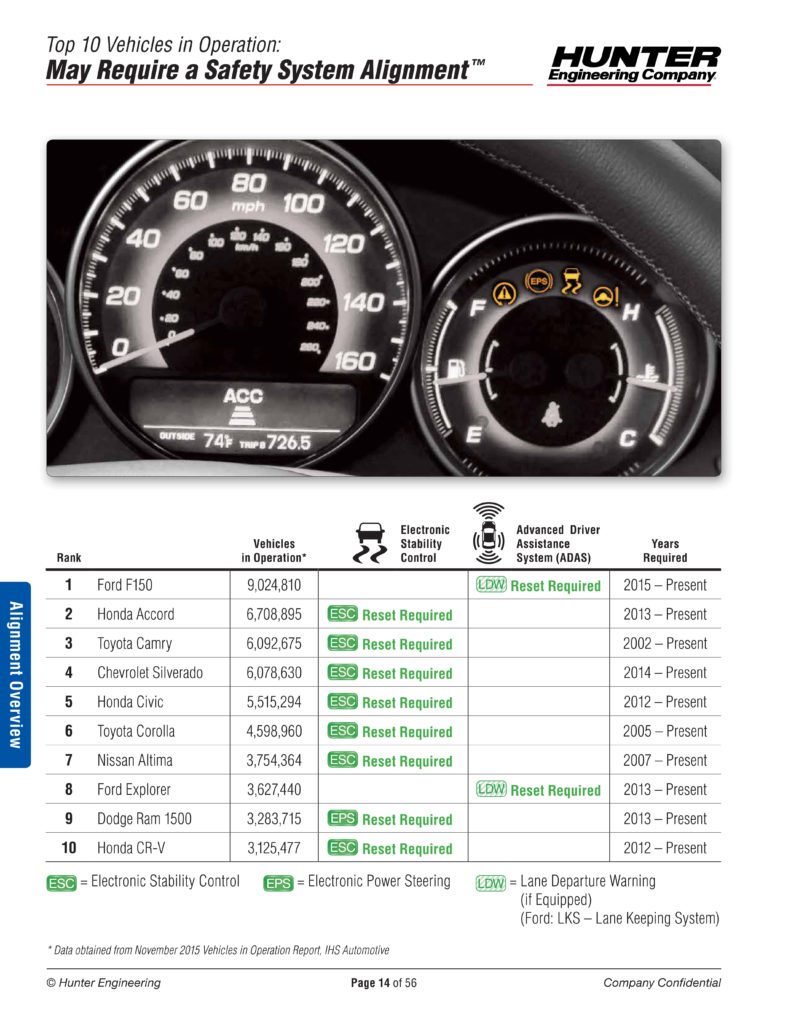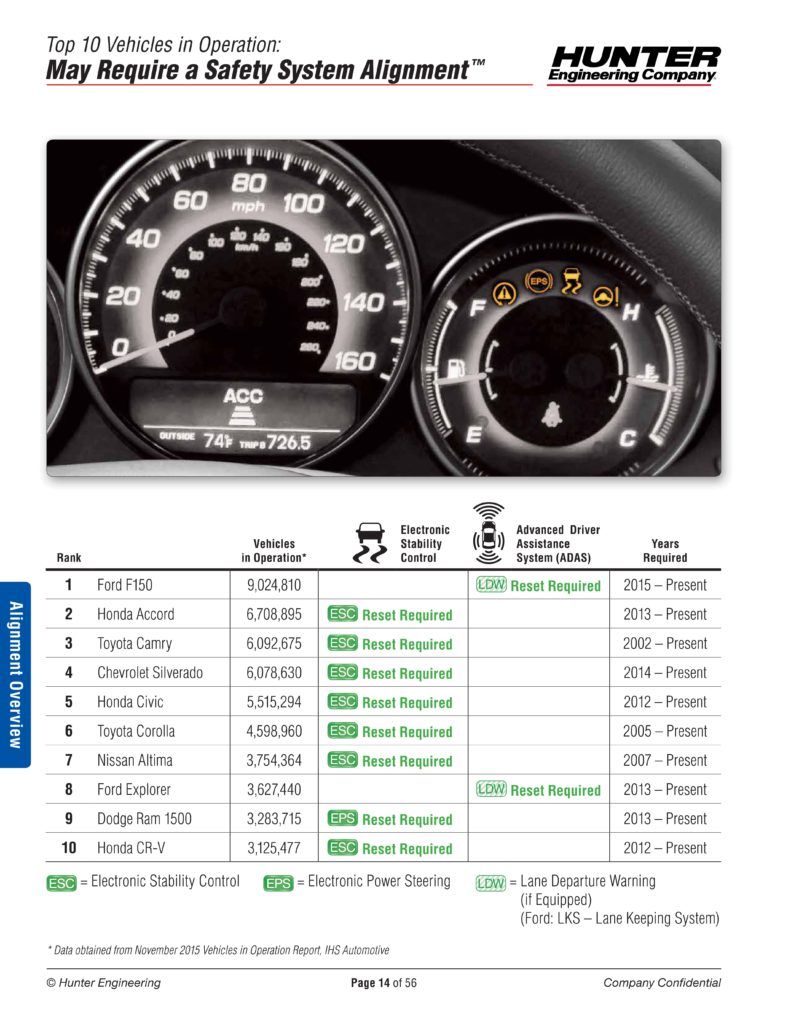 He said Chief preaches that the vehicle must be measured, the wheels aligned and the ADAS recalibrated after a collision.
"We're missing the boat on a lot of those things," he said.
Alignment giant Hunter Engineering has called repairers' attention to such issues. A couple of years ago, it demonstrated how most of the best-selling vehicles on the road in 2015 needed their electronic stability control reset after an alignment. ADAS recalibration might also be necessary, Hunter pointed out.
The company estimated at the time only 38 percent of the aftermarket (but 100 percent of dealers) were equipped to reset the steering angle sensor.
In fairness to third-party aligners, Croker did call today's equipment easy to use and said sublet vendors typically can deliver the physical wheel alignment properly. If they can't align the wheels, it's usually because the body shop fixed something incorrectly, he said.
Often, it's a bent suspension part, according to Croker — the kind of thing that would have been discovered by measuring the vehicle.
---
Learn about using alignment for diagnostics at Repairer Driven Education
Find out at SEMA how your shop could be "Using wheel alignment to diagnose suspension" in a class taught by Hunter Engineer's John Shewbridge. The session is part of the Society of Collision Repair Specialists Repairer Driven Education Series running Nov. 4-8. Register here for individual courses or the series pass package deal., which includes every class Nov. 4-6, the OEM Summit and Sky Villa afterparty Nov. 7 and IDEAS Collide Showcase on Nov. 8.

---
Resistance to alignment
Croker discussed in-house alignment following Chief's August release of the results of a 2018 survey of about 70 auto body shops. The study found three main reasons why shops didn't handle their own alignment.
Fifty-seven percent said they lacked the space for a dedicated alignment bay, though technology on the market today can provide a workaround for this point.
54 percent called the equipment too expensive.
Perhaps the most alarming: 32 percent said the demand wasn't there, which is completely illogical considering they work on vehicles that've been in a collision.
"While up to half of cars end up needing an alignment, shops aren't always checking each vehicle for the opportunity to upsell alignment work," Chief wrote in August. (Croker said he felt the 50 percent stat was low.) "Only 31% of shop owners check every vehicle, which is a missed opportunity."
Croker said other complaints involve the perception that money can't be made performing the work in-house. For example, $69 for an alignment versus $69 plus a 25 percent markup. As noted earlier, he argued that the ROI exists.
However, he focused on the amount of cycle time lost when a repairer outsources the work.
"The cycle time just murders you," he said.
The company's study found 53 percent of owners reporting that outsourcing hurt their cycle time.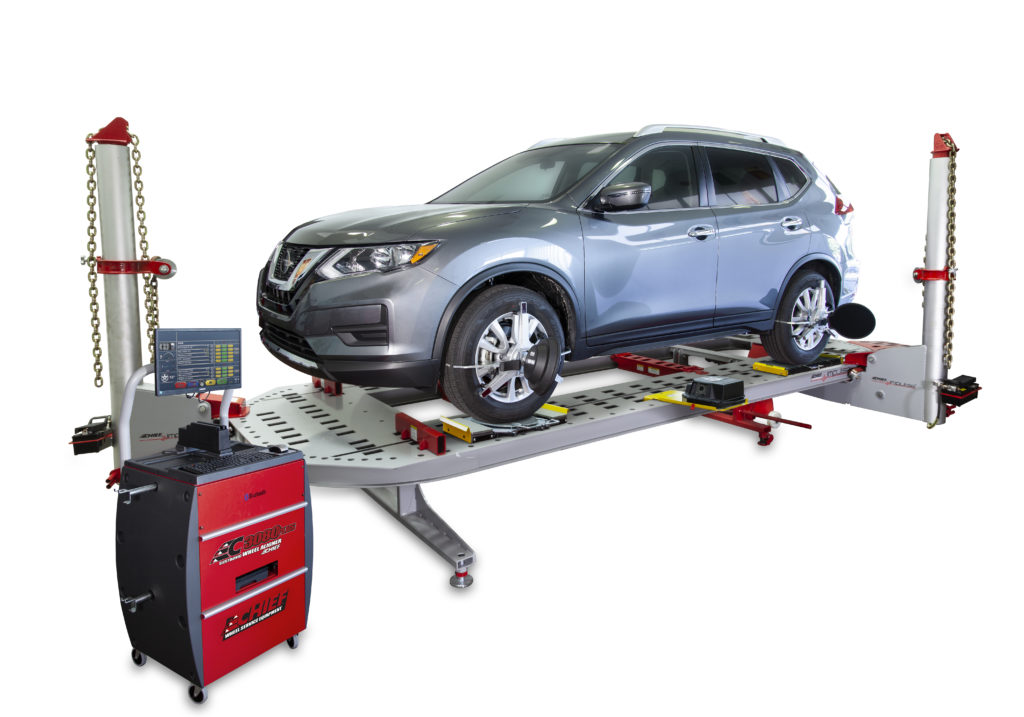 He argued that the dealership would make the collision alignment the "last one" in the queue for the day, potentially adding a day and a half to cycle time.
The shop is also sending out employees and expending fuel and adding wear and tear to the transport vehicle, Croker said. And even with the alignment vendor just 15 minutes away, it's "30 minutes with anybody," he said. Human nature finds employees stopping for something.
The labor and depreciation cost might be minuscule, but 20-60 times a month, and "that adds up," he said.
If the vehicle can't be aligned because of an error on the shop's end, you'd have to repeat the process, Croker also pointed out.
In 2016, we reported "Who Pays for What?" survey results by Collision Advice and Crash Network which found 61.7 percent of 522 shops sublet alignments. Collision Advice CEO Mike Anderson encouraged repairers to reconsider this practice, making a similar cycle time argument.
"I'm shocked at how many people are still subletting their alignments out," he wrote then. "To me, if you really want good cycle time, and improved profitability, you need to start looking at bringing mechanical work in-house. I think with all these accident avoidance systems and scans and recalibrations that need to be done, you just can't afford to be taking cars back and forth to sublet vendors. I just can't see a shop today being in business without the ability to do their alignments in-house. Also, for the shops that do their own alignments, it amazes me that most of them (73 percent) charge a flat fee vs. book time at mechanical labor. I would say that's probably because of DRP agreements."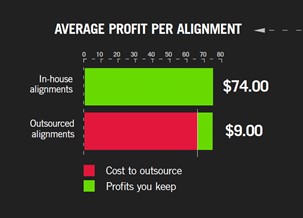 Croker said some people blasting in-house alignment also simply aren't trained on the system,
"It's just being ignorant," he said. Chief only was training a small portion of the industry's shops, he said.
Even training is no guarantee the shop will adopt in-house alignment. Croker described the following scenario: Shop owners will send a technician to training but not research the topic themselves. Then, when the tech returns pushing for a piece of equipment, the owner dismisses them as having been brainwashed by the supplier.
He said a lot of the resistance might be "nervousness" at having to learn something unfamiliar. However, he said "anybody" can use the new alignment machines.
Images:
A Chief alignment system is shown at its SEMA 2017 booth. (John Huetter/Repairer Driven News)
Seven of the top 10 vehicles on U.S. roads in 2015 needed a standard or optional electronic stability control system — technology required on every model since at least 2012 — reset following a wheel alignment, Hunter Engineering research has found. (Provided by Hunter Engineering)
For shops that sublet wheel alignment, it's vital to confirm one's business partner is and has been performing such electronic stability control checks. For shops performing the work in-house, the responsibility lies with the repairer. (Provided by Hunter Engineering)
Chief argued that repairers are risking cycle time by not handling alignments in-house. (Provided by Chief)
Chief argues that taking wheel alignment in-house can be profitable for a shop. (Provided by Chief)
Share This: