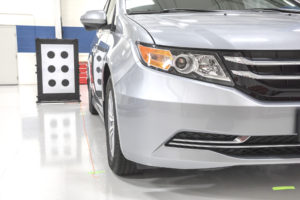 Mitchell this week reported internal data showing "nearly 50% of vehicles repaired include a charge on the estimate for Diagnostic Trouble Code (DTC) scanning" in the second quarter of 2020.
That's up from "less than 10%" two years ago, the information provider's Ryan Mandell wrote in a Friday article for Mitchell's third-quarter Industry Trends Report.
The number is on par with what CCC reported in its 2020 "Crash Course." The rival estimating service found 49.5 percent of appraisals in the fourth quarter of 2019 "included an entry denoting a 'scan/diagnosis/health check/astech' operation." Back in the second quarter of 2018, such scan entries existed on less than 15 percent of estimates.
Unfortunately, the proportion of repairable vehicles needing scans is probably at or near 100 percent. Of course, it's possible that some estimates omitted scans even though the operation occurred on the actual repair.
The OBD-II port dates back to the mid-90s, and some OEMs have confirmed they want shops scanning even vehicles that old. Even Ford, whose position statement appears to specify the shortest range of model years among all OEMs, says to scan everything from the 2010 model year onward. It also mandates scanning anything older if repair procedures say to do so.
Mandell also shared information Tuesday on the prevalence of calibrations on modern vehicles.
"Mitchell's data shows that 2018-20 model years receive calibrations at more than double the rate of 2015-17 vehicles (8.51% compared to 4.01%)," he wrote.
Over at CCC, the 2020 "Crash Course" found that less than 7 percent of CCC estimates for 2019 or newer vehicles included a manual calibration entry in the fourth quarter of 2019.
It's possible some of this work got done despite not making it onto an estimate. But those low percentages should still be grounds for concern. A 2019 Verge article cited by Mandell reported an AAA estimate that at least one advanced driver assistance system feature existed on 92.7 percent of new vehicles sold May 2018. 
Even 2015-17 vehicles likely contained ADAS at much higher percentages than these calibration proportions indicate.
For example, Consumer Reports affiliate Consumers Union reported in December 2017 that 19 percent of the fleet already offered autobraking standard for the production year ending Aug. 31, 2017. And that statistic doesn't even take into account all the other forms of ADAS.
Mitchell said the average calibration cost $215.81 on its estimates involving 2018-20 model years.
"That goes down to $187.47 for 2015-17 model years," Mandell wrote.
The average calibration charge in CCC estimates during the fourth quarter of 2019 came in at $232 — but with a standard deviation of $264. Some calibrations cost at least $1,000, CCC reported.
Mandell also attributed increased cycle times for 2018-10 driveable vehicles in part to calibration. Those model years averaged 11.15 days keys-to-keys, compared to 10.67 days for the 2015-17 range.
"While these differences cannot all be attributed to the increased need for calibration, that certainly plays a role and is evident when examining the average cost of calibrations," Mandell wrote.
More information:
"Cracking the Code: What DTCs Tell Us About Vehicle Repair Trends"
Mitchell, Sept. 11, 2020
Mitchell third-quarter 2020 Industry Trends Report
Mitchell, Sept. 15, 2020
NASTF OEM repair procedure portal
Featured image: A target is placed behind a 2017 Honda Odyssey to recalibrate a lane-watching camera's aim. (Provided by I-CAR)
Share This: