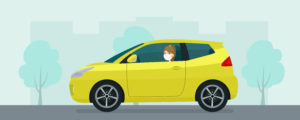 Collision repairers saw worse business conditions in September than they did in August, with CCC reporting Wednesday repairable claims last month were down 22.7 percent compared to September 2019.
By contrast, August repairable claims were only down 14.9 percent.
Part of the problem might have been a weak Labor Day travel weekend. CCC cited data from the Bureau of Transportation Statistics, which reported that Americans took just 4.6 billion trips over the holiday weekend — compared to 7.4 billion trips last year. The agency defines the holiday weekend as Thursday through Monday.
"In 2019, on average, 19.3% of Americans stayed home each day during the holiday weekend," the BTS wrote. "In 2020, that number rose to an average of 26.3% staying home each day."
The Americans which did hit the road tended to drive further than last year, with trips of at least 50 miles up 10 percent, according to the agency.
But local trips below 50 miles fell 38 percent, which might have hurt repairers. Most crashes happen within 25 miles of one's home, according to NHTSA. Dolphin recently found a significant percentage happen within the first 3 minutes of driving.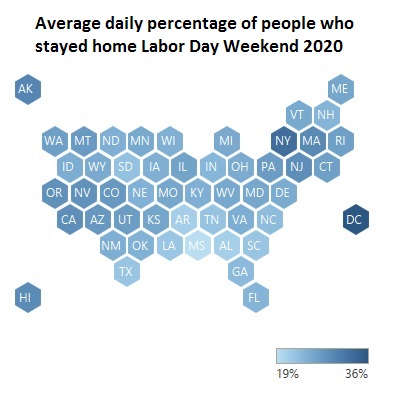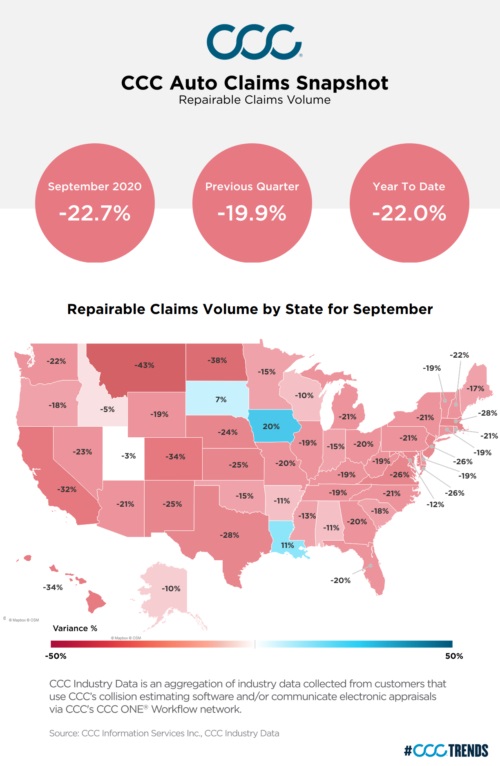 CCC also said fewer comprehensive claims occurred this September.
"Among the major weather events in September 2019 that led to a larger number of comprehensive claims than seen this year include Hurricane Dorian (NC & SC), severe convective storms (CO), and Tropical Storm Imelda (TX), CCC wrote. "This September 2020, states with significant increase in comprehensive losses include California, Oregon, Utah and Washington due to wildfires, and Alabama, Florida and Louisiana from Hurricanes Sally and Laura." (Emphasis CCC's.)
And while severe weather can help by providing comprehensive claims, it might also keep drivers off the road enough to lower other claims, CCC pointed out.
"Among the areas of the country that continue to see their September 2020 non-comprehensive losses down most include numerous markets in California, Texas, and Florida where severe weather and elevated counts of COVID-19 cases continue to keep people off the roads," CCC wrote.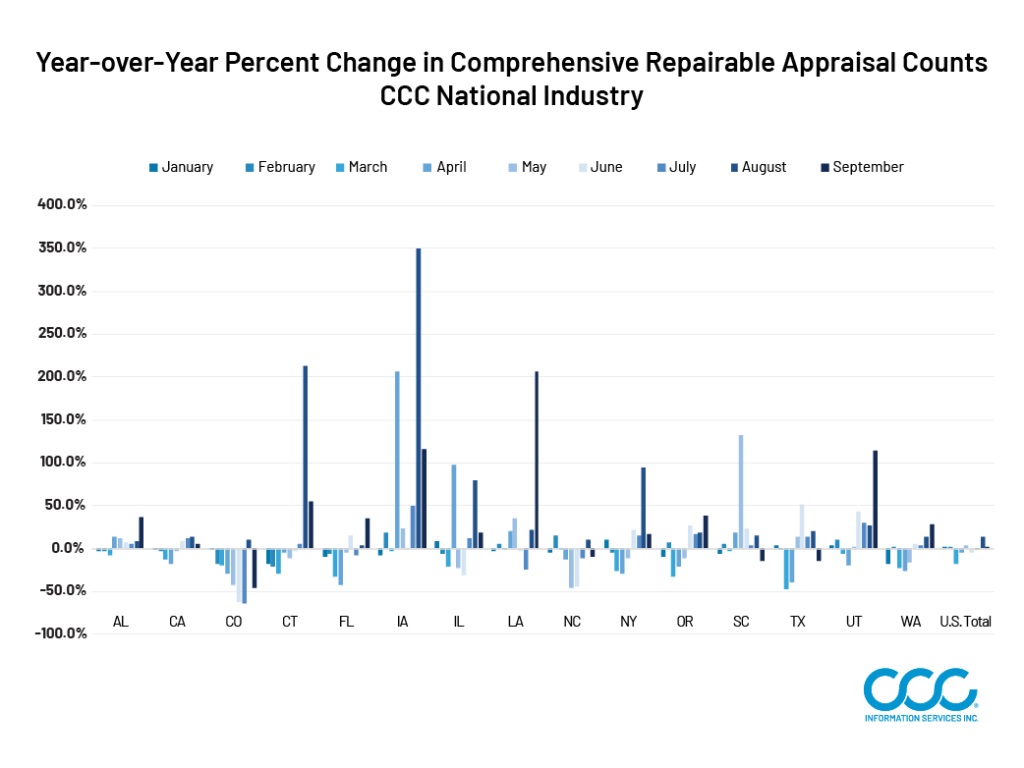 Overall, repairable claims are down 22 percent through the first nine months of the year, and noncomprehensive claims are down more than 25 percent.
More information:
"CCC AutoClaims Snapshot – September 2020"
CCC, Oct. 14, 2020
Images:
COVID-19 kept Americans off the road in some markets during September 2020. (Lyudinka/iStock)
The Bureau of Transportation Statistics reported that Americans took just 4.6 billion trips over the four-day Labor Day 2020 holiday weekend — compared to 7.4 billion trips in 2019. (Provided by Bureau of Transportation Statistics)
Repairable appraisals in September 2020 were down in many states over September 2019. (Provided by CCC)
Comprehensive repairable appraisals were up in several states over September 2019. (Provided by CCC)
Share This: