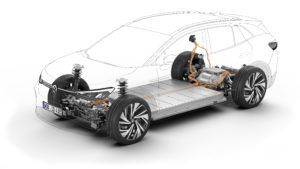 The Mustang Mach-E just won Motor Trend "SUV of the Year," GM just redid its logo to stress electrification, and Volkswagen's all-electric $39,995 ID.4 goes on sale "in a matter of weeks." Charging networks are expanding nationwide. Some OEMs have even committed to ditching internal combustion engine-only powertrains in favor of fleets that will at a minimum be hybrids.
Electrification is poised to alter aspects of collision repair as the trend becomes more mainstream and a greater number of EVs get into crashes.
Auto body shops have a chance to get out ahead on this trend, and an agenda released Thursday indicates next week's free, virtual Collision Industry Conference will be one place to start.
The Collision Industry Conference is an industry summit open to anyone with a stake in auto body work, including shops, insurers, OEMs, suppliers and others. It's a chance for all those sectors to educate each other and debate various issues arising in the industry. There's also an open mic for you to say whatever's on your mind.
The virtual event running 11 a.m. to 3 p.m. Jan. 20 and Jan. 21 will take place live on Zoom and be free to everyone using a promo code available on the sponsors page here. Register for the event with that code here. The January agenda released Thursday even walks virtual meeting newcomers through the process of making comments and asking questions of panelists live.
EV sessions
At 1:45 p.m. Wednesday, Jan. 20, the Emerging Technologies Committee will present "Electric Vehicles 101—the coming tide of electric vehicles to collision repair." The agenda said the session will examine "National news related to demand, investments and future models." The group will also discuss its 2021 plans. Committee Co-Chairs Chuck Olsen (AirPro) and Bob Augustine (Drew Technologies) and Vice Chairman Jason Bartanen (Collision Hub) are slated to be on hand for the session.
The next day, Thursday, Jan. 21, will see the Future Disruptions Committee led by Jake Rodenroth (asTech) and Frank Terlep (Auto Techcelerators) present "How EV's Will Disrupt the Industry Through Potential Regulation, Advanced Education Requirements, Consumer Education, New Repair Business, Claims, Parts and Safety Processes" from 1-2:15 p.m.
Other vehicle technology sessions
Electrification will be just one aspect of what appears to be a vehicle technology-focused CIC.
At 11:15 a.m. Jan. 20, Industry Relations Committee Chairmen Jim Keller (1Collision) and Mark Allen (Audi) will host "The Challenges of ADAS: How do we improve trust? An interactive presentation discussing the challenges faced in the industry."
The next day, the Emerging Technology Committee will return at 11:15 p.m. Jan. 21 to discuss topics including the "Right to Repair act, Past, Present and future" and CIC industry wiki glossary updates on technical concepts. It'll also host a presentation from Equipment and Tool Institute Executive Director Brian Plott.
The topic of technical definitions will also arise later that day as Automotive Service Association Collision Division Director Mike LeVasseur (Focus) issues a "New position statement on the definition of scanning from ASA, joining with SCRS and others" at 2:35 p.m. Jan. 21.
MSOs and vo-tech students
Other highlights from the event include:
At 12:25 p.m. Jan. 21, the Education and Talent Pool Committee will host a special presentation by ASE Education Foundation Vice President George Arrants. If the tech shortage remains an issue for you — or might become one again once the pandemic subsides — you'll probably want to check it out. Arrants "will present current survey data and statistics on people coming into the industry and technical colleges, and retention versus other trades," according to the agenda.
You know about the competition from the publicly traded or private equity-backed giants Gerber, Driven Brands (CARSTAR, Fix Auto, ABRA, Maaco), Caliber and Service King. But there's also investors trying to get into the MSO game or already backing smaller MSO operations. Even if you have no desire to sell your shop to an MSO or be bought by private equity, it behooves you to keep an eye on this trend.
In a noon Jan. 20 special presentation, Quality Collision Group CEO Jerod Guerin will discuss "A new and different wave of collision repair consolidation," according to the agenda. "Medium sized capital equity companies are entering our industry, buying or merging regional MSO's. Jerod will talk about the trend, and how it works."
And there's even more content on the agenda. Read the entire document here, and register for the CIC here after getting your free promo code on the sponsor page here.
More information:
Virtual Collision Industry Conference Jan. 20-21 agenda
Collision Industry Conference website
CIC sponsor page (contains free virtual promo code)
Featured image: A 2021 Volkswagen ID.4 powertrain is shown. The vehicle is fully electric. (Provided by Volkswagen)
Share This: