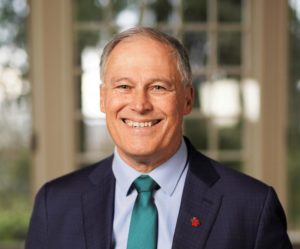 Democratic Washington Gov. Jay Inslee killed a near-term electric car directive in order to save it, according to his veto message.
The governor issued a partial veto of Section 6 of House Bill 1287, which would have established a "goal" that all new 2030 privately owned light-duty vehicles be electric.
However, this goal wouldn't take effect until "a road usage charge, or equivalent fee or tax based on vehicle miles traveled, is in effect in the state of Washington with at least 75 percent of the registered passenger and light duty vehicles in the state participating."
The nonprofit anti-gasoline organization Coltura said last month that Washington state was likely to enact the predicate road use charge "within the next several years." But Inslee, who has publicly called on Democratic President Joe Biden to require zero-emission vehicles by 2035,  said he felt tying the electric car language to the road usage tax was too risky.
"I am committed to getting to zero emission transportation as quickly as possible," Inslee wrote in his partial veto message Thursday.
"… Yet setting and achieving a goal of 100% electric vehicles is too important to tie to the implementation of a separate policy like the road usage charge."
Inslee said the state couldn't afford to wait for another factor "that will take time to design and implement. …
"I am also open to exploring the potential of a road usage charge program as part of a larger transportation revenue discussion. I look forward to working with legislators and stakeholders to figure out how to design a road usage charge that ensures the privacy of drivers, helps meet our zero-emission transportation goals, and ensures low-income and overburdened communities are not doubly penalized after already suffering through longer commutes."
Coltura said it shared Inslee's concern but felt "that we cannot lose sight of this critical goal. …
"Coltura will continue to work with the governor's office to advance vehicle electrification policy in the state. After the dust settles from this legislative session, we hope the governor will consider setting a goal by executive order for all new vehicles to be electric by 2030."
A Senate staff summary of public testimony mentions that "Auto dealers are comfortable with the stretch goal of EV vehicle sales by 2030 to keep in stride with California's goal of 2035."
HB 1287 passed 25-23 in the Senate and 54-43 in the House in April, suggesting a veto override is unlikely.
Be heard: Washington lawmakers contact information can be found here.
Featured image: Democratic Washington Gov. Jay Inslee. (Provided by Inslee's office)
Share This: