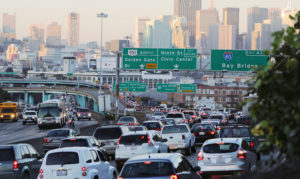 A consumer complaint to California regulators doesn't necessarily end when a body shop addresses the issue to the customer's satisfaction, the CAA warned repairers last week.
And a complaint over one topic doesn't preclude Bureau of Automotive Repair investigators from looking into other aspects of your business, California Autobody Association lobbyist Jack Molodanof explained in a June 17 webinar.
Molodanof's explanation of the BAR complaints process serves as an important reminder for auto body shops in arguably the nation's most important collision repair market.
Molodanof (Molodanof Government Partners) said BAR officials don't initiate investigations when they have free time. "It's complaint-driven," he said.
Thus, if a BAR representative arrives at your facility, "that's a red flag," Molodanof said. "They're not supposed to be there in the first place."
A complaint filed by parties such as consumers or insurers will trigger a BAR investigation — and this scrutiny can travel beyond the issue at the heart of the complaint.
"The door's open," Molodanof said.
Molodanof said one common question — "I get asked this quite a lot" — involved what happened if the shop resolves the matter with the customer. Does the complaint end?
"It does with the consumer," he said — but not the BAR.
The agency can keep investigating, and if they encounter fraud, "they will not close the file."
The BAR sometimes attempts to educate consumers and shops, such as when issues are minor, Molodanof said. Sometime consumer claims are "baseless," he said. But similar to law enforcement, the BAR still checks out the report.
"The BAR takes them all seriously," Molodanof said.
The agency's work leads to automotive repairers refunding about $5 million back to consumers every year.
Should a matter arise that can be mediated, "they will mediate," Molodanof said. However, if the BAR suspects a shop has committed fraud, "they won't mediate. They will definitely investigate."
The BAR offers body shops a "Write it Right" guide educating repairers on how to do their work in compliance with California's rules. It will also conduct training on this topic at your facility, Molodanof said. He said some repairers might take advantage of this, while others don't want the government visiting their shops.
Molodanof also reminded body shops that California has a free post-repair inspection program. A customer can request the agency take a look at their vehicle to ensure a body shop performed a proper repair. The BAR will compare the final invoice to the vehicle, he said. (And such a comparison can be an easy way to detect fraud, such as a part the invoice says was replaced but was repaired.)
This too can lead to further scrutiny of the shop, even to the point of sending an "undercover car" to a facility, Molodanof said.
In terms of the definition of a proper repair, "basically, it's OEM," Molodanof said.
16 California Code of Regulations 3365 says "accepted trade standards for good and workmanlike auto body and frame repairs shall include, but not be limited to, the following:
"(a) Repair procedures including but not limited to the sectioning of component parts, shall be performed in accordance with OEM service specifications or nationally distributed and periodically updated service specifications that are generally accepted by the autobody repair industry.
"(b) All corrosion protection shall be applied in accordance with manufacturers' specifications or nationally distributed and periodically updated service specifications that are generally accepted by the autobody repair industry."
All three national auto body repair trade groups have endorsed OEM procedures as the standard of care. The CAA is not among the state affiliates listed as formally endorsing the document, but the trade group's website observes that "CAA shops invest time and money to make sure that our industry stays on top of OEM standards for safe and proper repairs."
Molodanof said I-CAR could also meet the California trade standards definition. But I-CAR also instructs body shops to follow OEM procedures first and foremost, so it's sort of moot.
He pointed out John Eagle Collision's infamous use of adhesives on a roof rather than following Honda OEM procedures would violate California's trade standards law.
Molodanof also pointed out that the trade standards law says "nothing about the insurance industry." Carriers don't create standards; only the collision industry does, he said.
More information:
Bureau of Automotive Repair "Write it Right"
Bureau of Automotive Repair, February 2019
Featured image: Traffic in the San Francisco Bay Area on Jan. 31, 2015. (polybutmono/iStock)
Share This: