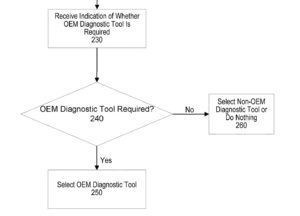 AsTech announced last week it had received a patent for a method where technicians could send a VIN to a database "and assist in determining whether an original equipment manufacturer (OEM) diagnostic tool — or aftermarket tool — is required for proper diagnosis and/or repair of the vehicle."
"asTech's technology is an industry 'game changer' by providing unique functionality to access vital OEM and aftermarket remote diagnostics data via VINs, and this newest patent will help us in protecting that technology" Cris Hollingsworth, president of Repairify, which does business as asTech, said in a statement July 22. "ASE technicians will be empowered to quickly access the correct automotive tools to accurately and safely address unique vehicle functionalities via diagnostics and repair data. This newest patent to be issued will be another competitive strategic step for accelerating our solutions and offerings across the entire automotive ecosystem."
asTech said the patented method would "serve as the brains" for a product it expects to release later this summer.
"The product will accurately address vehicles' OEM and aftermarket remote diagnostic needs for three important automotive repair sectors: collision, mechanical, and glass,"
The private equity-backed asTech/Repairify bought the manufacturers of aftermarket scan tools BlueDriver (which is more of a DIY consumer product) and RedLimited this year.
However, it has for years been adamant that only the OEM scan tools it connects vehicles to remotely are acceptable for collision repair.
Aftermarket mechanical repair scan tools are a different story, the company has said.
Jake Rodenroth, asTech OEM and industry technical relations director told a Dave Luehr's Elite Body Shop Academy webinar audience April 27 that aftermarket scan tools for mechanical repair made sense because "we're focused on a concern." The customer complains about a specific issue, and scan tools are designed for such "pointed problems," according to Rodenroth.
Essentially, if a scan tool allowed the mechanical shop to diagnose and resolve the customer's specific complaint, then the device did its job.
"There's some great aftermarket tools out there," Rodenroth told the Collision Hub "World Fair" audience April 28. "There really are. But they were built for a business model where you know what the problem is." Body shops needed to learn everything about the vehicle, and no two collisions produced the same vehicle conditions, Rodenroth told the Collision Hub audience.
Ergo, an OEM scan tool was necessary for collision repair.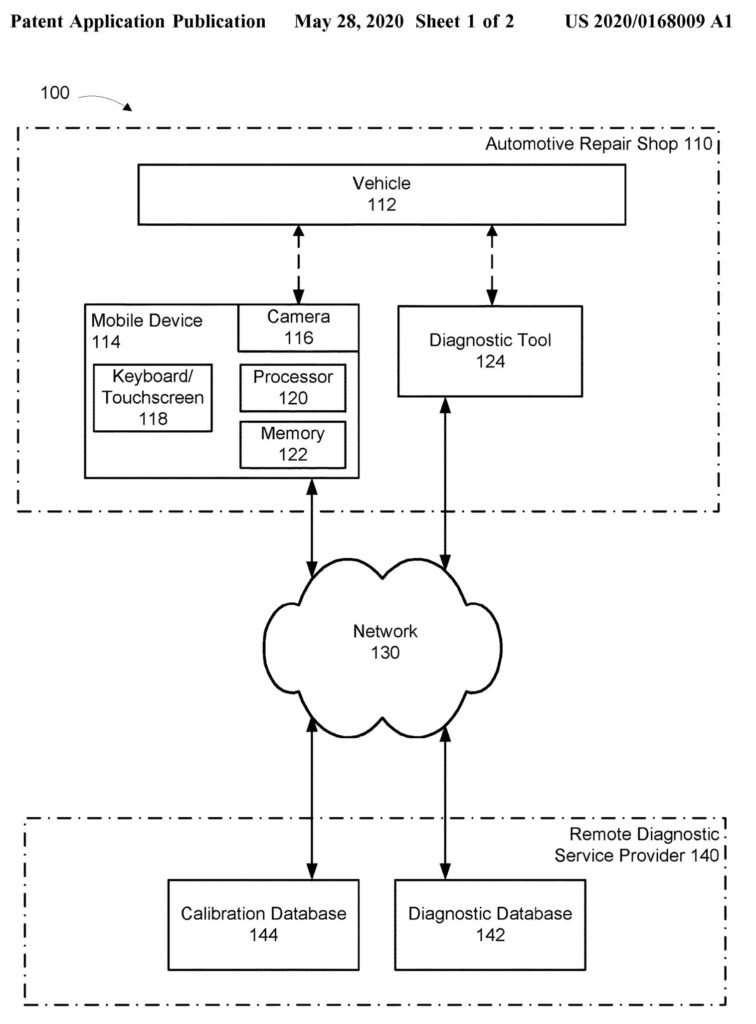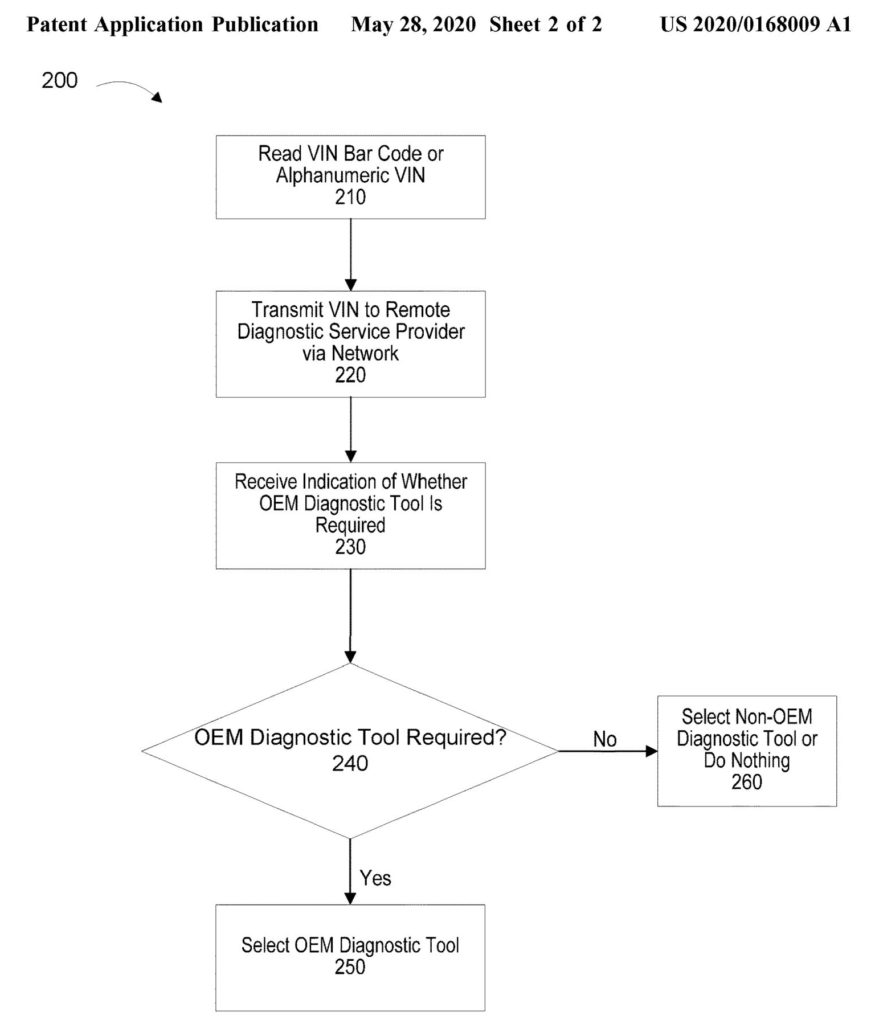 AsTech patent application No. 16/202,642 describes looking up the VIN with a photograph of the VIN alphanumeric characters themselves or an image of a bar code.
From there, a processor would send the VIN to a diagnostic database and "receive an indication that an original equipment manfacturer (OEM) diagnostic tool is required for a diagnosis of the vehicle" or "receive an indication that an OEM diagnostic tool is not required for a diagnosis of the vehicle."
After that, the system would "select the OEM diagnostic tool for the diagnosis of the vehicle in response to the indication that an OEM diagnostic tool is required for the diagnosis of the vehicle" or "select a non-OEM diagnostic tool for the diagnosis of the vehicle in response to the indication that an OEM diagnostic tool is not required for the diagnosis of the vehicle."
AsTech has not yet responded to a July 22 request for further details on two points. We had asked the company how it knew aftermarket tools would be acceptable based upon the VIN. We also asked if asTech planned to change its OEM-scan-tool-only model for the collision repair industry if it was going to be explicitly declaring aftermarket tools as sufficient for certain VINs.
"In one embodiment, the year, make, model, and in some instances, submodel of vehicle may be determined based on the VIN," the patent application states. "Vehicles of certain years, makes, models and/or submodels may require OEM diagnostic tools, whereas other vehicles may be diagnosed by using non-OEM diagnostic tools, such as generic or third-party diagnostic tools."
In other diagnostic tool news, Opus IVS announced last week it had reached a deal to provide its DriveSafe to all Boyd Group Services locations, including the Gerber Collision chain in the U.S.
"OPUS IVS is proud to be the scanning solution for Boyd and is looking forward to supporting the 700+ locations in North America with diagnostic scanning, calibration and expert remote support," Opus IVS President Brian Herron said in a statement July 20. "Our team has provided OE approved solutions to dealerships and independent repairers for over a decade. Our solutions help collision repair facilities ensure they have the capability for quick scanning, OE approved scanning, programming, and the diagnostic support needed to complete a quality repair – all coupled with the ability to easily document the results.
The DriveSafe device integrates with CCC, can be used in conjunction with remote Opus technicians, and can provide either "QuickScans" with aftermarket software or scans with OEM software via the J-2534 standard.
"Incorporating the combination of OE and non-OE scanning software is key to effectively and efficiently assessing in-vehicle technology and enables proper repair research that is required for a complete repair," Boyd Group OEM and quality Vice President Mark Miller said in a statement. "The CCC integration with OPUS IVS adds the scan reports to the CCC Repair Order enhancing our workflow and file documentation."
More information:
"Repairify Awarded New Patent"
asTech, July 22, 2021
Repairify/asTech patent application No. 16/202,642
"Opus IVS announces Boyd Group Services Inc. as Diagnostic Partner"
Featured images: Repairify/asTech announced July 22, 2021, it had received a patent for a method where technicians could send a VIN to a database "and assist in determining whether an original equipment manufacturer (OEM) diagnostic tool — or aftermarket tool — is required for proper diagnosis and/or repair of the vehicle." An image from the methods patent is shown. (asTech/Repairify; Provided by U.S. Patent and Trademark Office)
Share This: