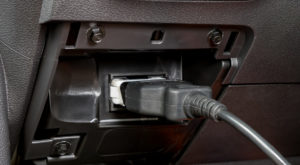 67 percent of 2020 "Who Pays for What?" study respondents said they used aftermarket scanning equipment at least some of the time, a practice survey co-author Mike Anderson blasted in a webinar late last month.
"You can hate me," Anderson, the CEO of Collision Advice, told a Dave Luehr's Elite Body Shop Academy webinar audience April 27.  "… I'm telling you this 'cause I love you. But if you are scanning a car with an aftermarket scan tool, you are a hack."
"Shame on you," agreed webinar co-presenter Jake Rodenroth, asTech OEM and industry technical relations director.
"… I would not let you fix my ex-wife's car, if you're using an aftermarket scan tool," Anderson said. He said the industry faced a "rude wake-up call" for using such items.
"It's really not funny," he said. "If you are using an aftermarket scan tool, you are not doing a safe and proper repair."
Anderson offered to cover a skeptic's expenses to meet him at an asTech training center and pay them $300 a day. (His company collaborates with asTech on Nissan certified shop training.) If the aftermarket tool proponent wasn't convinced of the difference between OEM and aftermarket tools, they could keep the money, Anderson said.
Questions for aftermarket manufacturers
Rodenroth described aftermarket scan tools as suitable only for mechanical repairs and described the access lag that aftermarket scan tools could face due to OEM cybersecurity. Anderson presented numerous criticisms of aftermarket tools and offered questions for repairers to offer a tool vendor:
• Did their tool have access to the vehicle build data? If not, how did the tool know what modules to check? Would the tool produce a "phantom or ghost code" if it looked for a piece of technology not actually included in that vehicle build?
Rodenroth discussed this issue in a Collision Hub "World Fair" broadcast the next day. He appeared next to a 2019 Nissan Sentra built without the optional blind-spot monitoring feature installed.
A Nissan scan tool has access to build data and would know not to mention the absent blind spot monitoring, Rodenroth said, calling this knowledge "one of the big separators" between tools. But an aftermarket tool might throw fault codes for the feature — even though it didn't actually exist, he suggested.
"The trim-level stuff is big," Rodenroth said.
• Could the aftermarket tool figure out if the vehicle was still connected to OEM services?
Another slide in the Elite webinar argued that an aftermarket scan tool "Can NOT identify vehicle telematics subscription status."
• Did the tool receive real-time updates when the factory scan tool did? If not, how frequently did it receive updates?
Anderson said he knew of one OEM scan tool that received four updates in March. But, he argued, aftermarket scan tools are only updated 2-4 times a year.
• What's the latest model year the tool can handle?
Another slide said an 18-month lag could exist between an aftermarket scan tool and the OEM edition.
Collision repairer customers' vehicles skew younger than average. The average vehicle on the road is 11.9 years old, according to IHS Markit. But the average vehicle fixed in a repairable auto damage insurance claim last year was only 6.17 years old, while the average totaled vehicle was only 9.68 years old. Nearly 2 percent of all total losses in 2020 involved model-year 2020 or 2021 vehicles, according to CCC.
ETI responds
We contacted the Equipment and Tool Institute, which represents aftermarket scan tool manufacturers and facilitates their licensing of scan tool data from automakers, to see if it wished to respond on behalf of that industry.
"ETI members have been licensing legitimate OE diagnostic data, service information, and repair procedures used in millions of aftermarket scan tools by both professional mechanical and collision repair customers for more than two decades," the ETI said in a statement Wednesday. "Much of this data is currently held by ETI in a secure cloud-based repository.
"There are a wide variety of multi-brand diagnostic tools available ranging from very basic, emissions-only, code reading devices to all-modules diagnostic systems that support ADAS calibrations. ETI member companies are continuously introducing new products to the market in order to address the growing and evolving needs of the repair industry. These products are rigorously tested to ensure their performance in the course of vehicle repair.
"Because of the efforts of ETI and its members, there are multiple options available for collision and mechanical repair shops during the repair and diagnostic processes. ETI believes that shops will be best served to have both OEM and multi-brand accessibility, enabling shops to choose the most appropriate solution for each repair. Each repair provider must assess their needs in order to determine which tools are best for the services they are performing."
We also reached out to the Auto Care Association's Tool and Equipment Committee, but it declined to comment.
Mechanical versus collision
Rodenroth explained that aftermarket scan tools were acceptable for mechanical repair because in that industry, "we're focused on a concern." The customer complains about a specific issue, and scan tools are designed for such "pointed problems," according to Rodenroth.
Essentially, if a scan tool allowed the mechanical shop to diagnose and resolve the customer's specific complaint, then the device did its job.
Rodenroth said mechanics will have multiple aftermarket scan tools geared to particular strengths.
"There's some great aftermarket tools out there," Rodenroth told the Collision Hub "World Fair" audience April 28. "There really are. But they were built for a business model where you know what the problem is."
Mechanical repairs focused on predictable and consistent issues, a slide from the Elite webinar argued. In collision repair, the industry dealt with "newest vehicles in the worst shape," another slide put it. Neither the customer nor the shop knows the extent of the damage.
Repairers needed to learn everything about the vehicle, and and no two collisions produced the same vehicle conditions, Rodenroth told the Collision Hub audience.
Under this argument, the precision and certainty of an OEM scan tool would be necessary.
Cybersecurity and tool lag
Rodenroth argued the firewalls OEMs are installing on vehicles as a cybersecurity precaution also render aftermarket tools unsuitable for collision repair.
Prior to that technology, Rodenroth said aftermarket tools might only miss a couple of modules or diagnostic trouble codes. But following the introduction of secure vehicle networks, it's "gaping holes," he said.
Stellantis (at the time known as FCA) in 2017 for the 2018 model year introduced its first vehicles with the Secure Gateway Module, which blocks off vehicle electronics access to unauthorized devices.
The automaker allowed aftermarket scan tools to access the system, but it didn't occur overnight, according to Rodenroth.
AsTech's user base of 4,500 shops alone handled 4,400 vehicles with Stellantis' vehicle electronics encryption before the first aftermarket scan tool had access, Rodenroth said. (The asTech is an aftermarket device which allows body shops to connect a vehicle to official factory scan tools stored remotely.)
"Our members did experience some delays with the FCA secure gateways, but that was, in part, due to the FCA gateway being the first in the industry," the ETI said in the statement. "ETI and our members worked directly with FCA to get the solution supported in the aftermarket space."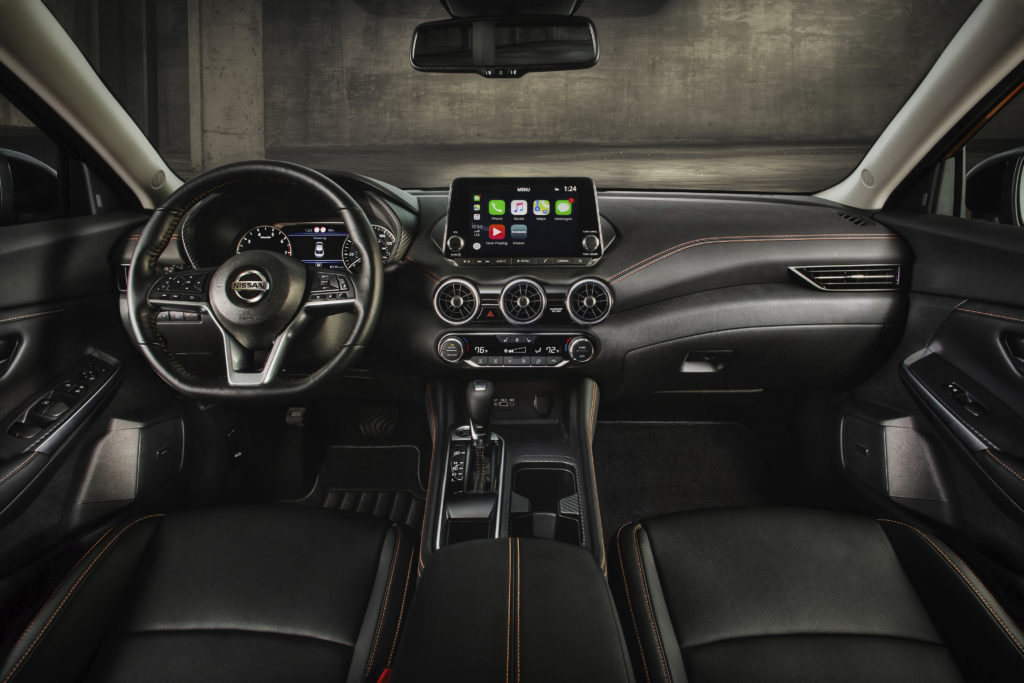 Rodenroth said Nissan has introduced a similar system on vehicles including the Sentra and Rogue. He said the Pathfinder and Frontier would receive the cybersecurity measure this summer. A factory scan tool would be necessary, at least at first, he said.
"They will get access," he said of aftermarket scan tools. But late-model Nissans would arrive needing repairs before that point.
Rodenroth said Mercedes and Subaru had plans for similar technology.
A new "right to repair" initiative approved by voters in Massachusetts last year could make the process of gaining authorization to access vehicle electronics more efficient for aftermarket scan tool manufacturers. However, nothing yet compels the automakers to extend its provisions nationally, and a legal challenge by OEMs has delayed its implementation in Massachusetts.
OEMs could still require such device authorization under the ballot initiative's terms, R2R advocate Aaron Lowe, senior vice president of Auto Care Association government and regulatory affairs, said last year.  However, this process would now be standardized, as opposed to the aftermarket having to deal with a variety of protocols, each unique to a different automaker, he said then.
The 2020 "Right to Repair" initiative also would allow Massachusetts consumers to permit aftermarket shops to obtain telematics information transmitted to the OEM by the vehicle, regardless of whether or not the automaker was sharing it with the dealer.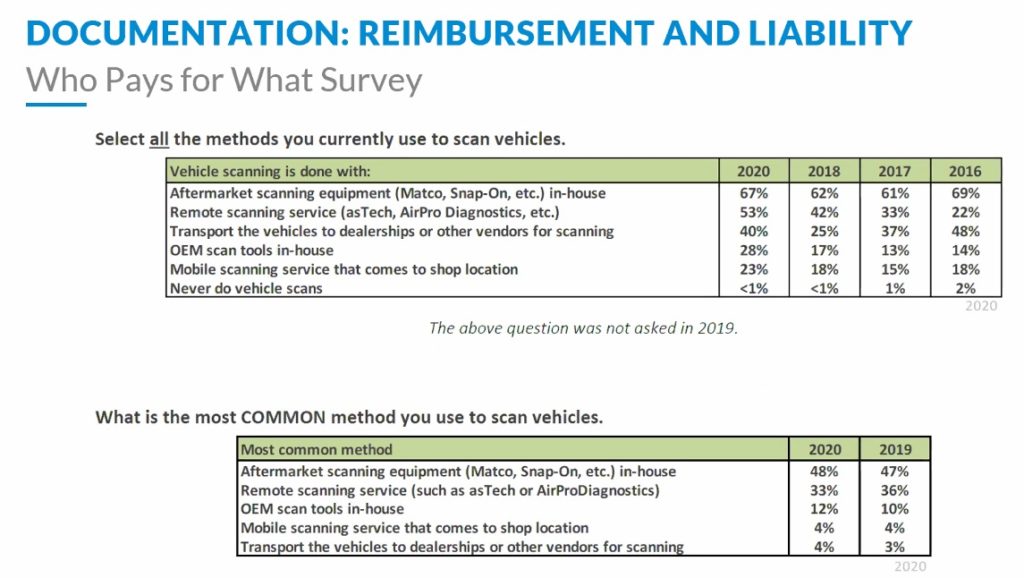 Aftermarket tool usage
Respondents to the Collision Advice and CRASH Network "Who Pays for What?" study were asked to identify all of the scanning methods they used. The data indicated the 67 percent of repairers who used aftermarket tools didn't do so on every repair.
Fifty-three percent of shops said they also used remote scanning providers in 2020, 40 percent sent vehicles to dealerships and 28 percent used OEM scan tools in-house.
A separate question asked which method represented the most common way a shop scanned a vehicle.
Aftermarket scan tools in-house were the most popular here as well, with 48 percent of respondents calling it their most prevalent scan technique. Remote scanning services proved the second most common practice, and operating OEM factory scan tools in-house ranked third.
More information:
Dave Luehr's Elite Body Shop Academy, April 27, 2021
"SCANNING –IT'S NOT JUST ABOUT DTC'S" slides
Dave Luehr's Elite Body Shop Academy, April 27, 2021
"Should Your Collision Repair Shop Perform In-House Diagnostics & Calibration"
Collision Hub, April 28, 2021
I-CAR Repairability Technical Support portal links to official OEM repair procedure websites
Images:
An OBD-II port is shown. (JJ Gouin/iStock)
The interior of a 2020 Nissan Sentra is shown. The vehicle has a cybersecurity measure in place that could render some aftermarket tools inadequate for scanning the vehicle, according to asTech. (Provided by Nissan)
A 2020 "Who Pays for What?" survey found a variety of scan methodologies in use in the collision repair industry. (Provided by Collision Advice and CRASH Network)
Share This: