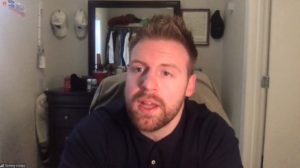 Democratic Massachusetts Attorney General Maura Healey this month stipulated she would not enforce the state's expanded "Right to Repair" law until a federal court reaches a verdict on an OEM legal challenge.
One of the leaders of the successful 2020 R2R ballot initiative told the Alliance of Automotive Service Providers of New Jersey he felt the measure would be upheld.
"We feel good," Right to Repair Coalition director Tommy Hickey said Dec. 17, a day before the law approved by voters in November was supposed to go into effect. He said he didn't think the automakers' argument that the bill was pre-empted by federal law would succeed, and "the judge doesn't either."
But advocates are "kind of in limbo" until the case is decided, Hickey told a virtual AASP-NJ meeting.
U.S. District of Massachusetts Judge Douglas Woodlock has scheduled a nonjury trial for June 14, 2021, in the matter of Alliance for Automotive Innovation v. Healey. Healey has agreed not to take any action until at least Aug. 1, 2021.
"Drafting the notice discussed in Section 4 of the new law will require careful consideration of the law and consultation with interested stakeholders," Healey wrote in a Dec. 17 stipulation. "The Office of Attorney General also believes that prompt resolution of Plaintiff's claims challenging the 2020 Right to Repair Law is in the public interest. Accordingly, the Office of the Attorney General stipulates that it does not intend to, and will not issue, the notice discussed in Section 4 until after the Court rules on the claims expected to be tried on an expedited schedule in 2021 (unless those claims are dismissed at an earlier date). Similarly, the Office of the Attorney General stipulates that it does not intend to and will not exercise its enforcement authority under Chapter 93A, Chapter 93K, or otherwise, to enforce any provision of the 2020 Right to Repair Law until after the Court rules on the claims expected to be tried to the bench on an expedited schedule in 2021 (unless those claims are dismissed at an earlier date)."
The initiative
Official Massachusetts election results found 75 percent of voters backing the Right to Repair expansion, with only 25 percent opposed. The official tally was 2,599,182 in favor to 867,674 against.
The Right to Repair ballot question demanded OEMs using a telematics system create an "inter-operable, standardized and open access platform across all of the manufacturer's makes and models."
"Commencing in model year 2022 and thereafter a manufacturer of motor vehicles sold in the Commonwealth, including heavy duty vehicles having a gross vehicle weight rating of more than 14,000 pounds, that utilizes a telematics system shall be required to equip such vehicles with an inter-operable, standardized and open access platform across all of the manufacturer's makes and models," the language added to state law by the question states. "Such platform shall be capable of securely communicating all mechanical data emanating directly from the motor vehicle via direct data connection to the platform. Such platform shall be directly accessible by the owner of the vehicle through a mobile-based application and, upon the authorization of the vehicle owner, all mechanical data shall be directly accessible by an independent repair facility or a class 1 dealer licensed pursuant to section 58 of chapter 140 limited to the time to complete the repair or for a period of time agreed to by the vehicle owner for the purposes of maintaining, diagnosing and repairing the motor vehicle. Access shall include the ability to send commands to in-vehicle components if needed for purposes of maintenance, diagnostics and repair."
Telematics is defined as "any system in a motor vehicle that collects information generated by the operation of the vehicle and transmits such information, in this chapter referred to as 'telematics system data,' utilizing wireless communications to a remote receiving point where it is stored."
Mechanical data is defined as "any vehicle-specific data, including telematics system data, generated, stored in or transmitted by a motor vehicle used for or otherwise related to the diagnosis, repair or maintenance of the vehicle."
The initiative also required that "motor vehicle owners' and independent repair facilities' access to vehicle on-board diagnostic systems shall be standardized and not require any authorization by the manufacturer, directly or indirectly, unless the authorization system for access to vehicle networks and their on-board diagnostic systems is standardized across all makes and models sold in the Commonwealth and is administered by an entity unaffiliated with a manufacturer."
Hickey said his organization anticipated automakers would claim to the Legislature they couldn't comply with the law. However, "that would be really hard" for lawmakers to intervene considering the law passed with 75 percent of the vote.
So automakers tried the courts, he said.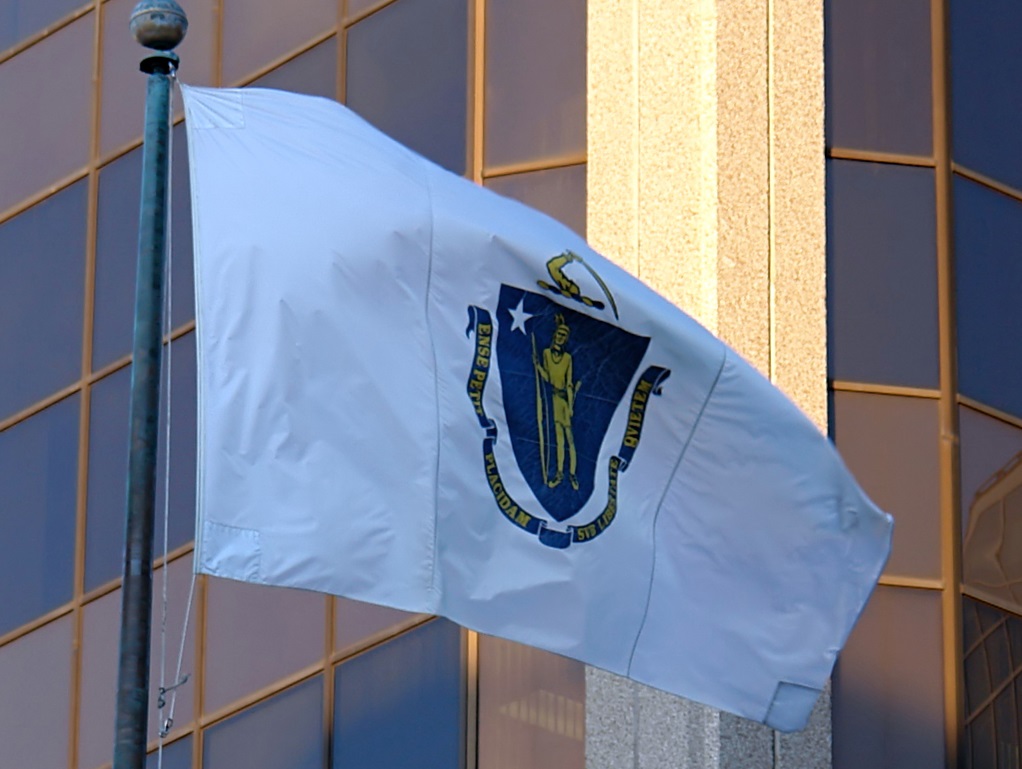 The legal challenge
OEMs argued in Alliance for Automotive Innovation v. Healey that complying with the law would leave them out of compliance with federal law and policy, including the National Traffic and Motor Vehicle Safety Act and Federal Motor Vehicle Safety Standards.
"As documented in NHTSA's letter, Massachusetts's Data Law violates federal law," the Alliance for Automotive Innovation, which represents virtually all major U.S. OEMs, wrote in its Nov. 20 lawsuit against Massachusetts. "It is preempted under the Supremacy Clause of the U.S. Constitution because it conflicts with federal law and policy regarding a host of consumer safety and intellectual property protections. It also takes auto manufacturers' private property without providing just compensation in violation of the Fifth Amendment as incorporated by the Due Process Clause of the Fourteenth Amendment."
Auto Innovators was referring to the National Highway Transportation and Safety Administration's June written testimony to the Massachusetts Joint Committee on Consumer Protection and Professional Licensure.
"As this testimony will further elaborate, it is our view that the terms of the ballot initiative would prohibit manufacturers from complying with both existing Federal guidance and cybersecurity hygiene best practices," NHTSA Deputy Administrator James Owens wrote. "NHTSA is also concerned about the increased safety-related cybersecurity risks of a requirement for remote, real-time, bi-directional (i.e., read/write capability) access to safety-critical vehicular systems. Given the multi-year automotive product development cycle, the deadline for compliance appears impossible for manufacturers to meet in a responsible manner, risking removal of existing cybersecurity controls over wireless access into vehicles as the ballot initiative directs, which increases the risk of cybersecurity attacks that could jeopardize public safety. Further, the requirement to establish universal and standardized access requirements increases the scale of risks of any potentially successful cybersecurity attack.
"… The ballot initiative requires vehicle manufacturers to redesign their vehicles in a manner that necessarily introduces cybersecurity risks, and to do so in a timeframe that makes design, proof, and implementation of any meaningful countermeasure effectively impossible."
Owens in the letter also pointed out that NHTSA supported third-party repair access to vehicles.
"It is worth noting that NHTSA does not take issue with efforts relating to data ownership, privacy, or serviceability, to the extent they do not affect motor vehicle safety," Owens wrote. "In fact, in NHTSA's published Cybersecurity Best Practices for Modern Vehicles document, section 9 recommends that the automotive industry should provide strong vehicle cybersecurity
protections that do not unduly restrict access by authorized alternative third-party repair services."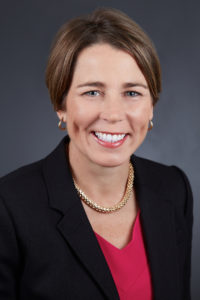 Healey in a Dec. 18 motion to dismiss said agency guidance isn't the same as law.
"The Alliance asserts six claims for implied conflict preemption, but none is viable as a matter of law," she wrote. "Its primary claim, under the Motor Vehicle Safety Act, relies on non-binding agency guidance, which is insufficient to preempt state law. Neither it nor any of the Alliance's other preemption claims establishes an actual conflict between state and federal law, much less satisfies the heavy burden required for facial, pre-enforcement challenges established by the Supreme Court and First Circuit. The Alliance's Takings Clause claim, similarly requires dismissal under Rule 12(b)(6) because the relief it seeks is unavailable as a matter of law (and any claim the Alliance or its members may have to other relief is barred by the Eleventh Amendment from adjudication in this court)"
Hickey said advocates were hoping for another national memorandum of understanding, similar to what the aftermarket and automakers worked out in 2014 following Massachusetts' first Right to Repair effort. But OEMs haven't been willing to negotiate yet, he said Dec. 17.
Hickey said a "number of states" have already contacted his organization about similar pushes in their borders, though the challenge on federal preemption grounds has stalled things for now.
Aftermarket benefits
Hickey said Massachusetts' 2012 Right to Repair effort created a level playing field between dealerships and independent repairers. However, it included an exception for telematics. Hickey said this had been allowed at the time because R2R advocates didn't understand the technology, and telematics wasn't present in many vehicles.
But today, 90 percent of new cars have telematic capabilities, and automakers have a monopoly on wireless diagnostics, Hickey said. This leaves the 2013 Right to Repair law "useless," he said.
AASP-Massachusetts Executive Director Evangelos "Lucky" Papageorg said automakers attacked the new R2R effort by arguing large aftermarket chains just wanted vehicle data so they could market to vehicle owners. His response: "'What do you think the OEMs do?'"
As seen above, the bill allows vehicle owners to authorize temporary telematics access to their repairer of choice.
Automakers have alleged that granting access to telematics would give independent shops personal information as well, according to Hickey. They say the two types of data can't be separated, he said.
But they won't sit down with experts from an aftermarket that has worked to create standards to disseminate only mechanical data, he said.
He said OEMs have already been "nipped" in court, but Right to Repair advocates still have to prove the access described in the law can be achieved in a "safe and secure way."
Automakers have also argued that independent repairers already do have access to everything they need to fix a vehicle without telematics. The 2013 law requires OEMs to license diagnostic software, tools and repair procedures.
"Pre-existing Massachusetts law—buttressed by industry-led, nationwide commitments—already mandates that auto manufacturers 'shall provide access to their onboard diagnostic and repair information system[s]' and that, to the extent any proprietary device were necessary to access the data on those systems, that device be made "available to independent repair facilities upon fair and reasonable terms,'" the new Auto Innovators lawsuit states. "In short, Massachusetts consumers have had a robust "right to repair" long before the Data Law. There is no evidence that members of Auto Innovators have blocked independent auto repair shops from accessing data necessary to assess vehicle performance and conduct maintenance and repair."
"It seems like there's more access now than there's kind of ever been," audience member Dean Massimini, president of Autotech Collision Service, observed during the AASP-NJ meeting.
However, the 2013 law does appear to have some wiggle room outside of the telematics exemption. For example, Tesla doesn't make its diagnostic software available through third-party means despite this being mentioned in the 2013 law.
"The original right to repair law enacted in 2013 was structured such that the manufacturers only had to provide the same information, tools and software that they made available to their franchised dealers," Auto Care Association regulatory and government affairs Senior Vice President Aaron Lowe wrote in an email earlier this month. "Since Tesla does not have any franchised dealers, they felt that they could avoid complying with most of the requirements.  The new law approved by voters this year does not limit access to telematics data to only what the dealer receives, but any mechanical data that they obtain from vehicles.  Therefore, Tesla will not longer be able to avoid compliance based on their dealer structure."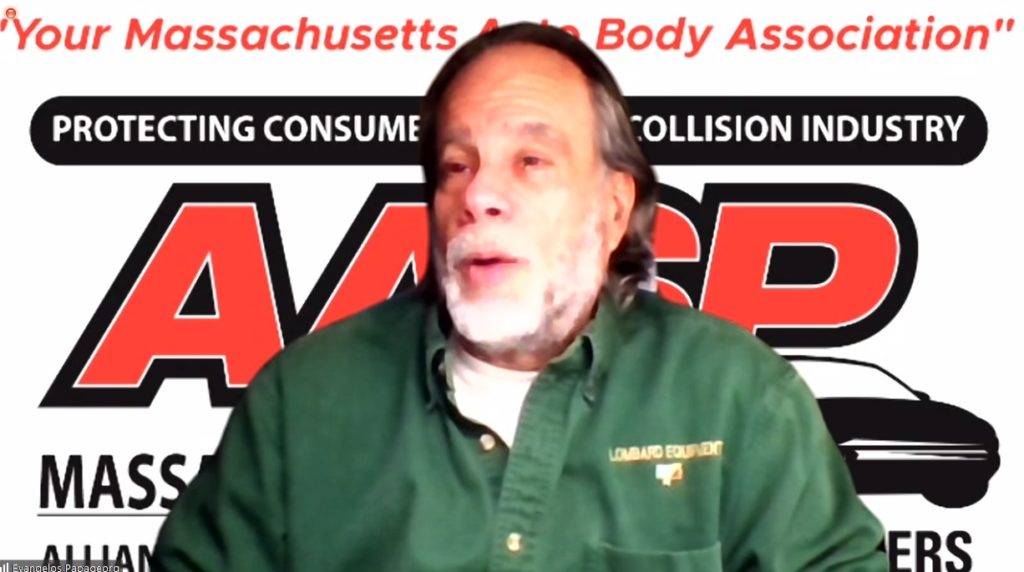 Papageorg during the AASP-NJ meeting described body shops as forced to send customer vehicles to dealerships rather than handle work in house.
"You're not a priority," and you will "pay through the nose," he said.
We asked if Papageorg could avoid using dealerships by buying the items mandated to be accessible to independents under the 2013 Right to Repair law.
Papageorg ridiculed that solution given "the rate that we're getting paid."
"It becomes a rate issue as well for us," he said. "We're not getting paid enough" to spend thousands of dollars on equipment to obtain codes under the traditional wired setup, not to mention pursuing it wirelessly.
"Having that information be more readily available to us" will help body shops keep the work in house rather than lose it to a dealership, he said.
We also asked Papageorg and Hickey if repairers would simply access diagnostic information through the telematics feed described in the law.
Hickey said he felt it was a transition. Scan tools wouldn't disappear, but "the OBD port is becoming wireless," he said.
Images:
Right to Repair Coalition director Tommy Hickey speaks to an Alliance of Automotive Service Providers of New Jersey virtual meeting on Dec. 17, 2020. (Screenshot from AASP-NJ virtual meeting)
The Massachusetts state flag is shown. (sorsillo/iStock)
Democratic Massachusetts Attorney General Maura Healey. (Provided by Healey's office)
AASP-Massachusetts Executive Director Evangelos "Lucky" Papageorg speaks to an Alliance of Automotive Service Providers of New Jersey virtual meeting on Dec. 17, 2020. (Screenshot from AASP-NJ virtual meeting)
Share This: