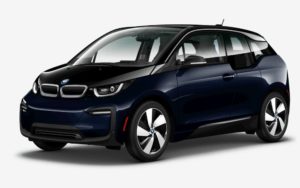 BMW announced in a July 26 bulletin a new ordering and approval process for certain carbon fiber parts "to ensure the repair facility purchasing the restricted part is properly equipped and trained to perform the repair."
In order to obtain one of the nearly 75 parts now on the restricted list, the bulletin lays out the specific request process that the repair facility must follow, including supplying the parts dealer with photos of the VIN sticker, photos of the damaged parts being replaced, and a copy of the repair estimate along with the repair facility name, address, phone and email address.
The parts dealer will then submit all of the information to BMW, who will confirm whether or not the repair facility has the proper tooling and training, and either approve or reject the parts order.
The BMW bulletin, "Carbon Fiber Parts Restrictions Ordering Process & Parts List," is a follow-up to an April bulletin issued by the automaker announcing the forthcoming structural parts restrictions.
According to Jon Inzano, national collision program manager for BMW of North America, a repair facility does not necessarily need to be a certified facility under the BMW Certified Collision Repair Center program to be approved to receive the parts, but the facility must have completed "certain BMW Body & Paint training courses as well as possess the necessary required tools for the repair."
BMW uses carbon fiber in body components for the BMW 7 Series, and it was used in the BMW i8 sports car and in the electric BMW i3 model, with the entire passenger cell made of carbon fiber. The parts restrictions however, apply only to certain structural parts on the i3, i8 Coupe, i8 Roadster and long wheelbase 7 series (G12). Although BMW also uses carbon fiber in roof panels for several models, "The carbon fiber roofs for the 3 and 4 Series are not restricted due to simpler replacement process," Inzano said.
Inzano confirmed that the program began the first week of August, and that the restrictions apply to all of the parts listed on the bulletin across the entire U.S. market.
BMW is not alone in restricting the sale of certain parts only to properly trained repair facilities. In late 2019, Volkswagen announced that certain parts associated with side-impact repairs would be restricted only to facilities that could provide "repair plans, test welds, documentation of training, and evidence of properly-calibrated VAS welders to a third-party auditor for approval."
Earlier in 2019, Volvo also began restricting the sale of "several highly specialized parts" to its network of Volvo Certified Collision Facilities. Volvo said the restrictions were to "ensure that, in the event that one of these parts does need to be replaced, it is replaced by a highly skilled trained professional."  The Volvo restricted parts included four frame rail part numbers and about half a dozen wheel housing parts.
More Information:
VW to restrict some 'side-impact' parts, demand proof of auto body shop competence
https://www.repairerdrivennews.com/2019/10/07/vw-to-restrict-some-side-impact-parts-demand-proof-of-auto-body-shop-competence/
Size, parts, equipment: Mazda elaborates on plans, policies for certified auto body repair network
https://www.repairerdrivennews.com/2021/05/10/size-parts-equipment-mazda-elaborates-on-plans-policies-for-certified-auto-body-repair-network/
Share This: