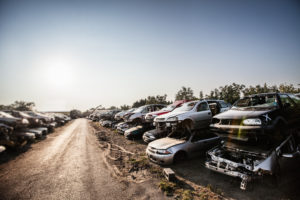 The Automotive Recyclers Association, representing 4,500 auto recycling facilities worldwide, has issued strong criticism of Subaru's recent reiteration of its stand against the use of recycled, salvaged, aftermarket, or recondition parts in making repairs.
ARA contends that alternatives to Subaru Genuine Parts are "safe and economical," and said manufacturers' policies are stifling competition and driving up repair costs.
"Auto manufacturers have become more aggressive in their efforts to force ROE-Recycled Original Equipment® and aftermarket parts out of the market," the ARA's executive director, Sandy Blalock, said in a statement.
"These statements and tactics stifle competition, greatly increase costs to consumers and in turn, can result in more repairable vehicles being considered uneconomical to repair. Manufacturer repair restrictions have become such a significant issue that both the Biden Administration and FTC have taken unambiguous steps to increase antitrust and consumer protection enforcement against manufacturer repair restrictions," Blalock said.
Unmentioned by the ARA was the FTC's recognition of the auto industry's forward-leaning approach to Right-to-Repair, spelled out in the commission's May 2021 Nixing the Fix report. In that report, the FTC noted that "the car manufacturing industry has taken important steps to expand consumer choice."
"For any manufacturing sector interested in creating a self-regulatory mechanism for expanding repair options, the experience of the automobile industry provides some guidance. In January 2014, two car manufacturer trade groups and two trade groups representing independent repair shops and manufacturers of aftermarket parts entered into a Memorandum of Understanding ("MOU") that had the effect of creating a broad, if not complete, right to repair in the automotive industry across the United States," the report states.
When asked for response, the automaker affirmed in an email that "Subaru's position statement has nothing to do with right to repair.  Subaru owners and independent repair shops are free and have a right to repair any vehicle with any parts they choose. Our statement simply reflects that Subaru of America cannot ensure the quality or compatibility of any parts other than Subaru Genuine Parts."
ARA's incoming president, Marty Hollingshead, pointed out that  "Subaru recycled original equipment parts are the very same parts manufactured by Subaru and that Subaru recycled original equipment parts have a long history of being utilized in vehicle repairs."
Subaru recycled original equipment parts, Hollingshead said, are the same parts specifically engineered by Subaru to provide maximum safety and optimal fit and functionality, which help maintain the high standards relating to a vehicle's structural integrity.
"ARA strongly believes that consumers have the right to choose where they can have their vehicles repaired and with repair parts that are safe and cost-effective alternatives to new OEM parts," the organization said.
Automakers have often taken the position that they can't ensure quality or integrity of parts that have been harvested from vehicles with prior damage, wear, exposure to weather, improper removal or even instances where the used part supplied may not be an original manufacturer replacement part, due to having been replaced in a prior repair.
SCRS addressed a number of these issues in a presentation during an SCRS open board meeting July 14. The presentation did not advocate for or against recycled suspension parts, but noted "there are many different opinions about when and if (such parts) should be used." The talk explored nuances that might inform a parts decision by a shop — or vehicle owner.
In its statement earlier this month clarifying its position, Subaru of America said that "The use of Subaru Genuine Parts is intended to help the vehicle perform as intended by Subaru engineers. Because of this, Subaru of America, Inc. does NOT approve of the use of recycled, salvaged, aftermarket, or recondition parts that may not be manufactured to the same specifications or tolerances as Subaru Genuine Parts" (emphasis Subaru's).
The automaker said that recycled, salvaged, aftermarket, or recondition parts may not be manufactured to the same specifications or tolerances as Subaru Genuine Parts, and that the use of such parts "could compromise occupant safety in a subsequent collision."
More information:
Subaru toughens position on alternative parts
Subaru's Positions Against Recycled and Aftermarket Parts is a Disservice to Consumers
https://web.a-r-a.org/news/newsarticledisplay.aspx?ArticleID=58
Feature image:
An automotive recycling center. (deimagine/iStock)
Share This: