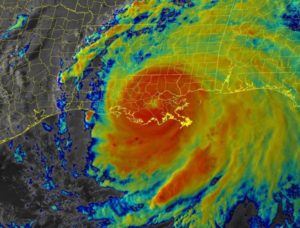 Foundation ready to help repairer community after Hurricane Ida
By on
Announcements
The Collision Industry Foundation, the 501(c)(3) charitable arm of the collision repair industry, is monitoring the effects of Hurricane Ida on the repairer community and stands ready to offer emergency relief, CIF's president said Monday.
"We know we will receive requests for aid, and ask the industry to make tax deductible donations so we may assist," said Michael Quinn. He said Ida has prompted "memories of our Katrina relief efforts 16 years ago."
"We have relief funds in place, and we are always looking for donations, whether on an individual basis or on a corporate basis," said Jordan Hendler, a CIF board member who was executive director during the time of the organization's Hurricane Katrina response in 2005-06.
Even before the extent of the losses is known, individuals and corporations who are looking to help can made donations securely through the CIF website. "Even if it's $5, every amount helps," she said.
CIF's mission, as stated on its website, is to "provide emergency relief by securing and distributing donations to collision repair professionals who have experienced significant losses due to natural disasters or other catastrophic events."
The foundation was established in 2001 to allow for tax-deductible contributions for the National Auto Body Council. Since its inception, the CIF has responded to nine major events, most recently the COVID-19 pandemic, during which it disbursed more than $250,000 to those in the auto body community who suffered financial losses.
Josh Kent, executive director of the not-for-profit Gulf States Collision Association, which includes shops in Louisiana, Mississippi and Alabama, said the organization stands ready to help, once the need has been identified.
"We're definitely ready as an association to be there for them," Kent said Monday morning. "It's so early that I don't know what help we're going to offer," he added. "It's kind of a wait-and-see game."
Kent said Gulf States represents about 50 auto body repair shops in the affected area. He said he will be reaching out to shops, member and non-member alike, in the coming days. He estimated that some 50 member shops might lie in the hurricane's path.
Kent is also executive director of the two other not-for-profit organizations, the Tennessee Collision Repairers Association and the Carolinas Collision Association, which represent shops in other parts of the country that could potentially be affected by Ida.
Hendler said that many of the requests for help after Katrina were from technicians who had lost expensive tools. "Sadly, most technicians don't have insurance for their own tools, and they own their own tools," she said. Few shops, she added, include technicians' tools in their own insurance policies.
As a consequence, these technicians were facing the loss of their livelihoods, in addition to whatever other damage the storm might have done, she said.
Repairer Driven News previously reported that CIF coordinated about $250,000 in donations and helped about 150 households after Katrina.
All of New Orleans lost power around sunset Sunday, the Associated Press reported. Levees were topped south of New Orleans, threatening hundreds of homes, while residents awaited rescue.
The National Weather Service on Monday predicted that Ida would continue to produce heavy rainfall through Tuesday morning across parts of southeast Louisiana, coastal Mississippi and southwestern Alabama, with life-threatening flash flooding possible. As the storm moves inland, "considerable flooding impacts" are possible across parts of the lower Mississippi Valley, Tennessee Valley, Ohio Valley, central and southern Appalachians and mid-Atlantic states through Wednesday, NWS said.
More information:
National Hurricane Center
COVID-19 aid: CIF fund closes after 600+ applications; senators urged to preserve NOL help
https://www.repairerdrivennews.com/2020/06/23/covid-19-aid-cif-fund-closes-after-600-applications-senators-urged-to-preserve-nol-help/
New Gulf States Collision Association will replace MCRA, welcome La., Ala. shops
https://www.repairerdrivennews.com/2021/07/09/new-gulf-states-collision-association-will-replace-mcra-welcome-la-ala-shops/
Images:
Featured image: Hurricane Ida moves inland over southeastern Louisiana on Sunday night. (National Hurricane Center)
Share This: