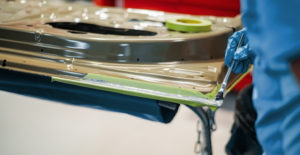 Adhesive materials use has become commonplace for collision repair shops.
Advanced adhesives and sealants in vehicle assembly have eased the need for mechanical fasteners like rivets, welds, screws and clinches, helped make vehicles safer (adhesives reportedly hold up better than welding in crash tests and behave like a buffer – when applied as directed by the vehicle manufacturer), made vehicles more economical (due to less weight) and led to more comfortable interiors by increasing vehicle dynamics and managing acoustic performances.
And the trend is only growing. According to adhesives.org, today's vehicles contain up to 40 pounds of adhesives and 33 linear feet of adhesive were used on a BMW 7 in 2001 compared to 500 linear feet today.
In fact, the global automotive adhesives market was valued at $7.36 billion in 2018 and is expected to rise to $10.6 billion by 2026 based on statistics from Verified Market Research,. The study analysis stated that part of the driving force of that are technological innovations in adhesives, the growing demand for more vehicles and the rising use of electric vehicles in response to new regulations and environmental concerns.
With all that in mind, Toyota recently released some basic guidelines and resources for its recommended and approved adhesives.
Always refer to Toyota's Technical Information System — techinfo.toyota.com  — to make sure you are using the right products in the right way and in the correct situation for their vehicles.
Here's how to navigate TIS to find adhesive information on a specific Toyota model:
From the dropdown menu, select Division, Model and Year.
Go to the Collision Repair folder where you will find topics like Adhesive and Weld Bonding at Specific Locations, Method Not Approved and Substituting Adhesives for Welds.
Also be sure to check the OEM procedures as this article should not be taken as a formal substitute for the official instructions. And be aware that Toyota's procedures may be different than those of other OEMs. That's why it's so important to follow Toyota's specific procedures.
There's an upcoming learning opportunity along these lines. During the IDEAS Collide Showcase portion of the SEMA Show on Friday, Nov. 5, in Las Vegas, 3M Global Key Accounts Director Todd Korpi will deliver a presentation on OEM Recommended Materials for Aftermarket Body Repair during which he will discuss what you need to understand about OEM recommended, call-out, endorsed and specific material solutions for collision repair shops.
Explore and register for the IDEAS Collide Showcase and other Society of Collision Repair Specialists Repairer Driven Education offerings at the SEMA Show by visiting  www.scrs.com/2021RDE.
In the recent published article, Toyota points out there are "precise techniques" and that collision repair employees must understand where the adhesives go and how to repair an affected area.
Toyota adhesive caution call-outs
The way in which to properly handle every adhesive is very important. Each one has specific instructions – mixing, applying, curing – and Toyota emphasized following those to the letter.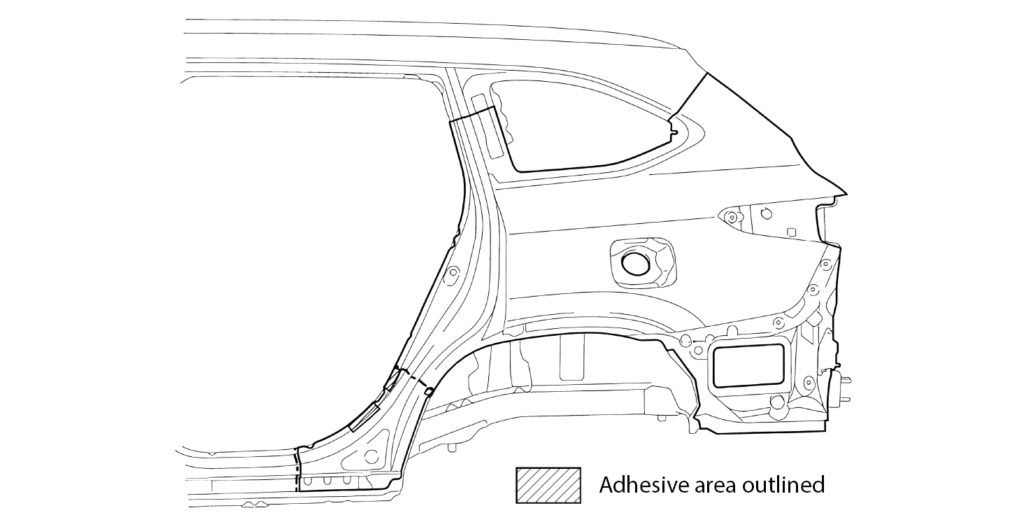 Acrylic metal bonding adhesives don't work well with zinc or galvanized metal. Toyota said it is "vital" to refer to the TIS to ensure you are using the appropriate adhesive recommended by the auto manufacturer for the specific repair.
Temperature is important. Adhesives can be damaged if stored outside the range of 60-80 degrees, and during the repair, make sure your shop is not too hot. With higher temperatures come faster cures, so you should probably use a slow-cure product to allow for plenty of time work with the product before it sets if it's balmy in your facility.
Never use an out-of-date adhesive product and make sure to mix the compounds thoroughly.
Ensure thorough removal of the old adhesive. This is critical and it's often necessary to grind off the e-coat.
Use a test bead on another object to make sure the adhesive works as intended before applying it to a customer's vehicle
Toyota recommended "always" referring to their Repair Manual for Collision Damage for the specific locations of any panel bonding adhesives used. The topics can change year-to-year and by model.
If your shop doesn't have a Toyota TIS subscription, contact your Toyota Dealer Parts Manager.
Images:
Featured: When using adhesives be sure to spread and cover all the bare metal. (image courtesy Toyota Motor North America) 
Other images: For more information on "QUARTER PANEL: CUT AND JOIN REPLACEMENT SECTIONS (SMALL AREAS)," log into TIS. (image courtesy Toyota Motor North America)
More information:
Click to access Working-with-Adhesives.pdf
DuPont discussion of award-winning BETASEAL highlights nuances of adhesives
Altair lightweighting award runner-up tech includes ultra-high-strength steel, structural adhesive
Safety inspections, adhesive removal, calibration time: More tips from the DEG
Share This: