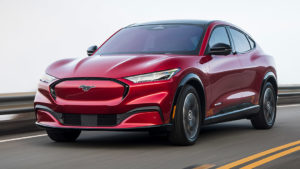 With sales of its battery electric vehicles (BEVs) on the increase, Ford Motor Co. has announced the creation of a new job aid to assist in repairs involving Ford and Lincoln BEV under-body high voltage (HV) battery inspection.
"When the HV battery or battery case sustains damage through collision or transport, it should be inspected carefully to determine if the damage is purely cosmetic or if repairs are needed," Ford said in the latest issue of its quarterly publication On Target. "The new job aid on this topic provides an overview of warnings and cautions repairers need and what constitutes acceptable or not acceptable damage."
"Concerning the electrified fleet of Ford vehicles, we wanted to make sure repairers familiarize themselves with the unique repair characteristics of these vehicles, as well as the specialized tools, equipment, materials and precautions needed to repair them accurately and safely," said Ford Customer Service Division U.S. Collision Manager Chris Wallace.
Ford has also created two new job aids for dealing with advanced driver assistance systems (ADAS), with and without glass.
"ADAS components may require additional calibration steps or vehicle programming after the component or related components have been removed, replaced or serviced," Ford said. "The new job aids — one for ADAS with glass and one without — cover the component description and location and the required calibration steps of each advanced driving support system."
The guides identify specific ADAS components, with descriptions of how they work, and include all associated abbreviations. The glass version also shows where ADAS components are located in relationship to the windshield or other fixed glass. That includes the head-up display module, located on the top of the instrument panel on the driver's side at the base of the windshield.
The job aids are offered for reference only. The detailed procedures are contained in the Ford Workshop Manual (WSM), accessible through Motorcraftservice.com, or the Ford Professional Technician Society (PTS) site. The job aids are not a replacement for the wealth of information contained in the WSM.
"These job aids allow us to provide the critical information our technicians need up front, before they even need it, though the job aids do not replace Ford OE repair procedures," Wallace said.
All three documents are available now on FordCrashParts.com, and On Target plans further excerpts in future issues.
For more information on electric vehicle repair, or ADAS calibration, contact the Ford Crash Parts Hotline at cphelp@fordcrashparts.com or visit I-CAR's RTS Portal at RTS.i-car.com.
Find more in-depth repair information and repair procedures on Ford's service information website and at www.oem1stop.com/content/ford.
The current On Target has a number of other informative features, including information about I-CAR's recently published best practice for an HV disconnecting/initialization procedure. The best practice was developed by I-CAR subject matter experts in conjunction with Ford Motor Company, collision repairers, insurers and tool and equipment makers
Ford last year posted its best-ever sales for BEVs, second only to Tesla. The OEM reported 27,140 Mustang Mach-E sales for the year, and said it sold 12,284 electrified vehicles in December, up 121 percent from 2020. Ford intends to nearly double production capacity of the all-electric F-150 Lightning pickup to 150,000 vehicles per year, and to begin customer deliveries of both the Lightning and E-Transit, further growing the OEM's EV share.
More information
UPDATED: 'On Target' tips: circuit analysis & voltage-drop measurements
Ford On Target newsletters
Ford Workshop Manual
https://www.motorcraftservice.com/Home/SetCountry?returnUrl=%2F
I-CAR's RTS Portal
Images
Featured image: A 2022 Ford Mustang Mach-E. (Provided by Ford Motor Co.)
Share This: