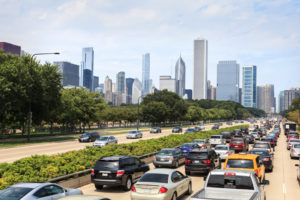 Illinois legislators are considering a bill that would require OEM specifications to be followed in collision repairs, glass replacement and advanced driver assistance system (ADAS) calibration covered by insurance.
The bill, HB4719, proposes to add new provisions to Section 155.29 of the state's Insurance Code, which currently requires insurers to notify customers in writing when an aftermarket part is to be used in a repair. It was filed by Democratic state Rep. Elizabeth Hernandez on Jan. 27, and referred to the Rules Committee.
The bill states that no insurer can require repair specifications that do not meet or exceed the OEM's repair specifications "for those [aftermarket] parts in the repair of an insured's motor vehicle."
Brian P. Wojcicki, executive director of the Alliance of Automotive Service Providers of Illinois (AASP Illinois), explained that the bill is intended to place the focus on the the repair and how the repair is done, rather than the parts.
It differs from past unsuccessful bills that referred to OEM procedures, many of which address the acceptability of non-OEM parts. The focus on procedures drew objections from "some of the stakeholders," Wojcicki said.
He noted that Illinois law already spells out that all collision repair parts used must be "at least equal in like kind and quality to the original part in terms of fit, quality and performance." This bill would not change that.
It stipulates that the use of OEM parts is not required, "if the repair parts used are identified and disclosed pursuant to this Section."
Exceptions to the specifications requirement would be made in cases "that unreasonably restrict access to a repair facility."
The bill would also add requirements that OEM specifications be followed for glass replacement, and for ADAS calibration.
"In the past, concerns were also raised regarding the inclusion of glass repair in the legislation; however, OEM repair specifications, including ADAS calibration, are certainly applicable to glass repair so are also included in the best practices being sought in the legislation," Wojcicki said.
"AASP Illinois supports House Bill 4719 and its recognition of the importance of OEM repair procedures, including ADAS calibration," he said. "We hope to help bring industry stakeholders together in the coming months to find common ground on necessary updates to Illinois law in order to promote repair best practices and consumer safety."
The approach would seemingly address past opposition by the alternative parts industry which has partially led to unsuccessful OEM procedure bills filed in a number of state houses in recent years. Automotive Recyclers Association Executive Director Sandy Blalock has said that the stumbling block has been that OEM documents contain language objecting to non-OEM parts.
"If we get somewhere where that language is not there (in OEM documents)," it might be possible to have a discussion about legislation, Blalock said during a virtual Nov. 10, 2020 Collision Industry Conference panel. But as long as automakers continue to have statements declaring "it's not wise to use these parts" or that they "do not recommend" the components, "there's gonna be an issue for us in the industry," she said.
The CIC panel's focus had been what has been a largely unsuccessful series of attempts by body shop and OEMs to use state law to promote OEM repair procedures.
A conditional approach proved to be successful in Rhode Island. Under a law that took effect July 1, 2018, Insurers may no longer ask a collision repairer to deviate from OEM repair procedures "(w)hen 'OEM part(s)' are used."
The original wording "sent the aftermarket part world into overdrive," panelist Jina Petrarca-Karampetsos, of Auto Body Association of Rhode Island, said at the CIC session. Parts retailers saw it as imposing as a blanket prohibition on their components, as OEM procedures dictate OEM parts, she said.
The original Rhode Island bill stated, "No insurance company may require any repairer to use repair specifications or procedures that are not in compliance with the recommendations of the original equipment manufacturer for those parts."
The final version instead stated, "When 'OEM part(s) are used in the repair of a motor vehicle, no insurance company may require any repairer to use repair procedures that are not in compliance with the recommendations of the original equipment manufacturer."
More information
Illinois House Bill 4719, as introduced
Click to access HB4719-Illinois.pdf
ARA: Parts exemptions not enough to overcome objections to OEM procedure bills
Images
Featured image: Traffic makes its way along Lake Shore Drive in Chicago. (ghornephoto/iStock)
Share This: