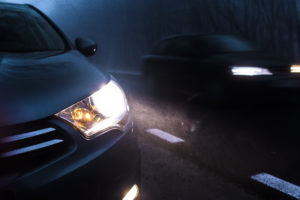 The National Highway Traffic Safety Administration (NHTSA) announced Tuesday its issuance of a final rule that allows OEMs to install adaptive driving beam (ADB) headlights on new vehicles to increase visibility and reduce headlight glare – a decision that will likely mean added repairs complexity.
NHTSA ruled that ADBs will improve safety for pedestrians and bicyclists by making them more visible at night and will help prevent crashes by better illuminating animals and objects in and along the road, according to the final rule. However, NHTSA states in the rule that "glare dosage," or the amount of glare, "has not established, and does not know of, a quantified relationship between glare dosage and crash risk."
"ADB systems are an improvement over 'auto hi-beam' technology currently available in the United States because they are capable of providing more illumination than a lower beam without increasing glare," NHTSA wrote in the final rule. "When operating in automatic mode, instead of simply switching between the upper and lower beams, an ADB system is able to provide a dynamic, adaptive beam pattern that changes based on the presence of other vehicles or objects, providing less illumination to occupied areas of the road and more illumination to unoccupied areas of the road."
Until now, adaptive headlights were only allowed in Europe and Canada. While ADB systems have been available in Europe for a number of years, they have not yet been deployed in the U.S. largely because of industry uncertainty about whether Federal Motor Vehicle Safety Standard No. 108 permits the systems, according to NHTSA. The final rule, in response to a petition for rulemaking from Toyota Motor North America, Inc., amends the standard to allow manufacturers to offer ADBs and establish performance requirements for them to ensure their safe operation. The Toyota Collaborative Safety Research Center (CSRC) has been studying ways the headlights could be used to reduce the number of pedestrian and bicyclist deaths.
NHTSA included in the final ruling an overview of comments submitted to the administration about a 2018 proposed rule, one of which was from the Alliance of Automobile Manufacturers (now the Alliance for Automotive Innovation). The Alliance stated that in 2012, 70% of pedestrian fatalities occurred at night, and by 2016 had increased to 75%. The Alliance also noted an Insurance Institute for Highway Safety (IIHS) study found pedestrian deaths in dark conditions increased 56% from 2009 to 2016.
In addition to visibility, the rule addresses glare reduction. "The potential problems associated with glare are highlighted by the thousands of
complaints NHTSA has received from the public on the issue, as well as congressional interest," the final rule states. IIHS stated in its comments to the administration on the proposed rule that an NHTSA National Motor Vehicle Crash Causation Survey found only 1% of accidents could be, at least partly, related to headlight glare.
Compared to the proposed rule, the final rule simplifies the number and complexity of test scenarios, including "realistic road geometries and vehicle interactions" of ADB headlights. It also gives OEMs flexibility on when to provide reduced illumination intensity and reduces the minimum activation speed to 20 mph.
"This final rule does not require manufacturers to provide ADB systems, but only specifies the requirements the systems must meet if equipped on vehicles," NHTSA states in the rule.
NHTSA Deputy Administrator Steven S. Cliff signed the rule on Feb. 1, which fulfilled a provision in the 2021 federal infrastructure law more than a year and a half early that called for the transportation secretary to issue a rule allowing the use of adaptive headlights by 2023.
IMAGES
Featured image credit: vrcraft/iStock
Share This: