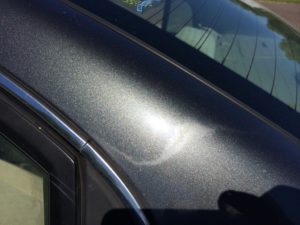 Volvo is instructing body shops not to perform any kind of clearcoat blending on its vehicles, and not to attempt to repair a vehicle by cutting and joining two damaged vehicles, a process known as "clipping."
In its new position statement on clearcoat blending, Volvo notes that its vehicles "undergo a process which cures the paint permanently on the vehicle at time of manufacturing and cannot be effectively blended."
Although blending a vehicle's clearcoat through a process sometimes called "melting" or "burning" is sometimes done when only part of a panel is refinished to save money, Volvo warns that there is no acceptable way to do so. Clearcoat blending may also lead to the voiding of the vehicle's warranty for both mechanical and body/corrosion, Volvo said.
"While the finish may appear to look acceptable initially, this process will typically fail after exposure to weather and sunlight," the OEM said. "Also, the thickness of clearcoat paint must be over 2 mils in thickness to resist weathering factors. This thickness is not achievable with clearcoat blending as it will be noticeable."
Attempting to sand the fresh clearcoat over the original finish to lower its thickness and adhesion will lead to peeling, fading, or hazing over time, and may cause rusting, affecting the vehicle's structural integrity, Volvo said.
"Repairs such as this could lead to lower customer satisfaction and liability to the repairer," the statement reads.
It also notes that clearcoat blending requires the use of volatile organic compounds (VOCs), which are banned in a number of states. VOCs react with nitrogen oxides on hot summer days to form ozone or smog.
Volvo recommends that all vehicle components should be removed when refinishing, including but not limited to:
Exterior mirrors
Trim
Weatherstrips
Glass
Roof racks
Bumper covers
Headlights/taillights
Wheel house linings
A number of other manufacturers, among them Ford, Toyota, Volkswagen, and Nissan, have issued position statements against blending clearcoat.
"'Solvent blending' is a method that in the past was commonly used to blend within an exterior body panel," Volkswagen's March 2020 statement reads. "This type of repair procedure cannot be used on the OEM applied finishes on vehicles today. The reason is simple; the bond between the OEM finish and the newly applied refinish paint cannot 'blend' or 'melt' into one another."
"Paint companies and vehicle manufacturers agree that a repair using this material and procedure is not robust, and that over time, the edge will begin to lift and discolor, making the edge around the repair very noticeable," Ford's February 2018 statement reads in part. "To resist ultraviolet light and other environmental factors, the clearcoat needs approximately two mils of thickness, however, the millage of the clearcoat in a blended area tapers out at the edge."
"To restore the factory finish, the final clear coat should be applied to the panel(s) edge or natural breaking point. It may be necessary to remove exterior trim, weather stripping, roof luggage rack or rail systems, or remove glass," Nissan says in its December 2018 statement. It notes that "Removal of certain components such as mirrors, door handles, or glass, can cause a disruption in the vehicle control systems and may not create a Malfunction Indicator Light (MIL) visible dash indicator. Following removal, the vehicle will require a post-repair diagnostic scan to ensure all systems are functioning as designed."
Paint manufacturers have told the Society of Collision Repair Specialists (SCRS) that they do not approve of blending clearcoats, and will not warranty clearcoats that do not extend to the natural breaking point on a panel.
"Due to its nature, the clearcoat blend edge is not durable enough to withstand weathering, repeated exposure to the elements and becomes visible after a period of time. As a result, for OEM warranty and PPG guarantee purposes, blending a clearcoat edge is not recommended," PPG said.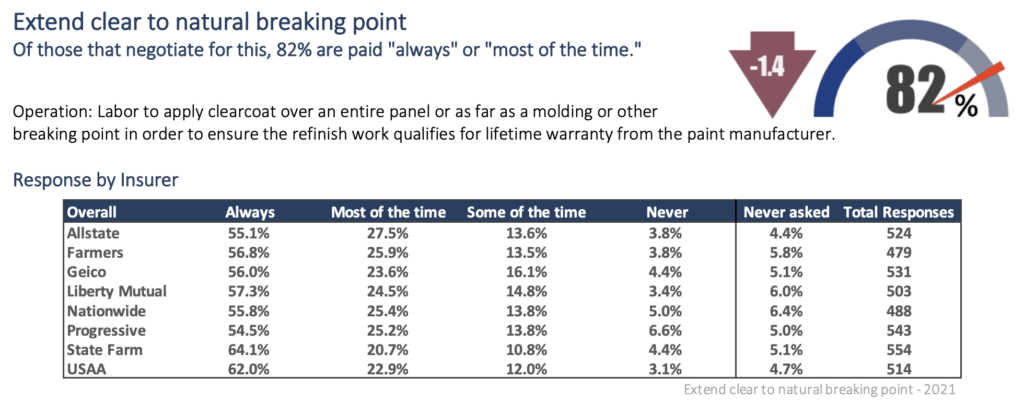 According to a 2021 "Who Pays for What?" body operations survey conducted by Mike Anderson of Collision Advice in conjunction with CRASH Network, 82% of shops responding said that insurers pay to extend clearcoat to a natural breaking point always or most of the time.
"We are getting more questions from shops around the country about this 'up and over' procedure," Anderson said. "With more new vehicles having laser-welded roofs, the requirement to perform an 'up and over' on the roof panel and other quarter panel is increasingly a consideration."
Full vehicle body sectioning
In a separate new position statement, Volvo said it does not approve the repairing of vehicles by "clipping," or joining two damaged vehicles.
"Vehicles are typically cut through across the floor pan, windshield pillars, and the rocker panels. After cuts on both vehicles are performed, an attempt is made on joining both undamaged portions of two vehicles together to make a repair," Volvo said.
"As each 'clip' repair is unique and cannot be verified as a proper repair, full body sectioning is not acceptable on any Volvo vehicle. Volvo Cars U.S. stands firmly with this position…"
The OEM said its position is based on concerns that such repairs could present issues with the vehicle structure. Considerations include:
Decreased structural integrity
Corrosion
Part fitment
Vehicle functionality
Vehicle performance
Vehicle alignment
Vehicle reliability
Acceptable to water leaks
Noise
Vibration
SRS/Electrical System malfunctions
"Using only genuine Volvo parts will help ensure vehicle safety, performance, and residual value," the statement reads. "Volvo genuine parts are designed and manufactured to exacting specifications to help maximize safety, performance and reliability."
The OEM notes that "All Volvo exterior paneling, glass, unibody components, drivetrain, electronics, suspension SRS and steering components are essential to safe control of the vehicle. These parts are designed to work with other vehicle components to help keep occupants safe in an accident."
It recommends that all collision repairs be carried out by a Volvo Certified Technician, through a Volvo Certified Collision Center, using only genuine Volvo parts.
As always, instructors are advised to refer to Volvo Information and Diagnostics for Aftersales (VIDA) for the latest technical guidelines.
More information
Volvo's position statements at OEM1Stop
https://oem1stop.com/content/volvo
Volvo adds position statements on windshield adhesives, bumper repair, pre/post scanning
Toyota: Follow paint manufacturer's requirements — which won't include clear coat blending
Images
A failing C-pillar clearcoat blend. (Provided via Auto Damage Experts)
Share This: