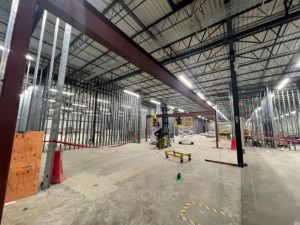 As construction of I-CAR's 48,000-square-foot Chicago Technical Center (CTC) in Vernon Hills moves forward to open later this year, the organization's tech center in Appleton, Wisconsin will also receive upgrades in 2022.
"The volume of work that we're doing for the car manufacturers and research that we've increased – we just needed more space and so we took what we had learned from working in the Appleton facility for 20 years or so and really just applied the learnings into this facility," I-CAR Technical Products, Programs and Services Vice President Jeff Peevy told Repairer Driven News. "Both facilities will augment one another."
Production capabilities will be greater at the CTC, Peevy said, because it's been designed to eliminate a challenge at the Appleton facility – one operation hindering another because of the way the facility is laid out. The current center will be renovated to look and function similarly to the CTC.
I-CAR President and CEO John Van Alstyne said the CTC and Appleton projects will improve the quality, safety, and health of the work environments for staff and visitors.
"I-CAR's mission is to deliver increasingly accessible, on-demand and relevant education, knowledge, services and solutions for the collision repair inter-industry, and our new tech center, which will feature a world-class environment, represents a truly innovative, leading and progressive approach to our mission-centric work that will benefit all industry segments," he said.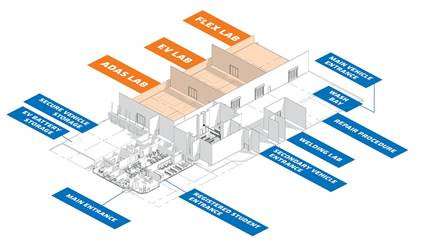 Peevy told RDN the CTC's "big advantage" will be its advanced driver assistance system (ADAS) and electric vehicle (EV) labs, both of which will be over 6,000 square feet.
"We're organizing two of the labs into these two latest, most impactful technologies and then we're able to just do multiple things all at the same time," he said. "The Chicago facility will also have the ability to have secure, confidential vehicle storage so if we're working on a vehicle that hasn't been released to the public, we have ways that we can move it through the facility without it being seen by anyone who shouldn't see it."
Peevy added that the CTC is being constructed as a "purpose-built facility" and will feature a flex lab that can be used for whatever work is needed at the time, along with a dedicated space for collision repair research.
I-CAR is confident that the CTC will give the organization the ability to meet the future needs of students both virtually and in person to learn about "increasingly complex repair solutions."
The CTC will offer:
A learning design studio with digital walls;
Expandable classroom walls; and
Controlled environment variations for performing ADAS calibrations to enable comprehensive research complete with six EV charging stations.
The CTC is designed with future virtual reality opportunities in mind and will "serve as a best-in-class learning hub" for industry workshops and live classes, according to I-CAR. It will also be the Chicagoland training site for I-CAR. A digital twin of the facility will be built to serve as the backdrop for virtual reality training and digital windows into the labs will allow students to see work that's being done without interfering with the processes, Peevy said.
"The whole facility is very much about [being] topic-focused and student immersion," he said.
I-CAR Board of Directors Vice Chair Jim Guthrie noted in a statement that I-CAR "continues to lead the industry forward through the 'technical tsunami.'"
"The CTC represents a massive collaboration with inter-industry partners to reimagine the future of training solutions amid one of the most transformative eras of our history. This is an investment by I-CAR in the industry's future to drive us all forward and I couldn't be more proud of this effort."
The location for the center was strategically chosen to be in the northern suburbs of Chicago near the interstate so staff can easily travel the three hours between it and the Appleton facility, Peevy said. It's also 40 minutes away from I-CAR's home office and 30 minutes from O'Hare International Airport, which will provide increased accessibility to I-CAR's industry partners.
To follow along with CTC construction updates, visit info.i-car.com/collisionreporter/onlinejournal/video-update-available-new-chicago-technical-cente.
IMAGES
Featured image: I-CAR's Chicago Technical Center (CTC) in Vernon Hills is under construction and is slated to open later this year. (Photo provided by I-CAR).
The layout of I-CAR's CTC is shown. (Image provided by I-CAR).
CTC update video (Source: I-CAR YouTube channel).
More information
I-CAR to open second technical center in response to EVs, evolving technologies
Share This: