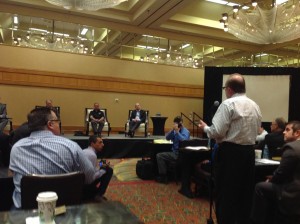 If you're a collision repair professional who has a point of view about issues affecting the industry, the Society of Collision Repair Specialists (SCRS) would like to hear from you.
SCRS is looking for feedback from repairers to help shape the discussion at an upcoming Repairer Roundtable to be held on April 13 in Oklahoma City, Oklahoma.
The Roundtable's goal, SCRS said, is "to identify issues that are impacting collision repairers and hold an open dialog about how the industry can best address the challenges."
To submit feedback, visit https://bit.ly/SCRSfeedback.
Names and contact information will remain confidential, while details from the responses will be shared with SCRS's affiliate network "to help further strengthen the work taking place to represent and advocate for collision repair professionals at both the national and state levels."
SCRS invites everyone, including those visiting Oklahoma City for the week of industry events, to participate in this in-person-only Repairer Roundtable. The event is free, and both members and nonmembers are welcome. SCRS asks that guests who plan to attend register here, so that the room can be arranged to accommodate social distancing during the meeting.
The Roundtable event will be held from 9–11:30 a.m. at the Sheraton Oklahoma City Downtown. The event will feature a discussion of the survey results and topic areas by a panel consisting of three collision repair facility operators and three association representatives:
Andy Tylka, Owner at Tag Auto Group, Indiana
Bruce Halcro, Owner at Capital Collision Center, Montana
Kye Yeung, President at European Motor Car Works, California
Kyle Bradshaw, President of the Carolina's Collision Association (CCA)
Jill Tuggle, Executive Director of the Auto Body Association of Texas (ABAT), and
Jordan Hendler, Executive Director of the Washington Metropolitan Auto Body Association (WMABA).
Following the Repairer Roundtable, the SCRS board will hold an open board meeting from 2-5 p.m.
After the open meeting, SCRS will invite members back into the room to participate in the annual election for open seats on the board of directors. The election will remain open from 5:15-6 p.m.
Those also attending the Collision Industry Conference (CIC) on Thursday, April 14, can click here to get information and pre-register for the in-person event.
For more information about SCRS, or to join as a member, visit www.scrs.com, call 1-877-841-0660, or email info@scrs.com.
More information
See video of SCRS 'Repairer Roundtable' on workforce development
SCRS 'Repairer Roundtable' tackles skilled workforce development, regulators
SCRS Repairer Roundtable: How OEMs test technicians on auto body skills
Images
Featured image: A collision repair shop owner makes a point during a previous Repairer Roundtable. (Repairer Driven News file)
Share This: