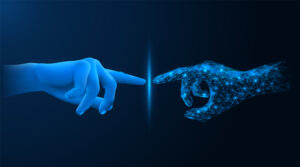 Solera survey finds 50% of consumers prefer fully digitized claims settlement process
By on
Announcements
Nearly half of consumers surveyed would prefer a fully digitized process for settling their collision claims, while another 43% want a hybrid model that combines digital tools with human contact, according to Solera's annual global survey of attitudes toward the use of artificial intelligence (AI).
Overall, 79% of "tech savvy consumers" say they trust AI-driven repairs and claims, up three percentage points from last year's survey, according to Solera, the parent company of Audatex.
The survey found that AI adoption has accelerated among global car insurers, body shops and OEM dealer networks, although only about half of all collision repairers said that AI has brought them increased profitability or productivity.
For both repairers and insurers, the biggest barriers to adoption are cost and the need to train workers in new skills, the survey said. It acknowledged that, "Despite the progression of AI-driven claims and repairs, this ecosystem is still facing critical adoption barriers."
"Digitization is now an integral and expected part of the claims cycle. Our research shows the pace at which consumers now actively seek automated self-serve models that meet their needs for digital convenience, speed, and accuracy," Bill Brower, vice president for industry relations at Solera, said in a statement. "It's clear that those implementing cutting-edge technologies like AI will gain critical customer retention, efficiency, and resilience."
In last year's survey, Solera reported that 72% of North American consumers said they preferred a "fully automated claims and repair experience." A spokeswoman told Repairer Driven News that that question was not the same as this year's question about the claim settlement process, which was a new question.
Essentially, last year's question was about how consumers control their claims, while this year's was about how the claims are processed on the back end, she said. For that reason, the data aren't comparable, she said.
Solera, in partnership with UK-based Coleman Parkes Research, surveyed more than 2,000 consumers, OEM dealers, repairers, and insurers to get the industry's view on AI technology, its impact on the claims and repair journey, and attitudes toward its adoption.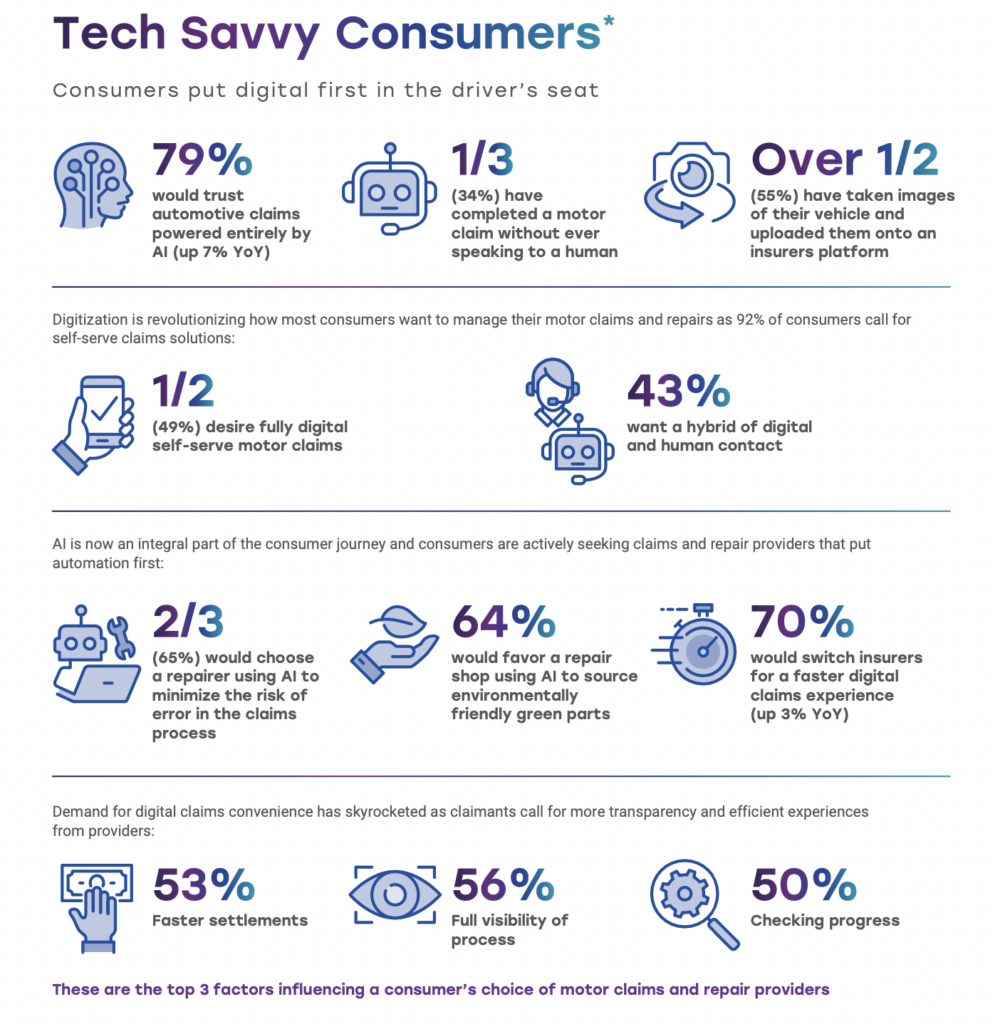 Consumer adoption
Thanks in part to shifts caused by the Covid-19 pandemic, the use of digital claims technology has increased rapidly, Solera said. It found that more than a third of claimants have now completed an auto claim without speaking to a person, and that more than half have taken images of their vehicle and uploaded them onto an insurer's platform.
The survey found that 70% would switch to an insurer using AI for a faster digital claims experience, down three percentage points from the 2021 survey, while 65% said they would choose a repairer that uses AI "to minimize the risk of error when conducting work on their vehicle," and 64% would choose a repair shop using AI to supply environmentally friendly parts.
The three main factors for consumers in choosing a carrier or a repair shop that uses AI, the survey said, are faster settlements (53%), full visibility of the process (56%) and the ability to check progress (50%).
"Covid was clearly the tipping point for customer adoption of digital services. Insurance customers are clearly ready for digital options especially when they have the opportunity to quickly access an adjuster in person as needed," Brower said.
Some analysts have noted consumer dissatisfaction with the digital claims process. J.D. Power, for example, found that satisfaction among customers using digital claim channels is six percentage points lower than for those using traditional methods, while satisfaction among those who submit photos is eight points lower than for those who do not.
The LexisNexis 2022 U.S. Auto Insurance Trends Report found that customers are becoming more comfortable with self-service digital claims processing, but are frustrated by systems that do not meet their expectations. That report echoes the J.D. Power 2021 U.S. Insurance Digital Experience Study, issued in May 2021, which found that digital offerings were not keeping pace with consumer desires.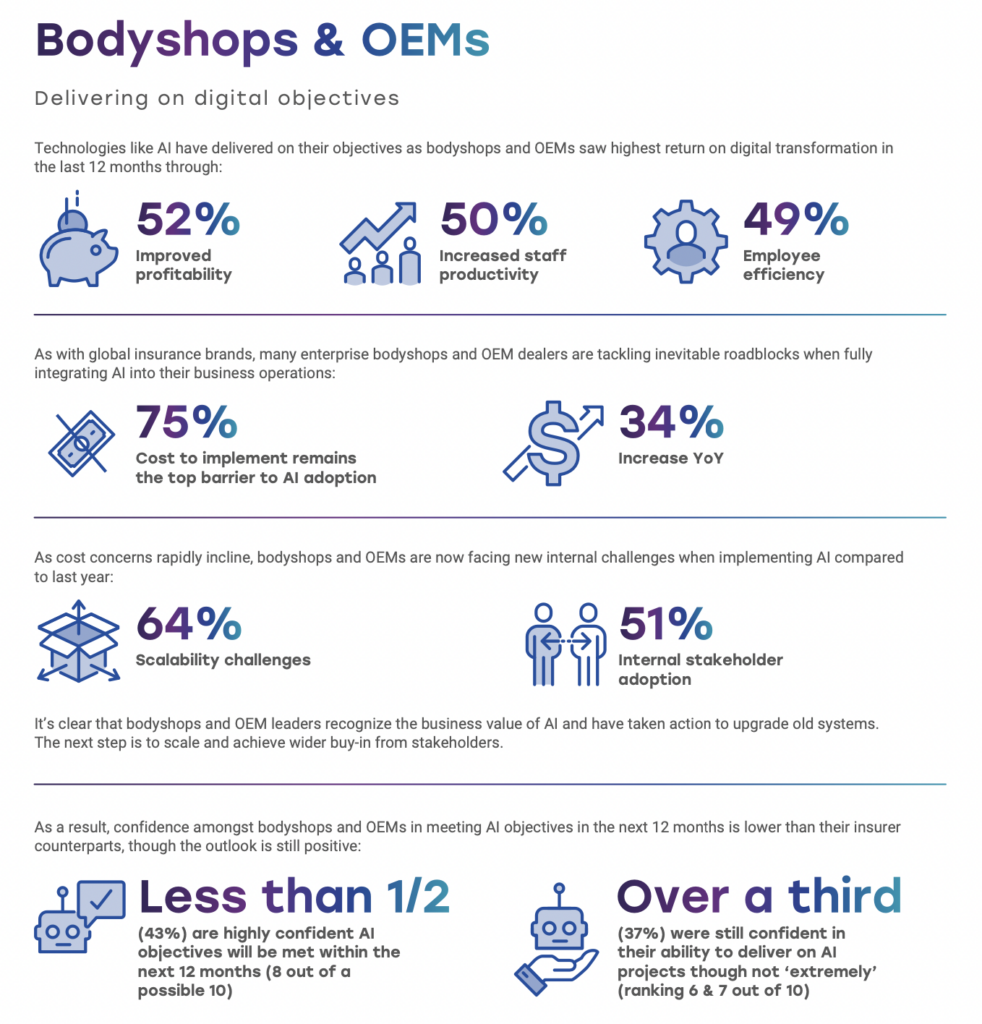 AI in body shops
Among collision repairers, cost was cited as a major barrier to AI adoption by 75% of respondents, a jump of one-third from the previous year, Solera said.
Over the past year, repairers and OEMs saw the highest return on projects through improved profitability (52%), increased staff productivity (50%) and employee efficiency (49%), Solera said.
Internal challenges for repairers and OEMs include scalability issues (64%) and stakeholder adoption (51%).
"It's clear that bodyshops and OEM leaders recognize the business value of AI and have taken action to upgrade old systems. The next step is to scale and achieve wider buy-in from stakeholders," the survey said.
Body shops and OEMs are less optimistic about AI than carriers. Just 43% percent of body shops and OEMs said they are extremely confident their AI goals will be met within the next 12 months, ranking 8 out of a maximum 10, while another third said they are confident.
"The optimism among industry decision makers to achieve AI objectives is a huge vote of confidence, but more needs to be done to realize its value for stakeholders and customers," Solera's Brower said. "There are inevitable barriers in the journey towards full automation, but the message is clear. Now more than ever, organizations must leverage first-class technology partnerships to streamline this transition and maximize the return on AI investments."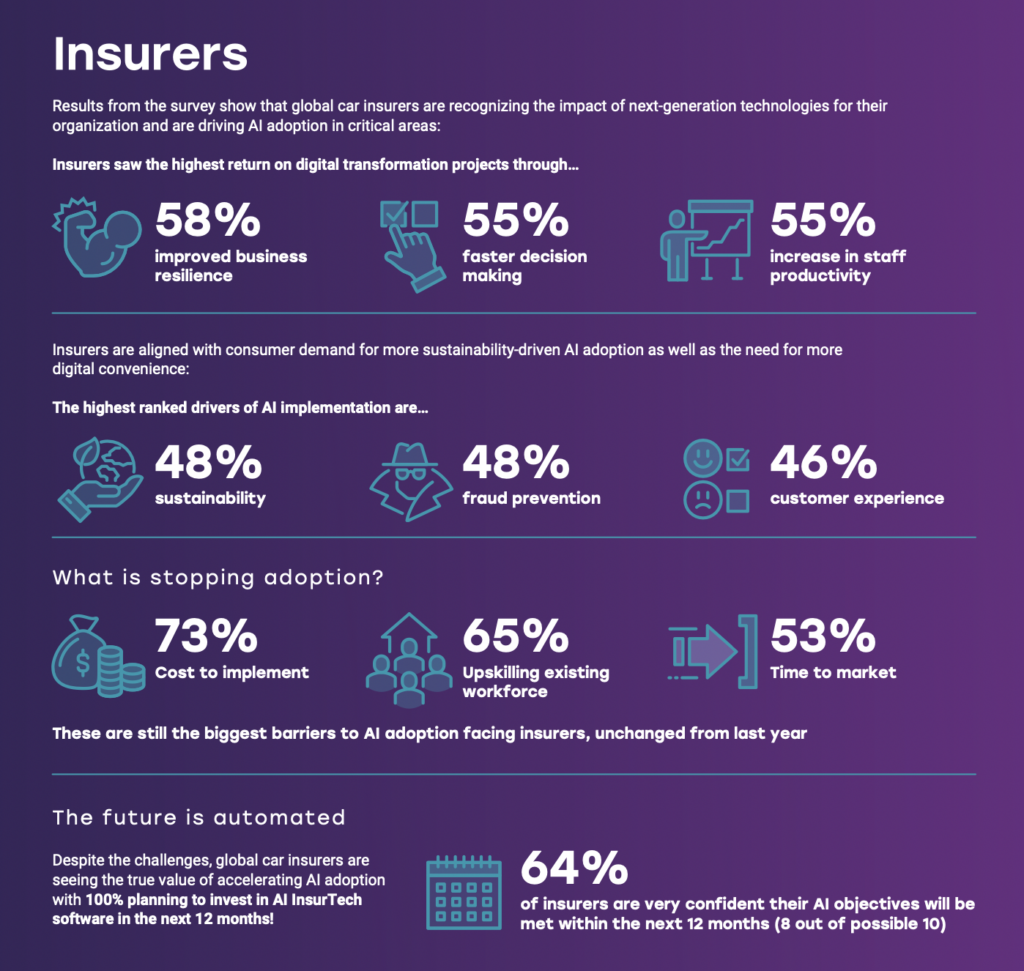 Adoption by carriers
Forty-six percent of insurers who responded to the survey said they have adopted AI to improve their customers' experience, while 48% said they did so for "sustainability," and to prevent insurance fraud.
Like body shops, insurers are leery of AI's cost, with 73% reporting implementation costs as the major barrier to adoption. Sixty-five percent said the need to train the workforce in new skills was an impediment.
The highest return on AI investments for carriers is improved business resilience (58%), faster decision making (55%), and increase in staff productivity (55%).
More information
Insurance webinar looks at customer dissatisfaction with digital claims
Solera says study of 'tech-savvy' consumers finds 76% trust AI auto claims, 73% would pick insurer with claims AI
Images
Featured image provided by Ilya Lukichev/iStock.
Share This: