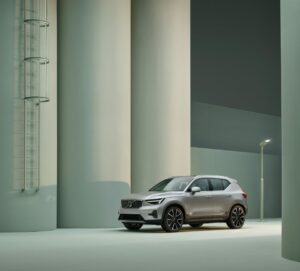 Volvo's entire 2023 lineup, out this summer, will be all electric & capable of receiving OTA updates
By on
Collision Repair | Technology
The entire 2023 lineup of Volvo cars in the U.S. will consist of "mild" hybrid, hybrid, or electric vehicles (EVs) with built-in Google services and the ability to receive over-the-air (OTA) updates.
The XC90 and XC40 SUVs, as well as the V60 Cross Country, will now come standard with mild-hybrid engines, according to a news release from the OEM. Volvo says it is "making good on its sustainability commitment to electrify its full range of vehicles."
"The effort reflects another step toward offering only pure electric vehicles by 2030 and being carbon neutral by 2040," the release states.
Volvo spokesperson Maria Zwaik told Repairer Driven News the architecture, as well as the design and construction of each of the battery electric vehicles (BEVs) and plug-in hybrids (PHEVs), remains the same as 2022 model year vehicles. The BEVs are built on Volvo's Compact Modular Architecture (CMA) platform and PHEVs on the OEM's Scalable Product Architecture (SPA)  platform.
The CMA is a universal platform that's used on conventional and all-electric models, according to InsideEVs. The platform debuted in 2017 on the XC40, and due to its modular design, was used to create the Lynk & Co 01, 02, 03, and 05; the pure electric 2020 Polestar 2, and Volvo's first all-electric model, the XC40 Recharge, according to Volvo.
Another article from InsideEVs says the newest SPA platform is dedicated to BEVs and was introduced into production last year for all-new-generation all-electric cars.
When asked if lightweighting was used, Zwaik said, "Weight is a key factor in the development of all our vehicles and becomes even more important for BEV range. Each vehicle is designed with that in mind."
She also said nothing about the models has changed that would affect how they're repaired after a collision.
Volvo notes that for consumers without easy access to charging, "mild" hybrids offer increased efficiency over their predecessors and never need to be plugged in while new extended-range plug-in hybrids offer all-electric driving in "Pure" mode and also provide the traditional gasoline-powered engine.
Zwaik said the battery range of the C40 Recharge is 226 miles and the XC40 Recharge is 223. Using 150 kilowatt "fast charging," both can charge from zero to 80% in about 40 minutes. The all-electric range of Volvo's PHEVs varies from 35 miles in Pure mode on the XC90 and XC60 to up to 41 miles in the S60.
For those "ready to leap directly into the future," the 402-horsepower, battery-electric XC40 Recharge small luxury SUV and C40 Recharge luxury crossover offer zero tailpipe emissions.
The C40 Recharge and XC40 Recharge already come standard with Google Assistant, Google Maps, and Google Play built-in, but those services now extend to the XC60, S90, and V90 Cross Country. The upgraded infotainment system also gives the models the ability to receive OTA updates.
"As software updates are rolled out, each 2023 Volvo car is expected to continue to improve over its lifetime," the release states.
Almost every 2023 model year Volvo will also have new color options, wheels, and interior options including leather-free materials. The S60, V60, and V60 Cross Country will have a new front grille design and updated rear bumper inserts. And with the elimination of trim lines across all models, customers can combine the exterior design, interior upholstery, and equipment level of their choice.
The 2023 Volvo lineup is in production now with vehicles slated to arrive at retailers this summer. Zwaik told RDN customers are "strongly encouraged" to check the window sticker on each Volvo for any changes to standard and optional equipment due to "ongoing supply chain disruptions."
For more information about Volvo's mild hybrid, plug-in hybrid, and electric powertrains, visit volvocars.com/us.
IMAGES
Featured image: Volvo's XC40 B4 (Provided by Volvo)
CMA platform side view (Provided by Volvo)
More information
Share This: