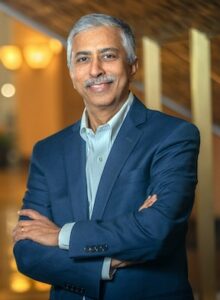 Report: CCC's CEO highest paid among Chicago top execs, with total compensation of $137.1M in 2021
By on
Insurance
The CEO of CCC Intelligent Solutions topped Crain's Chicago Business' annual list of highest-paid executives of publicly-traded companies in the Chicago area, taking home $137,105,076 in 2021.
Nearly 96.2% of the compensation paid to CEO Githesh Ramamurthy came from stock awards, according to Crain's.
Crain's reported that Ramamurthy, a 30-year veteran of the company who also serves as chairman, received a "whopping" 9,020.4% pay raise in 2021 after CCC became a publicly traded company. That would put his 2020 pay at roughly $1.5 million.
CCC went public last year through a special purpose acquisition company (SPAC) merger with San Francisco-based Dragoneer Investment Group. The deal valued CCC at approximately $6.5 billion.
The transaction netted CCC $968 million because none of the existing investors cashed out in the deal.
Ramamurthy was the only executive in the insurance space listed in Crain's top five. The rest of the list, with their employers and salaries, were Stephan D. Scholl, HR benefits manager Alight, $55,485,844; Michael Osanloo, restaurant chain Portillo's, $31,244,207; Rosalind G. Brewer, drugstore chain Walgreens Boots Alliance, $23,333,498, and Robert B. Ford, medical device maker Abbott Laboratories, $24,914,886.
Crain's notes that the "massive incomes" of Ramamurthy and two other CEOs on its list, Scholl and Osanloo, "may be fleeting" because they're all a result of public offerings. Last year's highest-paid CEO, Michael Pykosz, took home $73.5 million in 2020 after taking Oak Street Health public with about 98.7% of his total pay coming from stock and option awards. In 2021, his total income fell to $886,490.
Ramamurthy joined CCC in 1992 and has held several key management positions, including executive vice president of product engineering and chief technology officer. He was named president and COO in 1997 and elected chairman in 2000.
According to CCC, more than 30,000 companies, including over 300 insurers, connect with each other via its platform. The company, in May, reported revenue of $186.8 million for the first quarter of 2022, up 18% year-over-year, and EBITDA of $73.7 million, which grew 33% year-over-year.
"The reported compensation is part of a total compensation package factoring in expectations of CCC's continued strong growth with ~80% of compensation tied to future performance, which may be earned over several years, and driven by CCC continuously delivering value to customers," Michelle Hellyar, director of public relations for CCC, told Repairer Driven News.
Executive pay criticized
Executive compensation by auto insurers came under scrutiny by the Consumer Federation of America (CFA) in April. The nonprofit said its review found that the nation's largest carriers were paying their top executives "massive salaries and bonuses," even as they continue to seek higher premium payments from consumers.
Topping CFA's list of 2020-21 paychecks was former GEICO CEO Olza "Tony" Nicely, who received a $77 million "golden parachute," a large sum exit package, in 2020. Nicely also served as GEICO's executive chairman during the period, CFA said.
CFA also called out the $40.5 million in bonuses paid to State Farm CEO Michael Tipsord since the start of the pandemic. The carrier paid its chief executive cash bonuses of $18.1 million in 2020 and $22.4 million in 2021 against a salary of $1.94 million to $2.15 million.
According to Crain's Chicago Business, Tipsord's 2021 bonus represents "a record-setting compensation level for the insurer and likely the largest cash haul of any chief executive in the U.S."
CFA's figures were based on its review of filings with the Securities and Exchange Commission and the Nebraska Department of Insurance.
Allstate chief sells stock
According to Crain's, Allstate CEO Tom Wilson earlier this month sold nearly 242,000 shares in the company, netting more than $21 million.
According to filings with the Securities & Exchange Commission (SEC), the shares were converted options granted in 2013 and set to expire in February 2023.
Crain's said the latest stock sale is Wilson's second in the tens of millions in the past two years. In May 2020, he netted nearly $46 million after converting options granted in 2012, the publication said.
The new sales come as Allstate's stock price has "stagnated amid profitability pressures stemming from rapidly rising auto insurance claims costs," Crain's said. Allstate's stock has dropped nearly 3% so far this year. By comparison, the stock price of its rival Progressive has gone up nearly 20%.
Wilson, who was paid a total of $36.4 million in 2020 and 2021, told shareholders in February that the carrier would be pursuing an aggressive course on rate increases, and said he expected no difficulty with approvals.
"Wilson has stressed in recent months that he believes Allstate's stock is undervalued, which could raise investor eyebrows with his latest stock sales," Crain's said.
This story has been updated.
More information
UPDATE: CCC to go public with valuation of $7B, bring in $968M net
Images
Featured image: Githesh Ramamurthy. (Provided by CCC Information Services)
Share This: