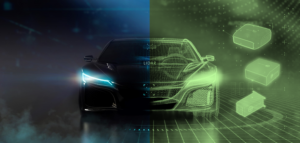 Cepton, partner on track to begin production of lidar units for GM by end of 2022, CEO says
By on
Technology
Cepton, the Silicon Valley company under contract to supply lidar units to General Motors, is in the final stages of "hardware verification with production intent," with production readiness expected by the end of 2022, company co-founder and CEO Jun Pei told investors during a second quarter conference call last week.
Cepton is sending sample shipments to its Tier 1 manufacturing partner, Japanese lighting manufacturer Koito, for "final assembly, calibration, test and delivery to multiple vehicle manufacturing plants across multiple states in the US," Pei said. He later clarified that all of the plants belong to the same OEM.
"Seeing the automated production line at Koito in action was truly a significant milestone for us, as it represents our company's journey to lidar commercialization and how close we are to achieving our goal of making Cepton lidars available in everyday consumer vehicles," the CEO said.
This quarter, Cepton has shipped 400 total units, he said in response to a question.
Mitch Hourtienne, senior vice president of business development for Cepton, said the company has "received our first firm production order from Koito for our OEM series production program. This is a major commercial milestone on our path to production deliveries next year."
During several trips to Japan, Hourtienne said, Cepton engineering teams "implemented production software" on Koito's manufacturing line in preparation for OEM series production and completed the initial OEM site audit of Koito's manufacturing facility.
The tech firm last year won a contract to supply GM with its sensors for various future production vehicle programs, in support of Ultra Cruise, the OEM's semi-autonomous driving technology. GM has said it will introduce Ultra Cruise on the 2024 Cadillac Celestiq, a flagship electric vehicle (EV).
GM has said that Ultra Cruise will ultimately make hands-free travel across most of the U.S. and Canada possible. It will launch covering more than 2 million miles of paved roads, the OEM said in a November announcement.
Cepton will be expanding its collaboration efforts with Koito to "extend beyond our current OEM series production program," Pei said, with Japanese automakers the initial target. Through Koito's contributions, Cepton will be able to bolster its production capabilities and "accelerate time to market," Pei said.
What most distinguishes Cepton from other lidar makers is "unique ability to place our LIDAR behind the windshield, as a result of our lidar's small form factor and low power consumption," Pei said.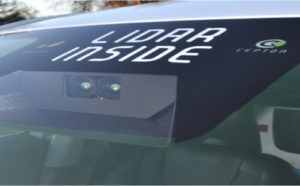 "Our lidar's unique balance of performance, cost and reliability continues to drive progress with top 10 automotive OEMs," he said. "One question many followers of the lidar market have continued to ask is, 'When will we see lidar on saleable vehicles?' While we can't provide specific names, a couple of our awarded vehicle models started taking orders recently, and consumer demand for those vehicles was extremely strong."
Pei said Cepton's opening of a new corporate office in Detroit in June "deepens our relationship with OEM customers." He said the company's field teams are "actively involved in deploying lidars as standard automotive components for safety," and that OEM inputs are driving design and refinements.
Key to its prospects is Cepton's in-house
application-specific integrated circuit (ASIC) development, which drives "further performance enhancement and cost reductions," Pei said.
With the current tight supply environment, he said, a top priority is "securing manufacturing capabilities and capacity."
Hourtienne said recent meetings with other OEMs have been promising.
"Recently, we hosted three Top 10 OEMs for technical reviews here at our San Jose headquarters," he said. "Consensus feedback was that Cepton has clearly been heads down, executing a real automotive lidar product the past few years and we are very well positioned for additional OEM programs."
Asked whether "a sort of a second wave of Ultra Cruise" might be coming, Hourtienne said there has been "a positive trend" in discussions between Cepton and GM on "additional models, additional applications" for lidar.
"Other OEMs are progressing just as we have expected despite the macro economic environment," he said. "We're working with top 10 global OEMs here in North America and Japan and their strategies are still very much intact. So the progress has been really good with the top 10 OEMs, and specifically with with GM."
To date, only EV startup Lucid has offered lidar-equipped vehicles to North American buyers. European and Asian automakers, including Audi, Mercedes-Benz, Volvo and Honda, have incorporated the technology into a few high-priced vehicles.
Lidar stands for "light detection and ranging." It works by firing a beam of laser light at an object, and then capturing the reflection of that beam. By knowing the time it took for the beam to hit the object and return, the system can capture a very precise measurement to the object in real time. Lidar is envisioned as working with conjunction with cameras, radar units and other sensors to provide semi-autonomous driving capability.
More information
Cepton opens office in metro Detroit, pursues making lidar a 'must-have' component
Panelists explore lidar's promises, challenges during CIC presentation
Images
Featured image provided by Cepton.
Cepton's lidar units are compact and have low power consumption, enabling them to be placed behind a windshield. (Provided by Cepton)
Share This: