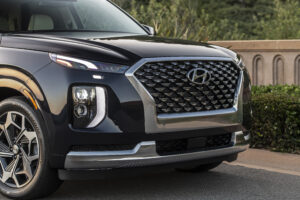 Hyundai and Kia have issued recalls on more than 281,000 model year 2020-2022 Palisade and Telluride vehicles due to fire risk.
An accessory tow hitch sold through dealerships may allow foreign material and/or moisture into the harness module and cause a short circuit, according to the recall notice. In some cases, the short can lead to fire even when the vehicles are parked and the engine is turned off. Both OEMs recommend owners park the vehicles outside and away from homes or other structures until repairs are made. That also goes for repairers who have Palisades or Tellurides at their shops for collision repairs.
A "stop sale" has also been issued, under federal regulations, for affected vehicles at dealers and vehicle processing centers that haven't been sold yet.
The Palisade recall is estimated to involve 40,480 vehicles with tow hitch accessory wiring harness assemblies that were included with an accessory tow hitch or sold as a service part but to identify which ones are affected, all of the 2020-2022 models sold in the U.S. (245,030) fall under the recall. Two incidents were reported last year in Canada and the U.S. in which a bumper caught on fire while parked and a trailer accessory module had melted. After the cause of both incidents couldn't be determined the reports were given to a Data Review Committee in February of this year for "further study and analysis." Two more fires were confirmed in Canada afterward.
In July, following inspections of two of the vehicles involved, Hyundai hired a third-party analysis firm, Exponent, "to investigate and recreate the failure mechanism." Mobis Canada will continue to investigate and test external environmental factors on the module, according to Hyundai. The OEM has confirmed 16 related incidents of melting – eight each in the U.S. and Canada – from Jan. 16, 2020 through July 15, 2022.
The recall involves 27,744 Tellurides believed to be equipped with a genuine Kia 4-pin tow hitch harness accessory supplied by Mobis Parts America, which was an optional installation on the vehicles. The recall includes 36,417 Tellurides as nearly 10,000 of the models could also be affected.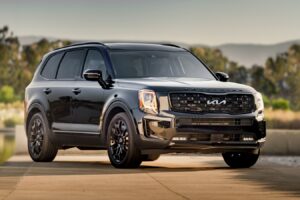 The 4-pin harness was discontinued at the end of the 2020MY Telluride production and a 7-pin tow hitch harness was offered as an option beginning with 2021 Tellurides. The first fire in a 2020 Telluride was reported in Canada in October 2021 followed by a fire in another 2020 MY Telluride in the U.S. in November. Investigations continued and in August, Kia's third-party engineering firm found chloride and tin that combined with moisture over time can "result in a resistive fault which can lead to fire." However, the source of contamination remains unknown.
There have been six incidents, five involving localized melting only, and one fire in 2020 Tellurides. "Although there are no fires involving the 2021-2022MY Telluride vehicles, Kia is also including certain 2021-2022MY Telluride vehicles as a precautionary measure since the 4-pin tow hitch harness could have been installed in these vehicles as a dealer installed option."
There have been no fatalities, injuries or crashes related to the recall.
As an interim repair, Hyundai dealers will inspect the tow hitch module and remove the fuse, if necessary, on its Palisades. Hyundai also plans to remove the fuse to the tow hitch module to address the fire risk while in operation and parked. An interim repair is not available for the Tellurides. Final repairs for both models are still being developed, according to the recall notice.
"When a repair is available, all owners of vehicles potentially equipped with affected trailer hitch wiring harnesses will be notified by mail with instructions to bring their vehicles to a Hyundai or Kia dealer," the notice states.
Vehicle owners and repairers can visit NHTSA.gov/recalls and enter VINs to check for recalls. Owners can also download NHTSA's SaferCar app for Apple or Android, which allows users to enter the vehicle, tires, car seat, or other vehicle equipment and the app will send notifications of any issued recalls.
Hyundai has also issued several other recalls on Palisades including disabled instrument cluster displays on 2020 and 2022 MY vehicles as well as windshield wiper failure and brake fluid contamination on 2021 MY vehicles. The Telluride has also been recalled for incorrect spare tire size, blank instrument cluster display screen, and blank LCD display in the 2022 MY; for an occupant detection system malfunction in 2021 MY vehicles, and inoperative trailer brake lights and incorrect seat belt assemblies in 2020 Tellurides.
Earlier this year, Hyundai and Kia recalled nearly 485,000 vehicles due to the risk of engine fires including 2014-2016 Kia Sportages, 2016-2018 Kia K900s, 2017-2018 Hyundai Santa Fe Sports, 2016-2018 Hyundai Santa Fes, 2014-2015 Hyundai Tucsons, and 2019 Hyundai Santa Fe XLs. The OEMs recommend all of the vehicles should be parked outside and away from structures until repairs are completed.
IMAGES
Featured image: 2022 Hyundai Palisade (Credit: Hyundai)
2022 Kia Telluride (Credit: Kia)
Share This: