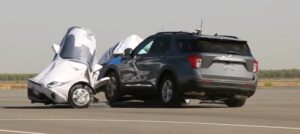 AAA & Consumer Reports call for better AEB to prevent T-bone collisions, higher speed crashes
By on
Technology
AAA and Consumer Reports (CR) say automatic emergency braking (AEB) technology isn't yet up to par.
"AEB is still in its infancy, technologically," said Kelly Funkhouser, CR's head of connected and automated vehicles, in the CR's report. "It is definitely a proven safety feature that should come standard on all cars, but it doesn't replace an attentive driver behind the wheel."
AAA's latest research, released Thursday, centered on whether the latest generation AEB can handle higher speeds and detect moving vehicles in its path at intersections. Results were that it struggles with the former and fails with the latter.
"Automatic Emergency Braking does well at tackling the limited task it was designed to do," said Greg Brannon, director of AAA's automotive engineering and industry relations, in a news release. "Unfortunately, that task was drawn up years ago, and regulator's slow-speed crash standards haven't evolved. Testing requirements for this technology, or any vehicle safety system for that matter, must be updated to handle faster, more realistic speeds and scenarios with the greatest safety benefit for drivers."
According to AAA, AEB holds up in reducing rear-end crashes at slower speeds but two of the most common deadly crashes at intersections are T-bones and left turns in front of oncoming vehicles. Between 2016 and 2020, those types of crashes accounted for 39.2% of total fatalities in wrecks involving two passenger vehicles during which the striking vehicle did not lose traction or leave the roadway before the collision.
Other findings from AAA's testing included:
"At 30 mph, AEB prevented a rear-end collision for 17 of 20 test runs, or 85%. For the test runs that resulted in a crash, the impact speed was reduced by 86%.
"At 40 mph, AEB only prevented a rear-end crash in 6 of 20 test runs, or 30%. For test runs that resulted in a crash, the impact speed was reduced by 62%.
"In both the T-bone and left-turn in front of oncoming vehicle tests, crashes occurred 100% of the time. AEB failed to alert the driver, slow the vehicle's speed and avoid the crash."
AAA used four vehicles in the testing – all 2022 model year, including the Chevrolet Equinox LT with "Chevy Safety Assist," Ford Explorer XLT with "Pre-Collision Assist with Automatic Emergency Braking," Honda CR-V Touring with "Honda Sensing," and Toyota RAV4 LE with "Toyota Sensing."
"AAA strongly urges automakers and regulatory agencies to focus on system design and test protocols to better handle the types of crashes when injuries and fatalities commonly occur," the organization said in the news release. "Automakers must improve AEB systems to assist drivers in intersection-based crash scenarios. Automakers should include AEB systems as standard equipment on all their makes and models. Drivers must recognize an AEB system's limitations and remain engaged when behind the wheel."
Brannon also told CR that AAA "expected the systems to not perform well in intersections but were surprised that we didn't receive a single alert from any of the vehicles in the intersection scenarios."
"The capability and sensors are there but need to be tuned for these high risk and complex situations."
AEB is currently standard equipment on almost all new vehicles.
Even if it can't prevent a collision, AEB is still beneficial where it can lessen the impact of a crash, according to Jennifer Stockburger, director of operations at CR's Auto Test Center. "Any reduction in speed is beneficial for helping to reduce the potential for injury in a crash," she said.
The Insurance Industry for Highway Safety (IIHS) said in May it's considering ways to encourage OEMs to develop AEB systems that will prevent front-to-rear collisions at higher speeds. IIHS is also considering if a new AEB test might be more effective.
IMAGES
Featured image credit: AAA
More information
Few vehicles earn high marks in IIHS's new nighttime pedestrian AEB tests
Share This: