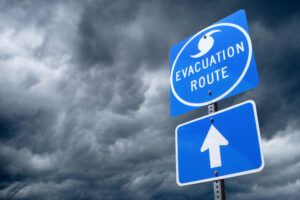 CIF available to aid collision repairers affected by Hurricane Ian
By on
Associations
Hurricane Ian has ripped through Cuba and spent Wednesday and Thursday in Florida with its path aimed toward South Carolina. While collision repairers may already be feeling the after-effects of the damage or will be soon, they should know they're not alone in picking up the pieces.
Repairers in need can reach out to Collision Industry Foundation (CIF) to request disaster relief funding. CIF is a nonprofit organization that has worked for several years to aid people with ties to the collision industry after disasters. Most recently, CIF provided industry businesses with $275,000 in COVID-19 aid and assisted Bryan Miller, an Ohio-based technician and painter, who was burned in a shop fire. The CIF also helped many victims of hurricanes Katrina, Michael, Florence, Harvey, and Laura.
"We know these are difficult times for Floridians and especially those impacted in the collision repair industry," said CIF Board President Michael Quinn. "At CIF, we are mobilizing communications to identify those who may need assistance in the area. We welcome everyone in the collision repair industry to help us support our brothers and sisters impacted. Your generous tax-deductible donations go directly to those in need. Our history at CIF goes back to our early days supporting Hurricane Katrina victims. Our industry should be proud of our unique non-profit charity, CIF, that specifically helps our own, in their time of need."
CIF posted a reminder that they're available to help on its social media pages earlier this week: "CIF is here to assist Collision Repair professionals who have suffered a significant loss during the recent natural disasters such as damages from Hurricane Ian. …Sending Prayers to all who were impacted."
Disaster relief assistance can be requested here or call toll-free 855-4CIFAID or direct 804-427-6982 for information about available resources. Assistance is considered for individuals and is not provided to businesses and organizations. One-time donations are accepted or donors can set up monthly, quarterly, or annual donations on CIF's website. To donate via text, text CIF to 734-366-4990.
The Associated Press reported Thursday that Ian struck Florida as a Category 4 storm with 150 mph winds that tied it for the fifth-strongest hurricane ever to hit the U.S. Three deaths, two in Cuba and one in Florida, had been confirmed by Thursday afternoon. Many in Florida are stranded due to flooding, impassable roads and bridges, downed trees, and electrical and cellular outages. All of Cuba experienced a blackout from Ian due to its electrical grid collapsing, according to Reuters.
"Though downgraded to a tropical storm by Thursday morning, the National Hurricane Center said storm surge and flooding rains remained a threat as Ian crept across the Florida peninsula and emerged in the Atlantic Ocean," the AP reported. "Forecasters predicted a northward turn toward South Carolina, and a hurricane warning was issued for the state's coastline."
The National Weather Service said on Thursday that Ian is expected to strengthen back into a hurricane before making landfall again in South Carolina. "It will track northwest across the Carolinas, bringing strong winds and heavy rain to the region. Localized flash flooding will be possible with the heavy rain."
IMAGES
Featured image credit: bauhaus1000/iStock
Share This: