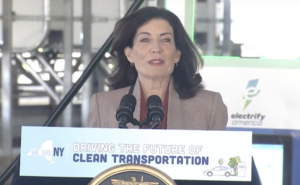 New York to require all new passenger vehicles sold to be zero-emission by 2035
By on
Announcements
Beginning in 2035, all new light-duty vehicles purchased in New York must be zero-emission models, Gov. Kathy Hochul announced on Thursday.
Hochul said during a press conference in White Plains, New York that she is directing the state Department of Environmental Conservation (DEC) to take "major regulatory action" that will cover all new cars, pickup trucks, and SUVs sold in the Empire State.
In order to reach its 2035 target, Hochul said, the state will set regulations requiring an increasing percentage of new light-duty vehicle sales to be zero-emission vehicles (ZEVs), starting with 35% of sales in model year 2026, 68% by 2030, and 100% by 2035. In the first half of 2022, ZEVs, including electric vehicles (EVs) and plug-in hybrid electric vehicles (PHEVs), made up 5.16% of new vehicles sold in New York, according to the Alliance for Automotive Innovation (AAI).
"New York is a national climate leader and an economic powerhouse, and we're using our strength to help spur innovation and implementation of zero-emission vehicles on a grand scale," the governor said. "With sustained state and federal investments, our actions are incentivizing New Yorkers, local governments, and businesses to make the transition to electric vehicles. We're driving New York's transition to clean transportation forward, and today's announcement will benefit our climate and the health of our communities for generations to come."
Hochul also announced a $10 million investment in the state's existing Drive Clean Rebate program, which provides payments of up to $2,000 to consumers who purchase one of more than 60 eligible EV models. It's in addition to federal tax rebates of $7,500 for eligible EVs.
"The Drive Clean Rebate makes ownership of an electric vehicle a reality for many New Yorkers, reducing their out-of-pocket cost at the dealership and helping achieve their dream of driving clean," Doreen M. Harris, New York State Energy Research and Development Authority president and CEO, and Climate Action Council co-chair, said in a statement. "As we bring more renewable energy to our electric grid and build out EV charging infrastructure, we continue to invest in market supports that bring us closer each day to zero-emission passenger vehicles by 2035."
New York is following the lead of California, which has also mandated the end of gasoline-powered vehicles by 2035. "We had to wait for California to take a step because there's some federal requirements that California had to go first — that's the only time we're letting them go first," Hochul said.
Federal regulations require that any state-led move to enforce stricter emissions rules must occur first in California. The Clean Air Act of 1970 authorized California to set its own emissions standards due to smog conditions at the time.
Because the Clean Air Act includes a provision prohibiting states from implementing their own standards, California first must apply for a waiver with the Environmental Protection Agency before other states can follow suit. The action of the California Air Resources Board (CARB) finalizing the Advanced Clean Cars II regulation last month unlocked New York's ability to adopt the same regulation.
New York is one of 17 states that had previously adopted some or all of California's stricter tailpipe emission standards, and one of five that had been predicted by the Associated Press to adopt the ZEV requirement. The other four are Massachusetts, Vermont, Washington, and Oregon.
Under the Clean Air Act, states must abide by the federal government's standard vehicle emissions standards unless they at least partially opt to follow California's stricter requirements.
AAI in August issued a statement by its president and CEO, John Bozzella, in response to California's Advanced Clean Cars II regulations, calling the mandates "very aggressive," and cautioning that meeting them would be "extremely challenging," even given California's decades of supportive EV policies.
"Whether or not these requirements are realistic or achievable is directly linked to external factors like inflation, charging and fuel infrastructure, supply chains, labor, critical mineral availability and pricing, and the ongoing semiconductor shortage. These are complex, intertwined and global issues well beyond the control of either CARB or the auto industry," Bozzella said.
"What we've said to CARB and others is that getting more EVs on the road (a goal we unequivocally share and work every day to advance) must go hand-in-hand with other policies that together will ultimately determine the success of this transition."
Hochul on Thursday also announced the installation of the state's 100th high-speed EV charger, part of the EVolve NY statewide charging network. New York state will receive a $175 million chunk of the bipartisan infrastructure law's $5 billion allocation for EV charging networks, according to the governor.
With the expansion of widely available charging infrastructure, Hochul said she believes that sales of EVs will increase, noting that they have already risen 30% over sales in 2021.
The regulatory proposal will be posted on DEC's website. DEC said it will share additional information about stakeholder outreach, public comment period, and public hearing later this year.
EVs accounted for 6.6% of new light-duty vehicle sales in the second quarter of 2022 in the U.S., but still represent just under 1% of all registered light-duty vehicles on U.S. roads, according to AAI's Get Connected Electric Vehicle Quarterly Report.
More than 224,000 EVs – including battery, plug-in hybrid, and fuel cell electric vehicles – were sold in the U.S. in the second quarter of 2022, AAI said in the report. That represents 6.6% of all light-duty vehicle sales and an increase of 2.83 percentage points from the same quarter of 2021.
More information
EV sales continue to accelerate, but public charging stations don't keep pace, AAI finds
Images
New York Gov. Kathy Hochul speaks during a press conference Thursday in White Plains, New York. (Screen capture via YouTube)
Share This: