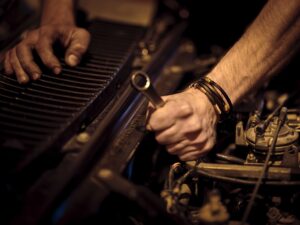 Car Talk's Ray Magliozzi has voiced his support for national "right to repair" legislation that's been advanced by the aftermarket industry, but the head of the Alliance for Automotive Innovation, representing U.S. automakers, says that the former public radio show host doesn't have his facts straight.
In a commentary titled "Independent auto shops deserve the right to repair your car," published in The Washington Post on Sept. 29, Magliozzi contends that a law is necessary to maintain access to OEM parts and repair procedures for independent shops.
"Carmakers and their dealerships want to maintain control of modern diagnostic tools, which forces customers to come to them for repairs," he writes. "Even though independents are willing to pay to license those tools, dealers see an advantage in exclusivity" and "won't like the level playing field."
Dealerships also "want to maintain control of your car's telematics," Magliozzi contends. "Car manufacturers point to the importance of keeping your car's data safe — including your location, say — as a reason to deny independent shops access to those tools and codes," he continues. "They are right about the need for data security, but part of privacy is that you should be the one to decide who has access to your data."
Magliozzi urged passage of H.R. 6570, also known as the "Right to Equitable and Professional Auto Industry Repair," or REPAIR Act, which "has been sitting with the House Energy and Commerce Committee for months."
The president and CEO of AAI, John Bozzella, responded with a letter to the Post, calling Magliozzi's comments "misinformed." He argues that shops' access to OEM data is already protected under the 2014 Memorandum of Understanding (MOU) signed by the OEMs and the aftermarket.
"Here's the truth: Automakers already provide to independent repair businesses all the information and tools to repair your vehicle," Bozzella writes in the letter, published Oct. 2. "This was settled a decade ago under a nationwide agreement guaranteeing all repairers access to the same repair and diagnostic information provided to auto dealers. The same."
The MOU, which was inspired by a voter-approved law in Massachusetts, is "working just fine," Bozzella says. "Today, 70 percent of post-warranty work is handled by the independent aftermarket. The government's top consumer protection agency — the Federal Trade Commission — said the automotive industry repair aftermarket is 'working well.'"
Magliozzi cites a "national push" for right-to-repair legislation, noting that "In 2021, 27 states introduced or passed similar legislation." Bozzella counters that those bills "were actually an effort to get more consumer product manufacturers to adopt the automaker model."
Bozzella concludes his letter with a reference to cybersecurity. "Cyberattacks, hacks or data in the wrong hands are threats to driver privacy and vehicle safety," he said.
In fact, concerns over cybersecurity were one reason AAI filed a legal challenge to the right-to-repair act amendments approved by Massachusetts voters in 2020. That legal challenge, filed in November 2020, is still pending in the U.S. District Court for Massachusetts.
During a Sept. 14 congressional hearing on right-to-repair legislation, Gay Gordon-Byrne, the executive director of the Digital Right to Repair Coalition, told lawmakers that the MOU is working, and can serve as a template for laws regulating other industries.
"We've got 10 years of experience with that law. The sky did not fall. People are not driving around on terrible brake systems because the local mechanic fixed them instead of the dealership. They are not losing access to their bank accounts because of some crypto mythology," Gordon-Byrne told the Subcommittee on Underserved, Agricultural, and Rural Business Development.
Gordon-Byrne conducted research for the FTC's "Nixing the Fix" report, released in May 2021, which found that the MOU had the effect of creating "a broad, if not complete, right to repair in the automotive industry across the United States."
The right-to-repair issue will be explored during an OEM Summit presentation by the Society of Collision Repair Specialists (SCRS) at the 2022 SEMA Show, on Thursday, Nov. 3.
Called "OEM Repair Procedure Accessibility," the session will feature Mark Allen, Collision Programs Manager at Audi of America; Benito Cid, Collision Business Development Manager at Mercedes-Benz USA; Kevin Earlywine, Instructor – Collision Repair & Refinish at Toyota Motor North America; Wayne Weikel, Senior Director, Alliance for Automotive Innovation; and Amber Alley, General Manager at Barsotti's Body & Fender.
"Consumers should be able to assume their vehicle repairs will be performed in accordance with the documented procedures, detailed by the vehicle engineers," SCRS says in its description of the Summit. "They should have the ability to choose an independent repair business that has invested in the facility, equipment, and skillset development to meet the rigorous demands of these increasingly sophisticated, modern vehicles.
"But in the collision repair market, well-trained, well-equipped repair facilities are not struggling to gain access to collision repair procedures — they are struggling to compete against other businesses who don't prioritize access and adherence to the available information."
"Consumer choice is not limited by the automakers today but rather by insurers and aftermarket part suppliers who have a financial interest in pushing consumers to the cheapest possible repair," Aaron Schulenburg, executive director of SCRS, told Repairer Driven News. "For example, the CAR Coalition who supports the REPAIR Act is comprised of Allstate, Farmers Insurance, the American Property and Casualty Insurance Association, LKQ, the Automotive Body Parts Association (ABPA), and others.
"What consumers deserve is for post-collision vehicle repairs to ensure that their vehicle is repaired to such a standard that should it be in a subsequent accident, and its safety systems will operate the same as the day it left the factory. This expectation is achievable today – but is routinely denied and disregarded in claims practices and objected to in state legislative hearings by many in the insurance and aftermarket community. What the American motorists need more than anything, is support to ensure that the repair data made available by the OEM is utilized and recognized by the insurance industry in the settlement of claims."
More information
The text of the "Right to Equitable and Professional Auto Industry Repair," or REPAIR, act
https://www.congress.gov/bill/117th-congress/house-bill/6570
Memorandum between OEMs, aftermarket cited in congressional right to repair hearing
Images
Featured image by Christian Buehner/Unsplash
Share This: