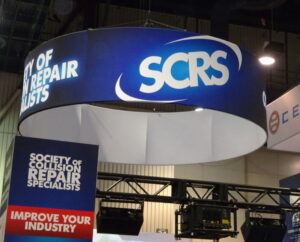 The Society of Collision Repair Specialists (SCRS) has announced details of the three sessions of the OEM Collision Repair Technology Summit, as part of the Repairer Driven Education agenda that will be presented during the 2022 SEMA Show. More than a dozen industry experts will discuss three hot-button issues for repairers: accessing OEM repair procedures, solving the ongoing technician shortage, and choosing the right scan tools for safe and proper vehicle repair.
The OEM Summits are in addition to 21 two-hour seminars and the IDEAS Collide Showcase, adding up to a total of five days of thought-provoking presentations that will provide collision repairers with information that they can put to use in their shops every day.
The Summits will be offered consecutively on Thursday, Nov. 3, making it possible to attend all three. Three seminars will be offered on Monday, Oct. 31, the first day of the SEMA Show, followed by nine seminars on Tuesday, Nov. 1, and nine on Wednesday, Nov. 2. Closing out the week on Friday, Nov. 4, is the IDEAS Collide Showcase. View the full lineup and register here.
"Our focus is, and always has been, finding ways to provide Show attendees with access to discussions and education that speaks to the heart of issues faced on the ground floor of collision repair businesses across the country," said Aaron Schulenburg, executive director of SCRS. "We've worked really hard to curate sessions that lean into the diversity of issues and business models, and to make sure there is valuable content for everyone."
"At the end of the day, the most important outcome of the RDE series was that it provided a ROI for attendees, providing them the ability to take what they've learned and bring it home to implement following the Show," Schulenburg said."And frankly, there's not a more exciting and inspiring venue to learn than when surrounded by the most renowned industry experts, by peers that are as equally hungry to engage in conversation and business development and in a Show that just has a natural spark of energy running through it.
"As we've watched this year's pre-registration numbers climb, it's very clear that this is going to be one of the most amazing SEMA Shows of all time for the collision repair industry." According to SEMA, the number of exhibiting companies is up 30% over last year with 1,850 expected by showtime, while the aggregate net square feet of exhibit space is 30% more than last year, which is more than 3 football fields in growth.
All three Summit sessions will be held in Room 233 of the Las Vegas Convention Center, with half-hour breaks between sessions.
Session I: OEM Repair Procedure Accessibility will be held from 9 to 10:30 a.m. Moderated by Schulenburg, the panel will include Mark Allen, Collision Programs Manager at Audi of America; Benito Cid, Collision Business Development Manager at Mercedes-Benz USA; Kevin Earlywine, Instructor – Collision Repair & Refinish at Toyota Motor North America; Wayne Weikel, Senior Director, Alliance for Automotive Innovation, and Amber Alley, General Manager at Barsotti's Body & Fender.
The foundation of a quality repair begins with access and adherence to documented repair procedures from the vehicle manufacturer. When followed, everyone in the process succeeds in establishing mutual accountability to protect consumers on America's roadways.
Consumers should be able to assume their vehicle repairs will be performed in accordance with the documented procedures, detailed by the vehicle engineers. They should have the ability to choose an independent repair business that has invested in the facility, equipment, and skillset development to meet the rigorous demands of these increasingly sophisticated, modern vehicles.
But in the collision repair market, well-trained, well-equipped repair facilities are not struggling to gain access to collision repair procedures – they are struggling to compete against other businesses who don't prioritize access and adherence to the available information.
In this presentation and panel, automakers will discuss access points for information, means to utilize the procedures in a repair environment, and ways to overcome myths or perceived obstacles in accessing and utilizing repair procedure data.
"Repair procedures and vehicle data already exist, and the industry and consumer benefit most when they are accessed and followed," Schulenburg said.
Session II: Tackling the Technician Crisis Together will be held from 11 a.m. to 12:30 p.m. The panel will feature Dara Goroff, Vice President, Planning & Industry Talent Programming at the Inter-Industry Conference on Auto Collision Repair (I-CAR); John Helterbrand, National Program Director at Collision Engineering, and Jennifer Maher, Executive Director at the TechForce Foundation with the discussion led by Eliza Johnson of Ducker Carlisle.
Technicians play one of the most critical roles in proper repairs, and the increasing shortage of talent is a contributing factor with implications on the collision repair businesses.
This session explores data compiled by the global market research firm that delves into the technician crisis, as well as solutions, in partnership with automakers to bolster the technician pool. The presentation will elaborate on the severity of the technician crisis in the automotive landscape, and how it is expected to evolve over the coming years, while considering technology advancements and demographic expectations.
For several years now, Carlisle has been committed to exploring solutions to address the technician shortage, specifically looking at what dealers should be doing to get new technicians in the door, to keep them in their facilities and retain them in the industry for the long-term. Johnson will elaborate on tactical examples of the Carlisle recommendations in key areas and how the research and recommendations led to the formation of the Automotive Technician Collaboration (ATC), a Carlisle-led group of nine automotive OEMs jointly tackling an industry response to the technician crisis. The collective goal is to change the perception of the automotive technician career. This is both in the eyes of the public to grow the pool of new prospective technicians entering dealerships as well as in the eyes of existing technicians, to keep them in their roles for the long haul.
Following the presentation, Johnson will welcome a guest panel to join the conversation, seeking to explore the relationship between findings in the OEM technician space, and the carryover in how the collision industry can benefit from these learnings and build the framework for action plans to combat these pressing challenges. Panelists will provide valuable perspectives to address collision-specific activities and the correlation between budding industry activity with a shared emphasis on growth of technical assets in the industry.
Session III: Managing Scan Tool Choices While Ensuring Safe and Proper Repairs will be held from 1 to 2:30 p.m. The panel will include Dan Dent, Manager, Collision, Certified Repair Network at Nissan Motor Corporation; Devin Wilcox, Program Manager and Strategist, Collision Network at Subaru of America, and Jake Rodenroth, North American Body Repair Program Operations Manager at Lucid Motors with discussion led by Chris Chesney, VP Training & Organizational Development at Repairify.
Why do the OEMs require the use of their factory tool when servicing safety systems? Is there a difference between the factory tool and an aftermarket tool? These questions result in spirited discussions and often assumptions that can create challenges in the repair and claims settlement process for consumers, technicians, shop owners, OEMs, and carriers alike.
Chesney told Repairer Driven News that he will be sharing "the background of our ongoing research that compares OEM scan tools with aftermarket tools with the goal of identifying which vehicles can be scanned with an aftermarket tool with the assurance that the results are exactly the same. This information allows the technician to make an informed decision regarding which tool to select that meets the needs of their shop."
The field study connected multiple aftermarket tools to thousands of YMMT (year make model trim) vehicles and compiled a comparative analysis of the scan results, Diagnostic Trouble Codes (DTCs), and the ability to clear DTCs in the same manner as the factory tool.
Chesney will provide insight into how the resulting database can identify when, and if, an aftermarket tool can offer the same results as an OEM tool. The OEM Summit will be the first public visibility into the results of testing thousands of vehicles using both OEM and aftermarket tools.
Following the presentation of data, Chesney will welcome automakers to the stage to discuss how the results of their tests align with automaker guidance and requirements, and the challenges faced by repairers in adherence to those repair instructions.
"We are always happy to share improvements to our programs with our customers and believe the information we'll present provides significant value to their business," Chesney said.

SCRS Seminars
The full lineup of SCRS Seminars, previously reported by RDN, appears below.
Monday, Oct. 31 from 3-5 p.m.
"Build Your Next Repair Planner In-House, from Scratch!" CollisionAdvice President Mike Anderson will explore the keys to success in building internal skill development programs that can help broaden the pool of candidates that shops can consider for otherwise very specific positions.
"What is a Prevailing Rate, and How Do You Define Yours?" AkzoNobel Senior Services Consultant Tim Ronak and Services Consultant Tony Adams will discuss what a "prevailing rate" is, as referred to by insurance carriers, and where their data comes from to determine it as well as what shops need to know to figure out their necessary rates.
"Untap Your Potential by Understanding Your Performance!" BASF Business Solutions and Performance Group Manager Braxton Ewing along with Business Development Manager John Shoemaker will hold a roundtable discussion on using available information to develop internal goals based on performance to achieve success and continued improvement in the collision industry.
Tuesday, Nov. 1 from 9:30-11:30 a.m.
"Say Hello to Quality Control…the Modern Way." Sherwin-Williams Manager of Business Services Lee Rush will provide details on quality assurance methods to prevent undetected errors in repairs to avoid not only loss of profit, but reputational damage, liability and risk involved in making a mistake and the unthinkable happens. Attendees will be provided with the tools to analyze their production and staffing requirements and to begin to optimize their business performance.
"Replicating OEM Seam Sealers and Textures." Teroson Head of Collision Repair John O'Neill will explore and demonstrate traditional and modern gun-applied replication techniques to teach attendees the differences between how the masking workflow looks and how the roll of tips, air pressure, air temperature, and distance are factors in the overall success in being able to replicate today's seam sealer applications.
"Profitability Gains Through Labor Identification." BASF Business Development Manager Phill Knapp, BASF Regional Business Manager Trista Anger, and Shoemaker will discuss the changes in vehicle design and how that has changed the labor types used in repairs. As the labor types are defined, how to calculate labor costs accordingly will be laid out taking into consideration the additional training required to perform the repairs as well as the costs to invest in and maintain OEM certifications.
Tuesday, Nov. 1 from 12:30-2:30 p.m.
"How to Open and Operate a Successful ADAS Services and Calibration Business." Auto Techcelerators co-founder Frank Terlep will go over the opportunities, challenges, sales, marketing, and operational requirements to open and operate a successful and profitable ADAS service and calibration business or division amid the growing use of the systems, which is predicted to reach 100 million in North America next year, according to SCRS.
"Supercharge Your Business and Attract the Best Employees." Elite Body Shop Solutions Owner Dave Luehr and trainer Beth Rutter will let attendees know what it takes to become the employer of choice in your market. They'll discuss why most businesses can't seem to find and retain top talent and what a small number of outliers are doing differently to solve the problem.
"Embrace Digitalization in Your Paint Shop." BASF Global Color Solutions Manager Alejandra Iberico and NA Color Solutions Lead James Chargo as well as other panel members who will be announced later this year will talk about how shops can prepare for the accelerations of digitalization including working through a cloud service, digital color retrieval, virtual and augmented reality for eLearning, and the metaverse.
Tuesday, Nov. 1 from 3-5 p.m.
"Structural Adhesives and Hybrid-Joining Operations in Collision Repair." 3M Senior Application Engineer Ryan Marrinan and Senior Manager of Global Expertise Delivery Jason Scharton will "demystify" structural adhesives and their use in modern repair operations including the various types, why they work, and how they should be stored as well as the process from disassembly of structures to surface prep, adhesive application, weld and rivet bonding, cleanup and destructive testing.
"Protecting Your Business Against Liability Exposure from Evolving Technology." SPARK Underwriters Chief Underwriting Officer David Willett and Vehicle Specialty Market Underwriter Shaughn Kennedy will cover seven aspects that commercial underwriters look at in collision repair businesses to help evaluate risk-mitigation tradeoffs. New technology in vehicles, and the necessary repairs to restore the vehicle after a loss has created new exposures and this seminar will leave repairers better prepared to mitigate risk associated with evolving business responsibility, according to SCRS.
"Consumer Guidance: Invoking the Appraisal Clause." Auto Claims Specialists Managing Director Robert McDorman will be joined by another appraisal specialist and at least one collision repair business owner who has experience referring clients to right to appraisal (RTA) experts to delve deep into how shop owners can implement the process recommendation as a customer service into their businesses and the resulting benefits. The RTA provision within insurance policies helps consumers address deficiencies in the claims settlement process and is often an effective way to resolve claim disputes with carriers by allowing the consumer to demand a binding appraisal of their damaged vehicle when an agreement can't be reached on its value versus the cost to repair it.
Wednesday, Nov. 2 from 9:30-11:30 a.m.
"Take Control of Your Estimate and Repair Order Data." Datatouch Managing Director Pete Tagliapietra will present shops with the information they need to start reaping the benefits of the information they generate instead of giving it away to for-profit companies that sell information and data without authorization to third-party firms for their own financial gain.
"The Roadmap to Becoming the Employer of Choice." Adams and Ronak will take a look into what factors are driving employee turnover, causes of employee disengagement, and how your business can stand out to deliver on exactly what employees are looking for from an employer today.
"Aluminum Repair That Works: Glue Pull Repair." KECO Body Repair Products CEO Chris White along with KECO master GPR trainers Gene Fetty and Danny Hacker will focus on how "the control and finesse" that comes with using the GPR method is the consistent and affordable solution for aluminum panel repair that's "creating quite a buzz among technicians and shop owners."
Wednesday, Nov. 2 from 12:30- 2:30 p.m.
"Mindset Matters: One Man's Commitment to Let the Light In." Maimone Group Operational Manager Chris Maimone has faced countless obstacles and endured numerous brain and spine surgeries from a young age, but has used them to drive his success at his family's business, Marcos Collision Centers as well as at multiple MSOs and then later to shape his perspectives as a business mentor for the automotive industry, according to SCRS. Maimone will share with attendees how he believes being hands-on created opportunities to improve the companies he's worked with to help shop owners work through their obstacles and "embrace the power of a quality-oriented mindset to improve their business."
"Are You Capturing Modern Paint Processes?" Chargo and Shoemaker will walk attendees through how to precisely document every step of the replication of the dynamic and vibrant colors OEMs are now putting on their vehicles as well as how ADAS and recovery of costs come into play.
"Stop Wasting Marketing Dollars – Target the People Who Actually Need Your Service." Phoenix Solutions Group President Nick Schoolcraft will define three proven marketing strategies that not only grow collision sales organically, but also ensure body shops establish a permanent bond with their customers to ensure that when additional collision services are needed, there is only one shop they'll turn to. The solutions are a must for shops who are looking to remove themselves from their direct repair program (DRP) relationships, are struggling to market their certification to vehicles owners that are unaware of the benefits of certified repairs, and to differentiate independent shops from national brands that are encroaching on the market share.
Wednesday, Nov. 2 from 3-5 p.m.
"The Importance of Wheel Alignment in ADAS Recalibration for Collision Centers." Snap-On Equipment Training Manager Charles Searles and Special Projects Manager Christopher Sobieski will take a deep dive into the critical relationship between the vehicle centerline and the importance of wheel alignment as it relates to ADAS recalibration. Attendees will leave this seminar with a more thorough understanding of the importance of sensor fusion and how to capture a more complete analysis of the vehicle alignment condition.
"Bulletproof Negotiation Tactics – Newly Revised!" Anderson and Database Enhancement Gateway (DEG) Administrator Danny Gredinberg will explore the fundamentals of creating "the perfect platform to win any attempt to negotiate or rebuke repair plan necessities" using real-world examples, role-playing and repeatable steps in building documentation.
"Make OEM Network Tools Valuable to My Repair Center." Rivian Automotive Collision Network Manager Frank Phillips, Rivian Collision Repair Senior Manager Kelly Logan, CCi Global Technologies Vice President Brandon Laur, and International Technical Automotive Systems (ITAS) Managing Director Tony Young will discuss the resources that can be mutually beneficial to the repairer and the automaker with a common goal of driving repair quality and safety. The conversation will seek engagement from attendees with questions and examples of shared information will be provided.
IDEAS Collide Showcase
As previously reported by RDN, the Showcase will feature the following speakers and topics:
"A Pattern of Basic Assumptions" with Jeff Peevy, I-CAR Vice President Technical Products, Programs & Services, I-CAR. "The single most limiting element to business performance is an unrecognized pattern of basic assumptions," the release states. "These assumptions create the framework for the cultures you live in, at work and at home. Becoming aware of these assumptions allows individuals and groups to be open to learning, adapting, and championing new challenges."
"The Psychology of Money" with Scott Broaddus, CFP/partner at Irongate Capital Advisors. "Every day we are bombarded with world news and how it may impact our financial health. Join investment advisor Scott Broaddus who will share how personal biases and emotional factors play important roles in how we make financial decisions and how to think more rationally about money."
"Vehicle History Reports: How to Turn the Tables and Make Them Work to Your Advantage" with Thomas Allen, Condition Now LLC founder/CEO. "Vehicle history reports have had tremendous effect on the collision industry and its customers. In this session, Tom Allen will explore the possible sources of initial damage records and the result these damage records have on vehicle values and customer satisfaction. Understand why OEM-certified shops represent the best way forward to present an opt-in solution for consumers to clarify incomplete or erroneous damage information; and how, if adequately documented, repair facilities can present solutions to consumers to mitigate the damage information that makes its way onto the vehicle's permanent record resulting in a more positive experience."
"I'd Rather Be Eating Chicken Sandwiches in Fancy Shoes than Getting My Car Fixed" with Mike Wandrey, Shop Fix Academy/Pro-Collision. "Why does Chick-fil-A and Nordstrom's have better reviews, better quality, and more loyal customers than body shops? Change the culture, purpose, and mission of your center and start having raving fans that will happily pay the difference."
"Evaluating 'Will' and 'Skill' for the Perfect Hire" with Dave Gruskos, Reliable Automotive Equipment, Inc. president. "The labor pool is an increasing challenge for many businesses seeking out experienced replacements for open roles within the repair facility. Sometimes the answer for hard-to-fill positions comes in expanding the search to other service-oriented businesses and focusing on the right attitude and approach, with a recognition that we can develop skills. In this session, we will explore effective hiring practices being employed by a growing list of businesses that have successfully hired employees into the collision industry by prioritizing key attributes and traits that can be built upon."
"Spray Gun Science" with Brady Haislet, 3M application engineer. "While well over a century old, spray gun technology continues to evolve. But how much do you really know about this piece of equipment so critical to the success of your business? This session will begin with the science behind spray gun anatomy and operation, review the types of spray equipment used in our industry, discuss the ownership experience, and conclude with research-supported tips that will have you reducing consumption and maximizing efficiency without sacrificing performance."
"Count the Pennies Because the Dollars Count Themselves!" with Rudy Romero, Larry H. Miller Collision Centers. "I like to train my teams and shops to focus on the small things because the BIG things are already in your face, easy to spot, easy to manage. Are you too big of a person to walk over a penny and not pick it up? Why would you let pennies roll out of your driveway when you know that is 100% Net Profit on the bottom of your P&L?"
"Building an OE-centric Calibration Center" with Greg Peeters, Car ADAS Solutions CEO. "Calibrations might just be one of the most critical elements of the modern repair process. For every repair facility who has ever felt lost on where they could find help in performing the task, another business has wondered if there was a viable business in opening a dedicated calibration center. Greg Peeters with Car ADAS Solutions walks through the vision on how to define the opportunity and determine the ROI, in both an internal and stand-alone model. Considerations such as zoning, location, size, floor, walls, lighting, ceiling, overhead door, and more…all per OE the procedures and specs! Learn the profile of a Calibration Technician that matches their process and need for documentation. Learn more than you ever even thought you needed to know!"
"Modern Glass Replacement" with Ryan Mandell, Mitchell International director of claims performance. "The session would be designed for those already in the glass business as well as those considering adding glass to their repair operations. How a proliferation of new technology has changed the glass replacement business and how to leverage OEM repair information to ensure proper and safe repairs." 
"Making Safety Inspections a Non-negotiable Item" with Mike Anderson, CollisionAdvice.com president. "Most, if not all, OEMs have safety inspections that need to be performed when a vehicle is in a collision whether the airbags deploy or not. In this event, Mike Anderson of Collision Advice discusses these safety inspections, what is involved and what components need to be inspected. He'll also discuss how to educate consumers and insurers about these inspections in a way that educates, not alienates. This session will be Mike's impassioned plea to the claims and repair industries to place consumer safety at the forefront, by performing critical steps to ensure safety."
All eight 2021 IDEAS Collide presentations are available on SCRS' YouTube channel. They include discussions on repairing vehicles with ADAS, recommended materials for aftermarket body repair, using AI to increase repair plan thoroughness, data security, and much more.
More information
SCRS 2022 IDEAS Collide lineup ranges from finances, shop culture, hiring & operations to vehicle history
2022 SEMA Show registration open, features SCRS lineup of seminars
Images
Featured image: The Society of Collision Repair Specialists logo flies over its SEMA 2017 booth. (John Huetter/Repairer Driven News)
Share This: