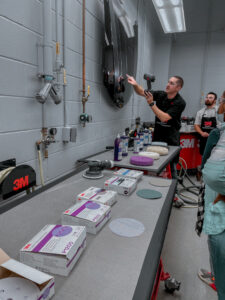 More than 200 students excited, inquisitive during CREF & 3M career fair; more fairs coming up soon
By on
Education
More than 200 students from across the Minneapolis–St. Paul metropolitan area got a glimpse of the careers they could have in the collision repair industry during a two-day interactive career fair hosted by the Collision Repair Education Foundation (CREF) in partnership with 3M at its global headquarters in St. Paul, Minnesota.
Students ranging in age from middle and high school to technical college-level students were able to participate in painting, metal work, abrasives, and adhesives sessions. The paint sessions allowed students to spray and match colors in a booth and participate in the final stages of buffing and polishing a vehicle. They also got to see demos with industry-leading professionals.
"While our goal has always been to connect with students who had chosen collision repair as a trade, we also wanted to make sure that we were exploring ways to engage with students who have not yet made decisions regarding their future careers and plans for post-secondary education," Dan Wittek, 3M automotive aftermarket division global application engineer director, told Repairer Driven News. "This event was extended to a second day to do just this.
"While a lecture or presentation can be good at delivering information, engaging social learning through Q&A and discussion helps students better process the information and make it more relevant. The collision repair industry attracts employees who love to work with their hands and see the immediate result of their actions, and most of these individuals are likely to be tactile learners. They learn best when they have an opportunity to manipulate, touch, or otherwise physically engage in the topic. Adding the interactive sessions allowed for both social and kinesthetic opportunities for students to explore a career in collision repair."
When asked what students were most interested in, CREF Program Coordinator Tiffany Bulak said both the demonstrations and career presentations "yielded thoughtful questions."
"When it came to getting hands-on during the skills demo, no one was holding back," she said. "Every student actively and eagerly participated with many demonstrating the desire to want to learn more."
Wittek also noticed "great engagement and interest."
"Getting hands-on and being able to 'use the tools' really brought things home and made it real," he said. "Our sense was that students were really surprised to learn of the many different ways one can interact with and fix a car. And during the assembly portion of the day, where students got to hear career journey stories from a panel of speakers, many wanted to understand where they could find schools (both in-state and out-of-state), what the application process was like, and if there were scholarships."
Three other CREF career fairs are coming up this year, as well as several others in 2023, that also cover auto service:
Houston, Texas – Nov. 9 at Kingwood Park High School
Dallas, Texas – Nov. 10 at Collins College
Detroit, Michigan – Dec. 6 at Suburban Showcase Conference Center
Illinois (February)
North Carolina  (April)
Pennsylvania (April)
Colorado (April)
Minnesota (May)
Texas (October)
Florida (December)
Michigan (December)

The St. Paul fair last week was the first one to be extended to two days.

"We will definitely work to build more programming such as this career event into our 2023 calendar," Wittek said. "We wanted to pilot this event to start in order to gauge the overall level of interest from students, and with the reaction, engagement, and questions we received, we believe we are onto something. We will continue to get feedback from local school districts on how we can continue to educate and engage potential technicians in Collision Repair."

When asked how collision repairers can help attract new talent to the industry amid a technician shortage, Wittek said shops need to rethink entry-level positions.

"There is a hierarchy in every organization and there are undoubtedly less desirable jobs that must get done (i.e. washing a car or sweeping a floor). While this is traditionally where someone new to our trade might start, collision repair centers need to consciously weave in higher-value activities to increase job satisfaction and advance on-the-job learning. Progressive shops who have adopted formal mentorship programs by pairing a seasoned technician with an entry-level technician are seeing great retention and it's likely a best practice for our industry – so long as the veteran technician has the right patience and skills to properly mentor.

"And finally, fostering solid relationships with area schools is incredibly important! If collision repair centers are looking for a finely tuned technician right out of school (either secondary or post-secondary), they should be actively involved in advisory committees to provide oversight and guidance to local feeder schools and ensure graduates enter the industry with immediately employable skills."

A Collision Industry Conference (CIC) panel echoed the same sentiments in April adding that schools, shops, and the industry as a whole need to come together to solve the shortage. Panelists also threw out some new ideas to recruit students such as schools bringing pre-engineering students into the collision industry and companies creating career paths with compensation package examples to give students an idea of what their future would look like.

As part of its "Shop Local" series, The Business Journal talked to Superior Auto Body Inc. owner John Latone in Ohio, who said work ethic is also an issue that has contributed to the shortage.

"In our industry, employees are aging. There's not a lot of kids getting into it in the vocational schools so that's probably the hardest part coming down the road is where we're going to find out employees – who's going to repair our cars? Who's going to have the work ethic that you need to have in this business and the ability to just want to work – that's key."

Of course, the technician shortage isn't just on the collision side of the automotive industry — the mechanical repair side is also feeling the pinch. General Motors, as part of its Automotive Service Education Program (ASEP), donated 90 new engines to 51 schools across the country last week for students to learn on.

"Today's technicians are working on highly technical vehicles and their skills continue to evolve as the industry transforms," said John Roth, GM global vice president, Customer Care and Aftersales, in a statement. "We are invested in our GM ASEP schools and annually donate an average of more than 250 newer model vehicles, along with engines, components, and tools. When these students have the opportunity to work on our latest technologies in real-time, it can give them a competitive advantage in the workplace and ultimately make our GM dealership experience stronger for our customers."

GM is seeing an increase in enrollment overall in the ASEP program. In 2021, there were 583 students enrolled, and currently there are 738, which is the highest it has been in the past 5 years.

For context, class sizes are limited – many of the 51 schools have capacity around 15-20 students to ensure they can get the hands-on training and experiences they need for their job.

Schools attribute the increase to GM's "Bring Us Your Talent" campaign, working in their communities to build relationships with high school automotive programs, including holding open house recruiting events, and word of mouth by graduates.

"Bring Us Your Talent" launched last year to help boost awareness and interest among prospective students about a career in the industry. It highlights the opportunities and career paths available all while potentially finishing school with less student loan debt.

IMAGES

Featured image: Students watch a refinishing demonstration during a career fair held last week by CREF and 3M in Minnesota. (Credit: CREF/3M)

Students participate in a two-day hands-on career fair held by CREF and 3M in Minnesota. (Credit: CREF/3M)
Share This: