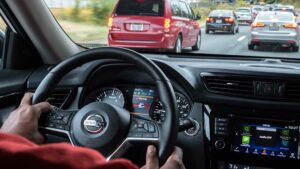 Mitsubishi, Nissan, Stellantis join ranks of OEMs equipping nearly all vehicles with AEB
By on
Announcements | Technology
Mitsubishi, Nissan/Infiniti and Stellantis have joined the 12 OEMs that have met their promise to install automatic emergency braking (AEB) on more than 95 percent of the vehicles they produce, the Insurance Institute for Highway Safety (IIHS) has announced.
The three OEMs installed AEB on more than 95% of the vehicles they produced between Sept. 1, 2021, and Aug. 31, 2022, IIHS said. The most progress was made by Stellantis, which equipped just 43% of its vehicles with AEB in 2021, and 14% in 2020.
Under the voluntary 2016 commitment brokered by IIHS and the National Highway Traffic Safety Administration (NHTSA), 20 OEMs agreed to equip at least 95% of their production with AEB by the production year that just began on Sept. 1, 2022.
Only five of the 20 participating OEMs have yet to reach the goal. Just missing the target was Kia, which increased the percentage of its vehicles with AEB to 94% this reporting period, up from 89% last year.
General Motors, Jaguar Land Rover, and Porsche also made "substantial progress," IIHS said, equipping around 75% of their light-duty vehicles with AEB, up from around 60% last year. Maserati's 71% was essentially unchanged, though the company reported that it "remains committed to this initiative and looks forward to continued progress in the future."
"With Stellantis dramatically boosting the percentage of vehicles it equips with AEB, there's been another big jump in the number of affordable cars and SUVs with this important safety feature," IIHS President David Harkey said in a statement.
The progress toward the goal comes even as IIHS examines the limits to AEB's effectiveness. In May, it said a new study has shown that its current test represents just 3% of real-world front-to-rear collisions.
With that in mind, IIHS has said it is considering ways to encourage OEMs to develop AEB systems that will prevent front-to-rear collisions at higher speeds. As part of that effort, IIHS is dropping its current AEB test, which evaluates systems at 15 and 25 mph, and considering whether a new test might be more effective.
"Thankfully, in the real world, AEB systems are preventing crashes at higher speeds than the maximum 25 mph our test program uses," IIHS Senior Research Scientist David Kidd, the author of the new paper, said in May. "The problem is that our current evaluation doesn't tell us how well specific systems perform at those speeds."
IIHS has said it expects the voluntary commitment to prevent 42,000 crashes and 20,000 injuries by 2025. The estimate is based on IIHS research that found that front crash prevention systems with both forward collision warning and automatic emergency braking cut rear-end crashes by half.
"The overwhelming number of vehicles produced with this critical safety technology means that consumers will receive safety benefits even if they aren't actively shopping for them," said Jennifer Stockburger, Director of Operations at Consumer Reports' Auto Test Center. "Additional capabilities that many of these systems also provide, such as pedestrian detection and the ability to function at highway speeds, have the potential to save even more lives."
Honda revealed that, because of supply chain issues, its percentage of vehicles equipped with AEB slipped this year to 93%. The OEM had met the target last year, with a rate of 96%.
OEMs submit a report yearly through a submission to the Federal Register Docket, making their progress status a public record. Under the terms of the commitment, OEMs that meet the threshold do not have to submit reports in succeeding years. Neither BMW nor Tesla submitted data this time around, IIHS said.
OEMs that have met their commitment ahead of schedule include Audi, BMW, Ford/Lincoln, Honda/Acura, Hyundai/Genesis, Mazda, Mercedes-Benz, Mitsubishi, Nissan/Infiniti, Stellantis, Subaru, Tesla, Toyota/Lexus, Volkswagen and Volvo.
The OEMs have agreed to meet certain performance standards for AEB. The feature must meet a subset of NHTSA's current 5-Star Safety Ratings program requirements on the timing of driver alerts and must earn at least an advanced rating in the IIHS vehicle-to-vehicle front crash prevention evaluation. The system must be able to slow the vehicle by at least 10 mph in either the 12 mph or 25 mph test, or by 5 mph in both tests, to earn that rating.
IIHS reports that most OEM's standard systems earn a rating of superior in its test, and that many can detect and avoid pedestrians as well.
Beyond the voluntary commitment, IIHS is encouraging automakers to equip their pickups with AEB, a class of vehicle that it says presents a "heightened danger" to other road users.
Although a new study from IIHS shows that AEB reduces rear-end crash rates for pickups "dramatically," pickups are far less likely to be equipped with the feature than cars or SUVs, the institute said in November.
AEB aimed at avoiding crashes with other vehicles was standard equipment on just 5% of the registered pickups on U.S. roads in 2021, and optional on just 10%, IIHS said. For cars, those figures were 10% standard and 15% optional, and for SUVs, 18% and 22%.
"Pickups account for 1 out of 5 passenger vehicles on U.S. roads, and their large size can make them dangerous to people in smaller vehicles or on foot," study author Jessica Cicchino, vice president of research at IIHS, said in a statement. "Nevertheless, manufacturers have been slow to equip them with AEB and other crash avoidance systems."
OEMs have committed to installing AEB on vehicles with a gross vehicle weight rating of 8,501-10,000 pounds by the production year that begins Sept. 1, 2025.
IIHS said five automakers reported producing vehicles in that range for the U.S. market in the most recent year. Nissan said that 100% of its production with AEB, with Ford at 76% and Stellantis at 34%.
Mercedes-Benz reported that none of its heavier vehicles were equipped with AEB, and GM did not report a percentage of equipped vehicles in this weight class.
The deadline for light-duty vehicles with manual transmissions is the production year that begins Sept. 1, 2024.
More information
U.S. DOT and IIHS announce historic commitment of 20 automakers to make automatic emergency braking standard on new vehicles
https://www.iihs.org/news/detail/u-s-dot-and-iihs-announce-historic-commitment-of-20-automakers-to-make-automatic-emergency-braking-standard-on-new-vehicles
Ford, Honda latest to meet pledge to equip nearly all vehicles with AEB
Images
Featured image provided by IIHS
Share This: