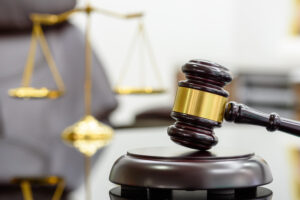 Opus files motion to dismiss AirPro unfair competition, breach of contract suit
By on
Legal
Opus IVS has filed a motion to dismiss a lawsuit filed against them and their subsidiary, Drew Technologies, by AirPro Diagnostics for "failure to state a claim upon which relief can be granted."
AirPro filed suit against Drew Technologies in December in the U.S. District Court for the Eastern District of Michigan for alleged violation of the terms of an information-sharing agreement with AirPro and using what it learned to become a direct competitor. Opus, Drew subsidiary AutoEngenity, and Brian Herron, president of Opus IVS, each of whom has been accused of unfair competition against AirPro, are also named in the suit.
AirPro alleges that Drew, a collision and mechanical diagnostics company, breached a mutual party agreement between the two "in numerous ways … including by using the information and technical knowledge provided by AirPro under that Agreement to wrongfully establish a competing business."
The suit seeks unspecified monetary damages.
At the center of the lawsuit is a mutual party agreement between AirPro and Drew signed Feb. 13, 2017. Under the terms of the agreement, the parties agreed to exchange information with one another, including "business strategies, pricing, techniques, computer programs, methods, drawings, formulas, specifications, software, or other data of a business or technical nature[.]"
Among that information, the suit alleges, were AirPro's business model and pricing structure, and its successful use of AutoEnginuity's Giotto scan tool with Drew's Cardaq J2534 interface to provide remote diagnostic services to shops for a wide range of vehicles.
Opus argues in its motion to dismiss that AirPro has failed to state claims for breach of contract, common law unfair competition, and tortious interference with business expectancy under Michigan law.
"This lawsuit is an attempt by AirPro to shift the blame for its own unlawful misrepresentations of Defendants' Giotto aftermarket scan tool diagnostic software (the "Giotto Product") to Defendants," the motion states. "AirPro developed a business model in which it became heavily dependent on the continued licensing and use of Defendants' Giotto Product. Importantly, however, AirPro failed to develop a business model that represented and used Defendants' Giotto Product lawfully.
"Not only did AirPro's misrepresentations of Defendants' Giotto Product jeopardize Defendants' business brands and integrity, they also infringed on Ford's world-famous BlueOval trademark, thereby threatening Ford's business brand and integrity. Most importantly, however, AirPro's misrepresentations of Defendants' Giotto Product threatened the safety of automobile consumers nationwide."
Eventually, and after warning AirPro ahead of time and implementing a new end-user license agreement that prohibited AirPro from "mak[ing] statements that diagnostic services performed using [AutoEnginuity's Giotto] Software are equivalent to the OE diagnostic system," Opus terminated AirPro's license to use the product due to "continued misrepresentation" of it as an OEM-equivalent tool.
"Opus was motivated by, among other things, (1) the potential liability (for example, a lawsuit by Ford) it could face due to AirPro's
misrepresentations of the Giotto Product and (2) the safety risk AirPro's misrepresentations of the Giotto Product posed to the marketplace and the public in the determination of vehicle safety," the motion states.
The AirPro suit accuses Herron of "fabricating" a March 11, 2020 letter to AirPro that was obtained by Ford, and was used by Ford as an exhibit in its trademark violation lawsuit against AirPro. The fabrication was done "in an attempt to help Ford in its lawsuit against AirPro, and to harm AirPro as a result," the suit claims.
"That letter was never actually sent by Mr. Herron to AirPro, in March 2020 or at any other point in time," the suit claims.
Ford's lawsuit against AirPro, filed on Feb. 27, 2020, accuses AirPro of trademark violations and improperly transferring the OEM's diagnostic software. It said AirPro's website "asserts that its products and services are a substitute for purchasing Ford's genuine software and hardware, and boasts that AirPro 'can save minimally 50% over typical dealer sublet invoice costs.'"
U.S. Eastern District of Michigan Judge George Caram Steeh ruled in favor of Ford in December.
Images
Featured image credit: William_Potter/iStock
Share This: